2022 Best 4K Converter for TV | Fast Convert Video for TV
Get the best 4K converter for TV to upconvert 720p/1080p for 4K TV, or compress 2160p video to lower resolution for general HD TVs at accelerated speed.
4K, also entitled "4K resolution", is a new digital trend in recent years. There are many 4K resolution standards used in different areas, for example DCI 4K (4096x2160) used by Disney, Fox, Paramount, Sony Pictures Entertainment, Universal and Warner Bros. Studios.; UW4K (3840x1600) employed by Ultra HD Blu-ray discs and 4K PC gaming monitors; and also UHDTV 4K (3840x2160) commonly adopted in smart-hit 4K TV/computer industry. But no matter what, where there's 4K, there are some 4K video mismatching problems more or less, for instance:
- I've purchased a brand-new Sony 4K smart TV, and wonder how to play my previous 1080p movie videos on it clearly? Do I need a 4K converter for TV??
- I want to buy some 4K Ultra DVDs. But I don't have 4K TV equipped at my home. Is it possible to watch 4K DVDs on my TV with non-4K display?
Fastest 4K Converter for TV Free Download
WinX HD Video Converter Deluxe - is able to convert any video to 4K for 4K TVs, or compress 4K UHD videos to 2K, 1080p, 720p for non-4K TVs. As the top-ranking fast HD video converter, it increases video transcoding speed by finding and taking full use of multi-core processors, Intel QSV, AMD and NVIDIA CUDA/NVENC hardware acceleration automatically. [Windows 10 and lower, macOS Mojave and lower supported]!
For Windows and Mac only. If you are a mobile user, please click here to get download link and free trial license code.
It will cost you about 4 mins to read through the article. You can skip to:
4K TV industry runs faster than that of 4K film and video production, which leads 4K TV owners have insufficient 2160p video sources to watch. So here come the questions:

Can 4K TV play non-4K (like 1080p and 720p) videos normally and clearly?
Yes, they can be played normally in full screen. But the playback quality depends.
Any video that meets the video format/codec requirement of 4K TV can be played successfully. Because all 4K TVs are built-in with advanced video processing chips to upscale general SD or HD videos to 4K resolution automatically.
Real-time scaling algorithm, together with processing speed, affect the final image quality. So you may find out that different 4K TVs may display one 1080p video with discriminating visual effects. Also, it's nonsense and unadvisable to put poor original video at lower SD resolution e.g 480p/380p/240p on 4K TV. Because even the best scaling algorithm cannot make up the huge sacrifice brought by direct scaling.

How to Play 720p/1080p at Its Best on 4K TV?
If you want to have your 4K TV present 720p, 1080p video better, just upscale 720p, 1080p to 4K in advance with a third-party 4K converter for TV, which can not only optimize video quality of scaled 4K, but also release much performance pressure for 4K TV, focusing more on 4K signals receiving and imaging.
How to Upscale HD Video to 4K with Best 4K Converter for TV?
There are quite many 4K video converters, but not such especially made for TV. WinX HD Video Converter Deluxe, a professional HD converter getting an enormous user base and many rave reviews from editors, becomes a real 4K video converter for TV after the latest upgrade. It now adds new 4K profile for upscaling 720p/1080p to 2160p 4K video to perfectly fit for all 4K TVs in the market, Samsung, Sony, LG, Sharp, Vizio.
With high quality engine, deinterlacing tech, as well as specific video decoding & encoding mechanism and more precise video scaling algorithm for 4K TV, this program makes a concerted effort to achieve gorgeous 4K video with high-possible quality, losing the least color and sharpness. Now just free download and install it and follow the brief user guide of this 4K converter for TV.
Step 1. Import Non-4K HD Video
Download

, install and open WinX HD Video Converter Deluxe, click either of "+ Video" icon in the main UI to browse and open source non-4K video file(s) with software. Alternatively, you can drag source video(s) into the 4K converter straightly.
Step 2. Choose 4K Output for TV
Then select ready-made video format at the profile list like MP4/MOV/MPEG, and change resolution from keep origin to 3840x2160. You are also allowed to edit 4K video by trimming, cutting, adding subtitles, adjusting volume, or fine tune video bitrate, aspect ratio and frame rate.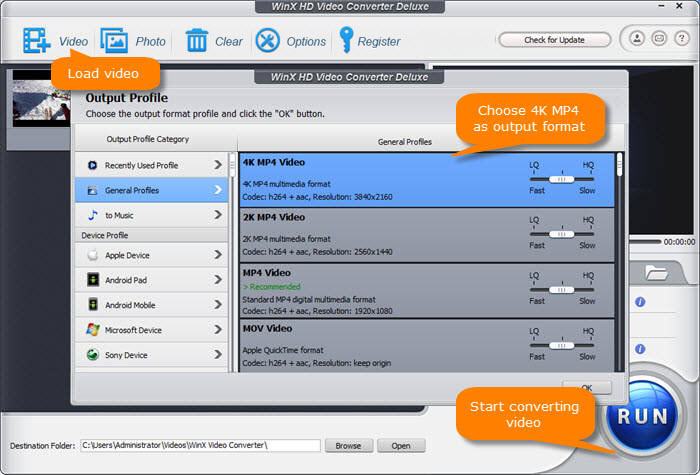 Step 3. Start the Video Upscaling Process
Click big blue "RUN" button right below to have 4K converter for TV begin to work at accelerated speed. You're suggested to check "Use High Quality Engie" and "Deinterlacing" to produce 4K video in high quality. If you are doing batch video conversion, and willing to combine them into a single 4K video, just tick "Merge" option.
How to Downscale 4K Video with Best 4K Converter for TV?
4K TV delivers a massive boost in image quality. So how about playing 4K full-lengh movies on non-4K TVs like 1080p one?
As a matter of fact, there's no visual difference or video quality improvement between watching 4K on 1080p TV and 1080p on 1080p TV. On the contrary, 4K video may be overloading on your 1080p TV, causing video stuttering issue. Therefore, it's recommended to compress 4K video to non-4K TV with resolution match.
4K video downscaling shares a similar workflow with 4K video upscaling:
● Load 4K Video(s) ->
● Choose output format for TV like 1080p MP4. If the resolution is set as "default" or "keep origin", you need to manually change it as you prefer by clicking "sawtooth" icon ->
● Run video transferring with 4K converter for TV -> Done
WinX HD Video Converter Deluxe Is More Powerful than You Think
WinX HD Video Converter Deluxe also features free downloading 4K content from over 1000 online sites, converting any video to NTSC/PAL DVD VOB format for DVD burning, converting audio format, and editing homemade video for sharing on YouTube, Facebook, Twitter etc.