8K Video Converter to Smoothly Convert Any 8K Video
Use 8K Converter Software to Convert 8K (7680x4320) Videos to Popular Devices/Players Accepted Formats/Resolutions
Have you noticed that 8K is everywhere, such as 8K streaming on the YouTube, professional camcorder 8K footage, 8K video gaming, 8K Live TV & Sports contents etc. People require bigger and bigger image for their video. Opportunely, 8K video is amazing, as each pixel is indistinguishable from another to the human eye from a much closer distance. However, playing 8K contents can be a disaster because of endless problems like lagging, buffering, freezing randomly and computer crashing etc.
For that, you definitely need a 8K video converter to make your 8K footage compatible on your computer or 8K TV. Here, we'll dive deep for some excellent 8K video converters.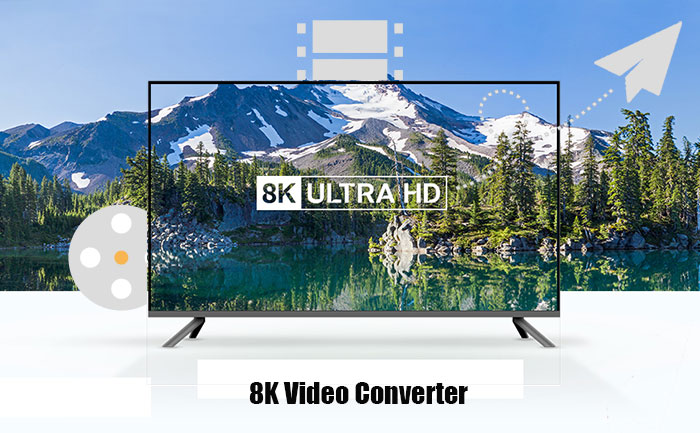 Part 1. First-rate 8K Video Converters
#1: WinX HD Video Converter Deluxe
WinX HD Video Converter Deluxe is an excellent 8K converter that makes your 8K footage available on any devices. It enables users to transcode 8K video formats such as MOV to MP4, AV1 to WebM, upscale 4K video footage to 8K for crisper images and downscale 8K contents to 4K or 1080p to better fit your device.
Key features of this 8K video converter:
Act as an 8K video converter for Windows 10, 8, 7 and Mac OS X (macOS Big Sur or earlier);
Convert 8K videos to SD/HD video formats, like MP4, HEVC, AVI, WMV, MOV, FLV, WebM, AVCHD, M2TS, MKV, etc;
onvert 8K videos to PC, Mac, iPhone, iPad, Samsung, Sony, HTC, Microsoft and other popular devices;
Convert 8K videos to iTunes, iMovie, iDVD, Final Cut Pro, ProRes, Air Playit;
Compress 8K videos from 4320p to 4K 2160p, 2K 1440p, 1080p, 720p, 480p, etc.
Edit video. Convert DVD. Record screen. Record video from webcam.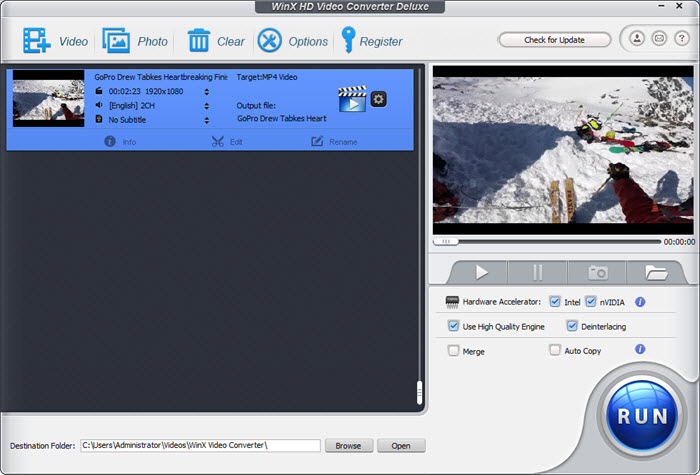 #2: Any Video Converter Ultimate
As a renowned video converter, Any Video Converter Ultimate is able to handle 8K videos as well. By using it, you can easily convert your 8K video footage to MP4, MOV, AVI, WMV, WebM, HEVC, H.264, VP9 etc., or compress 8K resolution to lower 4K or 1080p. Also, it enables you to enjoy both faster converting speed and higher video quality by using the GPU of the AMD graphics card and CPU of Intel graphics card.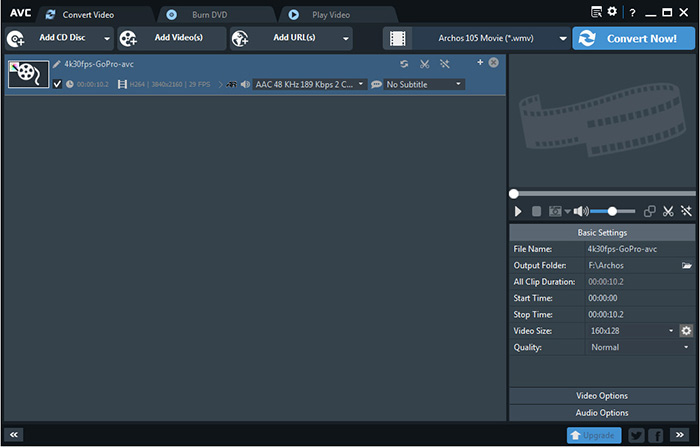 #3: Tipard Video Converter Ultimate
Tipard Video Converter Ultimate is able to convert 8K/5K/4K/HD video to any formats, such as MP4, AVI, MKV, AVI, MOV and MP3 at 60x faster speed. You can easily get your 8K video transcoded for 8K/4K TV like Samsung, Sony, Vizio and others, and play it on mainstream digital devices like iPhone, Samsung phone, etc.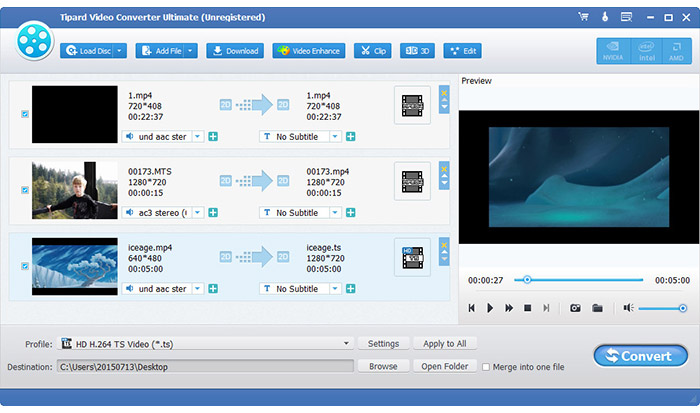 Part 2. How to Convert 8K FUHD Videos?
Take WinX HD Video Converter Deluxe as an example, there's no difference between converting 8K videos and converting general videos using 8K Full Ultra HD video converter software. Anyone can perform it as easy as ABC.

Free download WinX HD Video Converter Deluxe and install it. Then launch it and learn the guide below when you are ready.
Step 1: Load 8K video.
You can input target 8K video(s) by dragging & dropping, or clicking on the "+ Video" button on the top left corner of this video converter main interface.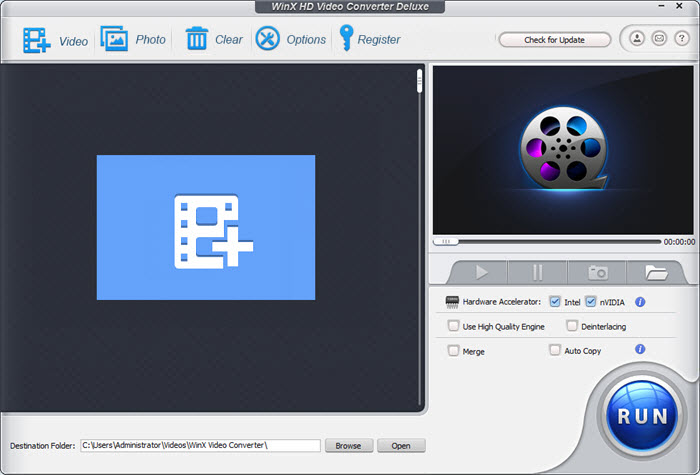 Step 2: Specify output profile for the 8K video.
After successful loading, this 8K video converter will display Output Profile window for you spontaneously. You can notice that there are hundreds of ready-made output profiles, including PC/Mac General Video, Device Profile, Web Video Profile, DVD Profile, HD Video Profile and Music Profile. Usually, you have 2 options for your output video.
Transcode 8K video format. Simply choose a different output format without changing the video resolution.
Downscale 8K to 4K/1080p. Choose the desired resolution, like 4K MP4, 2K MP4, or MP4 Video of HD as you need.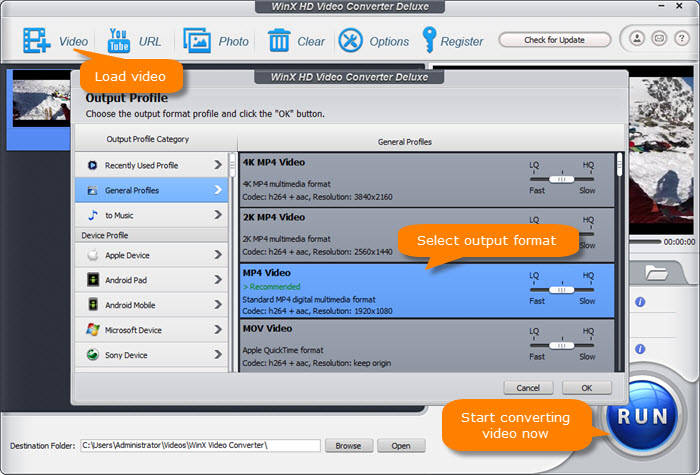 Tip: You can also modify video audio parameters like file resolution by clicking the gear button.
Step 3: Select a destination folder to store converted 8K video.
Press "Browse" button, and choose a destination folder to save output file.
Step 4: Begin converting 8K video.
When you are sure that all settings are ok, you can tap "RUN" to move to the process of 8K video conversion. Thanks to the support for the world's most advanced Intel QSV, MMX-SSE, Nvidia CUDA/NVENC, Hyper-threading and AMD 3DNow! tech, this 8K video converter can finish the task at fast speed. QSV and NVENC is not only for H.264 encoding, but also for H.264 decoding, H.265 decoding and encoding. If you don't want to sit by your computer waiting for the result, you can enable the option "Shut download computer when finished the conversion jobs".
Part 3. FAQs about 8K Contents
1. What's 8K?
8K generically is used to describe a large video resolution of 7680x4320. It represents 33,177,600 pixels in a 16:9 aspect ratio, which means sharper and crisper image than 4K.
2. What's 8K advantage over 4K?
Obviously, 8K owns crisper and sharper image than 4K. 8K refers to 7680 x4320 pixels, which is four times bigger than 4K. Moreover, as 8K capturing allows for reframing at sub 8K resolution size for practical or aesthetic reasons without compromising quality. Multiple cropped and zoomed regions of interest outputs are possible for sports and other large live events.
3. Can I upscale 4K content to 8K?
Logically speaking, you can, but it's not recommended. Converting 4K or HD videos to 8K Full Ultra HD can only increase the file resolution but unable to improve the image quality.
4. How to transport 8K contents?
To transport 8K contents, you can use several types of cable/connectivity: HDMI 2.1, DisplayPort v1.4, 12G-SDI over coaxial or fiber. 12G-SDI offers highest quality 8K video transporting, while HDMI 2.1 and DisplayPort v1.4 carry 8K via single cable at shorter distance.
5. Any 8K display suggestions?
Display manufacturers include Sharp®, Sony®, Samsung®, and LG®, with more displays being made available as the format receives wider availability, such as 55-inch Samsung 8K monitor/TV, LG Nano96 65-inch, Dell Ultrasharp 32-inch 8K monitor etc.
To the Conclusion
If your 8K footage failed to play on your 8K TV / monitors, or you don't have the 8K display to present your 8K contents, just make some transcoding to your 8K footage with 8K video converting software. WinX HD Video Converter Deluxe is precisely a nice option, as it converts, conpresses 8K to MP4, MOV, 4K, 1080p or any format and resolution you need. Better yet, it reserves highest quality and won't take your too time with the support of high-quality engine and GPU acceleration.