QuickTime 7 Is Killed. Make Legacy Media Playable with QuickTime 7 Alternative in Catalina and Later
32-bit QuickTime 7 and its framework no longer work in Catalina. Try QuickTime 7 alternatives to make old media playable!
The transition from 32-bit to 64-bit technology means the the end to oldies-but-goodies like QuickTime Player 7. Actually, Apple started its 64-transition since all the way back to Snow Leopard, began warning users to upgrade 32-bit apps or else they will stop running in Mojave, and finally killed 32-bit apps like QuickTime 7, together with QuickTime 7 framework in Catalina. That is to say, QuickTime 7 is finally unavailable and a great many of old media made based on QuickTime 7 including some MOV, DivX, Flash video, WMV, etc. won't open in macOS Catalina.
Does this mean that your old media cannot play in macOS Catalina? Not really. QuickTime 7 alternatives would make your legacy media playable in Catalina easily. You have two options: convert old media to formats which are compatible in macOS Catalina or try a media player that is accessible for legacy files based on QuickTime 7.
Strapped for time? Click one of the links below to jump straight to your most interested part.
Part 1: Best QuickTime 7 Alternative to Convert Media for macOS Catalina and Later
As macOS Catalina no longer includes the QuickTime 7 framework, converting the incompatible files created relying on QuickTime 7 comes a nice try before upgrading to macOS Catalina. Programs like iMovie, Final Cut Pro, Motion, Compressor and QuickTime Player are able to detect and convert legacy file as you're trying to open it. However, they'll become unavailable in the next macOS Catalina. And there are so many media files on your Mac, and you can't open every file to check whether it's compatible in Catalina or not. In this case, you need a replacement for QuickTime 7 to batch convert all your media files for Catalina.
WinX HD Video Converter for Mac is such a Mac video converter which converts all kinds of videos to MOV, MP4, M4V, AVI, MKV, iPhone, iPad, Apple TV, Xbox, PS4, and 420+ profiles in batch. You're able to convert your videos made based on QuickTime 7 framework to formats that are compatible in macOS Catalina all at once, converting legacy QuickTime MOV to MP4, for instance. Besides, it delivers super fast video conversion speed when Intel/Nvidia/AMD hardware acceleration is enabled.
Free Download WinX HD Video Converter to Batch Convert Old Media
Now follow the tutorial to convert old media for macOS Catalina and later.
Step 1. Click +Video button or simply drag and drop to import old videos that may not be compatible in Catalina. You're able to import multiple videos for batch conversion.
Step 2. Choose an output format from the automatically popped up window, where more than 420 profiles are available for your choice. Scroll down to find Mac General Video, select MOV Video (H264), and then click OK button to convert unsupported QuickTime 7 framework made videos to macOS Catalina. Of course, you're also able to convert videos to Apple ProRes for further editing, H.264 to HEVC for smaller size, or MKV to MP4 for better compatibility on various screens.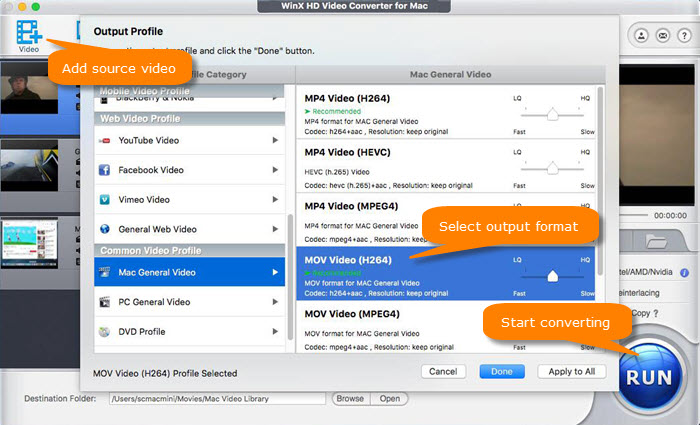 Step 3. Click Browse button to set the output destination folder if necessary. Then, hit RUN button to start converting videos for Catalina in a very short time.
Tips: When your Mac is built in with i5/i7/i9 processor or Nvidia/AMD graphic cards that support hardware acceleration, WinX HD Video Converter for Mac will detect and invoke GPUs to accelerate video conversion up to 47X real-time faster.
Part 2: Best QuickTime 7 Alternative to Play Old Media Made Based on QuickTime 7 Framework
Though Apple kills 32-bit QuickTime 7 and media files created through QuickTime 7 framework in macOS Catalina, you can try another media player as a QuickTime 7 alternative to play such old media files. Many users move to QuickTime Player, which could convert unsupported videos including some old media files to a compatible format in Catalina as you're opening them for playing. But more often, MKV, AVI, FLV, or WMV videos fail to convert, leading in "QuickTime Player can't open xxx" error. >> How to play MKV videos
For that, is there a QuickTime 7 similar media player to play legacy videos? VLC and 5KPlayer would presumably be among the best, as both of them allow you to play various types of media. Take 5KPlayer as an example, it's skilled and comprehensive free video player, which can play legacy video files based on QuickTime 7 framework formats and codec, 4K/HD high-def videos, DVD files and music and even online radio channels for free.