How to Fix Audio & Video Out of Sync in Premiere Pro or Other Editors
I've been capturing some gameplay footage, with files that last an hour or even more. When I watch the files in any player they play fine. But after I import to Adobe Premiere, the audio and video get out of sync. It's really strange that the audio delay problem only occurs after importing. – From Adobe Support Community
Audio and video out of sync issue is common with video editing program, be it Adobe Premiere Pro, Davinci Resolve, Avid, Shotcut, Corel VideoStudio, VideoPad, or Ligthworks. Especially, when you import your recording or footage and try to edit it, the sound may be delayed in the timeline. Strangely, the audio matches the video in VLC, QuickTime, or any other media player. Why do the audio and video drift out of sync? How to fix the mismatched audio and video error?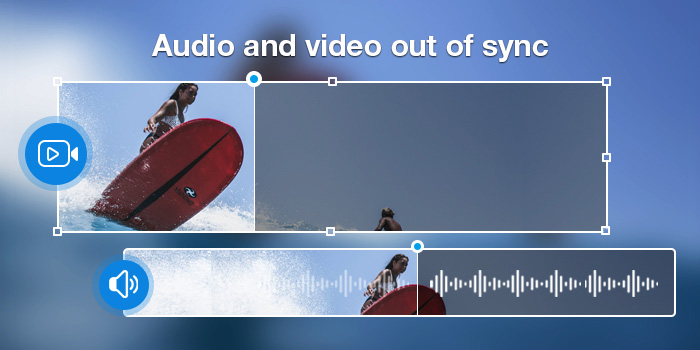 Part 1: Why Video and Audio Are Incorrectly Synced While Editing?
The real culprit for the audio desync or audio lag is the variable frame rate (VFR). What is VFR? Explanatorily, the frame rate changes over time during a media file as a meant of improving compression efficiency. For example, it might be 60fps here but 25fps there. So modern cameras, smartphones, webcams, or screen capture applications use VFR to record video, meant to reduce the file size. But this comes at the cost of adding extra processing needs in editing.
Common video editor are designed to cope with video at constant frame rate. Therefore, you may end up with 4K VFR error, typically the audio and video go out of sync when editing the footage in VFR format, especially if you add extra effects to the video.
Note: In addition to the audio lag error while editing, the audio is incorrectly synced when you try to play or stream the video. You can also find the solution to fix the audio lag issue in windows 10, sync audio with video on YouTube here.
Part 2: How to Fix the Audio and Video Out of Sync Issue
Adobe knows that the audio lag in video can ruin your experience. In V12.0.1, Premiere Pro adds Preserve Audio Sync for variable frame rate footage. It decodes the video in a way of adding or dropping frames so as to automatically keep audio in sync without any manual adjustment. However, this feature may lead to choppier-looking video, especially if it is in 4k resolution. The ultimate solution to fix the audio delay error is to transcode VFR video to a constant frame rate before editing.
To do the task, you can try WinX Video Converter, a professional video transcoder that is able to change video from VFR to CFR without lowering your video quality. It gives you full control over any video source, be it 4k footage taken by GoPro or DJI, HD movies, game play recordings, or any other video from YouTube or Facebook. You can follow the steps to remove the variable frame rate limitation and fix audio lag issue before editing or playing.
4 Simple steps to Convert VFR to CFR with WinX Video Converter
Step 1: Free download and install the 4K video converter on your computer and launch it. Load the VFR video clip by clicking + Video button. You can add more than one clip at a time.
Step 2: Choose the output format as per your needs. It's up to you to keep the original format or choose another edit-friendly format such as Prores.
Step 3: Click the gear-shaped icon on the main interface. Specify the Frame Rate value from the drop-down menu. WinX Video Converter offers the CFR options from 15fps, 23.97fps, 25fps, 29.97fps, 30fps, 50fps, 59.94fps to 60fps. You can choose the exact constant frame rate according to your needs.
Step 4: Click RUN button to begin converting variable frame rate to constant frame rate. After the conversion, you can import the CFR video into any video editing software and will never encounter the audio/video out of sync error.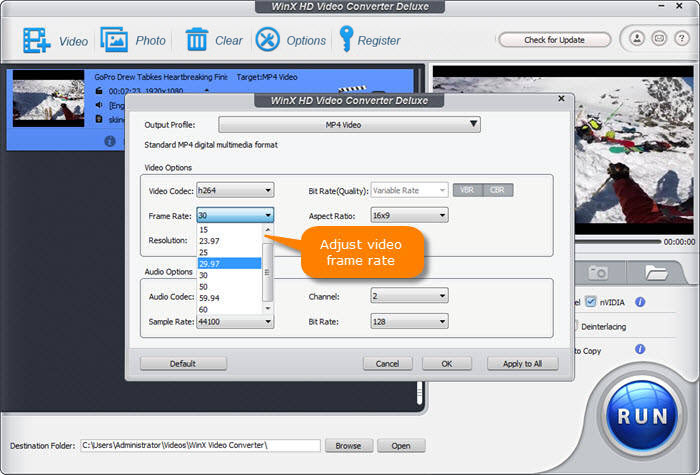 Part 3: FAQ: How to Determine if a Video Has VFR?
There are two ways to check if your video is recorded in VFR format. For one thing, you can rely one mediainfo, a free and open-source program that not only reveals the video clip frame rate but also a vast amount of information about the video and audio properties.
Just luanch Mediainfo > click on File > Open > File > select your video clip > click View and choose Tree. If the frame rate mode shows as variable, then the video is formatted in variable frame rate. Then you need to convert VFR to CFR beforehand to avoid the audio/video out of sync error while editing.