How to Convert VFR to CFR without A/V Desync Issue?
When you load your video footage to video editor software like Premiere, Magix Movie Edit Pro, Lightworks, Vegas Pro 16, DaVinci Resolve, there is a high chance to encounter video audio out of sync issue. And 90% of this desync issue results from variable frame rate. It's a typical 4K error as most video editor programs don't support VFR mode. Though Adobe Premiere Pro V12.0.1 announces the support of variable frame rates, users are still stuck with this problem.
To get out of this trap, you need to convert VFR (variable frame rate) to CFR (constant frame rate). Here this post shares with you top ways to easily change variable frame rate to constant frame rate so as to later load your (4K 2160p) video clips to any video editor without video audio out of sync issue. Read on:
Part 1. Convert VFR to CFR with WinX Video Converter
Download WinX Video Converter [Free] to help you free convert video from variable to constant frame rate automatically without manual setting adjustment. The trump card is that it virtually doesn't cause any damage on your output quality. High Quality Engine ensures you an almost 1:1 resulting quality after VFR to CFR conversion.
It also lets you free convert 8K/4K/2K/1080p video format/codec with 200+ formats supported, adjust frame rate 120/60FPS to 30FPS, bit rate, resolution, aspect ratio, and edit video (trim, crop, merge, add subtitle...).
How to Convert VFR (Variable Frame Rate) to CFR (Constant Frame Rate) with WinX?
By fully supporting Super Transcoding Engine, Multi-core CPU (i3, i5, i7), and Hyper Threading Technology, WinX Video Converter delivers you a frame rate VFR to CFR conversion speed up to 20x real time faster. That is why WinX frame rate converter is recommended first!
Step 1: Load VFR Video File
Run this free 4K video converter and access to Video control. Then import your target video file by clicking "+ Video" button on the top toolbar or directly drag your 4K 2160x3840 video footage into this tool. Bulk conversion is available, as well.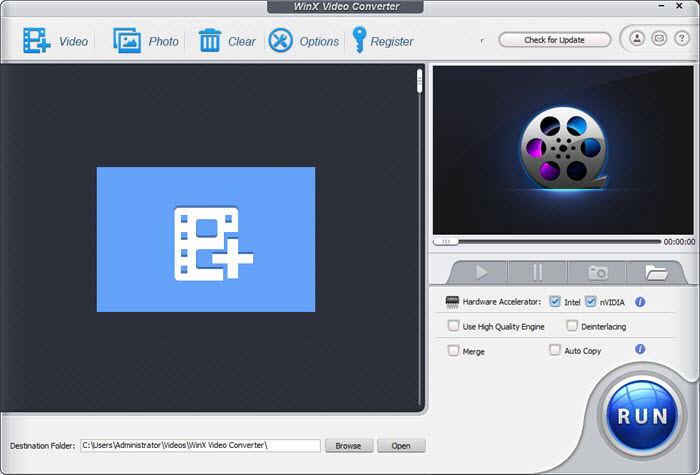 Step 2: Choose Output Format
Choose "MP4 (H264)" at "General Profiles" category in the target format list as output format. Of course, keep the same format/codec as your input if you have no need to transcode video 4K, 2K, 1080p.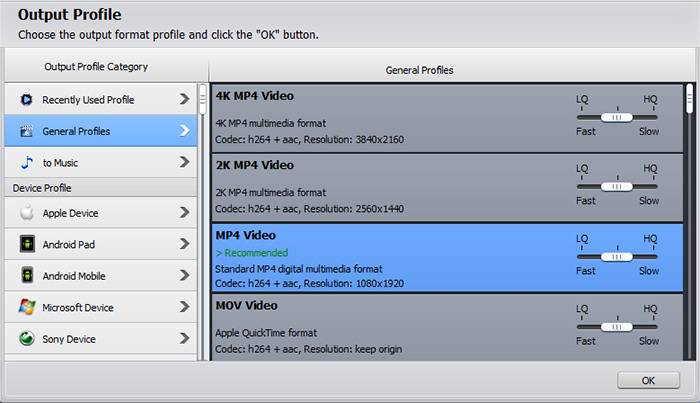 Optional:
If necassary, you can tap settings icon on the home screen. Then, you'll be re-directed into the setting window, where you're allowed to change frame rate from 120/60FPS to 50/30FPS, tweak resolution, adjust bit rate, change aspect ratio, etc. As for VFR to CFR conversion, you don't need to manually adjust it.
Step 3: Run frame rate conversion
Right click the big blue Run button and it will auto convert VFR to CFR. After the conversion is completed, load the resulting CFR file to your video editor software like Premiere to have a test.
You can also upgrade to its pro version and download WinX HD Video Converter Deluxe to convert VFR to CFR with GPU acceleration.
Part 2. Change VFR to CFR with Handbrake
Handbrake, needless to further explain its feature, is well-known for decades in the globe. No matter you wanna free digitize DVD content, convert videos or adjust video parameters, it can address all your demands. As for the specific need like VFR to CFR converting, it's a no brainer for Handbrake. Check out the detailed guide if necessary:
Step 1: Import VFR video file or folder.
Tap "Source" button to open a single video file or a folder with multiple video files. Batch conversion is also supported by Handbrake.
Step 2: Choose Constant Frame Rate.
Move mouse to "Video" section, under which you find "Frame rate" and change the default setting variable framerate to constant framerate.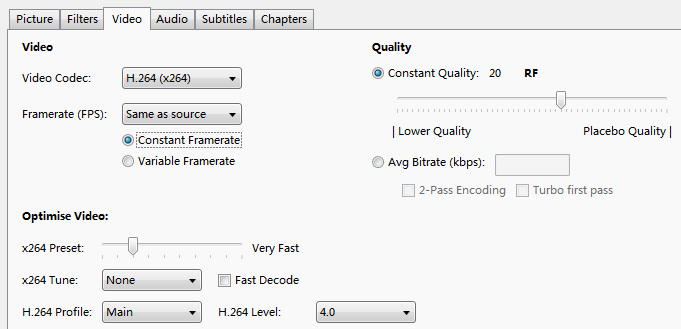 Step 3: Opt for output profile
Shift your attention to the right panel of the interface, where you're able to choose the resulting profile with preset settings, including iPhone, iPad, iPod, Apple TV, Android, Android tablet, Windows Phone 8, High Profile, etc. As for video codecs, there are couples of options, like H264, H265, MPEG2 and MPEG4. So far as video formats are concerned, two formats are accessible, MP4 and MKV.
Step 4: Start to convert variable to constant frame rate
Click "Start" button at the top banner of the home screen and handbrake will begin to free change (4K UHD) video from VFR to CFR.
Hope this post is helpful for you. Still have question on how to change VFR to CFR on Windows 10/8/7/XP, please feel free to Mail Us >>
Part 3. [FAQ] Is CFR Better than VFR?
The reason to convert VFR to CFR is for video editing without video audio out of sync error. This doesn't mean CFR is suitable everywhere. After you get deeper understanding about variable frame rate and constant frame rate, you will become more clear about when and how to use VFR and CFR.
1. CFR (Constant Frame Rate) vs VFR (Variable Frame Rate)
The frame rate of CFR video is fixed. For instance, if you choose 30 CFR, the video you get will keep the same 30 frames each second of clip. As for VFR, the frame rate is flexible. It adopts higher frame rate in the dynamic picture while uses lower frame rate in the static picture. This will help improve the dynamic picture quality and efficiently reduce video size.
2. Is CFR Better than VFR?
Not really. If you just record video for playback, VFR is better than CFR. You have to change VFR to CFR when you need to import VFR video to video editor software for customizing.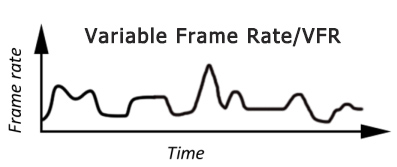 3. How do You Know if Your Video is VFR?
Download and install MediaInfo, which is brilliant in video info check. Load your video to MediaInfo > locate to Frame Rate Mode to check. If it's listed as Variable, no doubt your video file is a VFR video. Another way is to import your video file to Premiere Pro, right click your video footage and choose Properties to see if it's VFR.
4. Where do VFR Videos Come from?
VFR video footages mainly come from 4 paths:
Your iPhone and Android mobile phones. That's because the GPU performance of your mobile phone is quite limited, which is inclined to use flexible variable frame rate to record video, esp 4K video to ensure the recording smoothness.
Screen recording software like Bandicam.
E-learning applications like Camtasia, ScreenFlow, Twitch creates videos at variable frame rate.
Live streaming videos.
5. Peak Frame Rate vs Constant Frame Rate vs Variable Frame Rate
Peak frame rate is the maximum frame rate. Constant frame rate means that the frame rate of a video clip doesn't change in each second. Plus, many a user wonders the difference between peak frame rate and variable frame rate, as well. In a nutshell, when you choose VFR, then the video you get contains 3 levels of frame rate: minimum, averaged and maximum frame rates. And that maximum frame rate is the same as "peak" frame rate.