External DVD Drive for Chromebook and How to Play DVDs
Like many other laptops, Chromebook abandons the optical drive. It makes sense as it has to keep thin. However, you may still have DVDs to play from time to time. How to make that work? As you think, you will need an external DVD drive connected to Chromebook. However, don't expect a plug-and-play process to get an external DVD player work on Chromebook. In fact, there are many limitations. In this post, we will get you through how to connect Chromebook to an external DVD drive and play DVDs (video & music) on Chromebook without worries.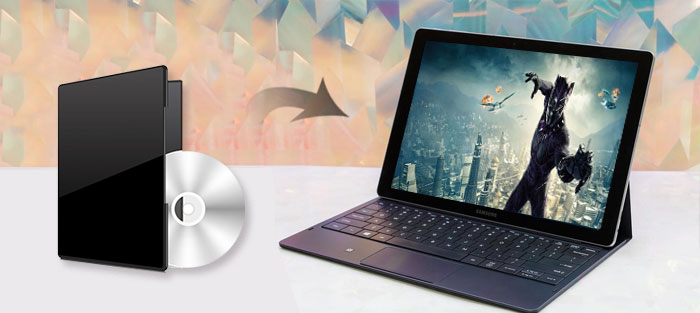 Part 1. What can You Play with an External DVD Drive on Chromebook?
It's easy and possible to connect an external DVD drive to Chromebook. Once connected, you can play CD, CD-RW, DVD, DVD-RW, Blu-ray, Blu-ray RW on Chromebook via an external DVD drive. However, don't be surprised if your DVD won't open or work. In fact, you need to pay attention to the type of media on the disc. Chromebook can read files on the disks if they are written in a data format. However, you currently can't watch DVD movies by default in Chrome OS. This is because Chromebook lacks the proper codec needed to play DVD video.
What can't You Do with an External DVD Drive on Chromebook?
Even with a Chromebook external disc drive, there are things you can't do like other laptops.
You can play a video CD or movie DVD. As mentioned above, Google has not licensed and is unlikely to license DVD Video software in Chrome OS. VLC used to be able to help play DVD movie on Chromebook. But now it no longer works. To play video DVD movies on Chromebook, it's quite complicated. You need to switch into developer mode and install Linux.
You can't burn DVDs on Chromebook. According to Google's support site, USB CDROM and DVDROM (read-only) devices are compatible with Chromebooks. Even with an external disc drive, it's able to read data on the supported discs only. There is no way to write data to a disc.
You can't rip a DVD on Chromebook. When it is possible to directly play a video DVD on Chromebook, you may want to rip it to a digital format for it. You can't do it on Chromebook as there is no DVD ripper that will work on Chrome OS.
In a nutshell, decide if you still need an external DVD drive for Chromebook, you should know that it:
• You can read disks on Chromebook, but with only accepted file types.
• You can play music and movies in digital formats, like MP4 or MP3.
• You can't burn or rip a DVD or CD on Chromebooks.  
• You can't play movie or video CD/DVDs on Chromebooks unless you install Linux.
Part 2. How to Connect External DVD Drive to Chromebook
Method 1: Connect an External DVD Drive to Chromebook Directly
Step 1: Chromebook supports USB-powered CD or DVD drives. You can connect a compatible external drive to Chromebook via a USB able (check the best external DVD drives for Chromebook in Part 4).
Step 2: Once connected, insert the disc you want to open in the external DVD player.
Step 3: To access the disc, click Launcher on its main interface, and then the Files app. Like Windows Explorer and Finder, you will then see the external drive listed on the left panel below the Downloads folder. Click on it and you will see the data on the disc.
Note: when you connect an external DVD drive via the method above, there are limits. Namely, you can't write data to a DVD or watch movie DVDs on Chromebook.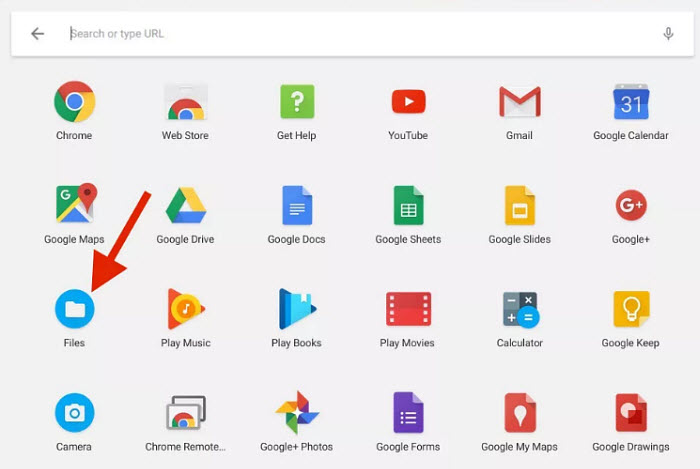 Method 2: Connect an External DVD Drive to Chromebook in Linux
Step 1: Installing Linux will completely clean your Chromebook. So first of all, back up all your important data and app.
Step 2: Then enable the Dev Mode. Press and hold "ESC + Refresh + Power" until your Chromebook reboots. Then press "CTRL + D" when you see the warning screen.
Step 3: In the Dev Mode, download Crouton from the Internet and then install Linux.
Step 4: Next, you need to download the right drivers for the DVD drive. Search "your drive model + manufacturer + driver" online and download one.
Step 5: Now, boot up your Chromebook and switch to Linux ("CTRL + ALT + SHIFT + Forward Arrow"). Plug in your external CD or DVD player to your Chromebook via USB. And you can watch DVDs on Chromebook and rip DVDs.
Note: due to space constraints, we don't represent the whole step details of installing Linux on Chromebook. You can easily find more comprehensive tutorials online. In this way, you can rip, burn, and play DVDs on Chromebook via an external DVD drive. But during the process, things can easily go wrong.
Part 3. How to Play DVD Movies on Chromebook Easily?
Apparently, it's not possible or troublesome to play a video DVD on Chromebook directly via an external disc drive. Why not rip the DVD to digital and watch on Chromebook without external DVD drive? Try something like WinX DVD Ripper Platinum. It will easily convert any DVDs to Chromebook supported formats. Homemade and protected DVDs in your collection are all supported. High output quality and fast speed.
Step 1: Download WinX DVD Ripper Platinum on your Windows or Mac computer, install and launch it on desktop.
Step 2: Insert the DVD you want to play on Chromebook, and click the "DVD Disc" button to load the DVD.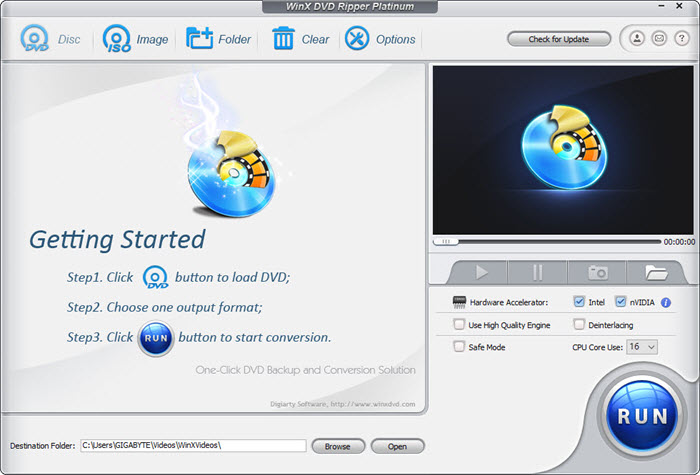 Step 3: Select an output format when a window pops up automatically. To watch the DVD on Chromebook, you need to select a video format supported by Chromebook. For example, choose MP4 from the General Profiles.
Note:
Video formats supported by Chromebook:
.3gp, .avi, .mov, .mp4, .m4v, .m4a, .mp3, .mkv, .ogv, .ogm, .ogg, .oga, .webm, .wav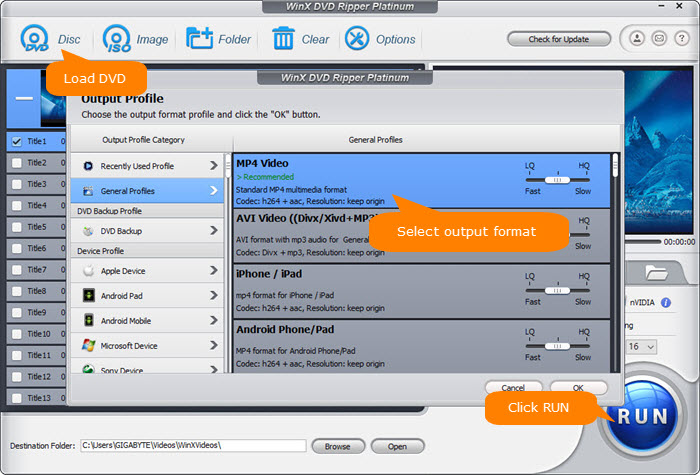 Step 4: Click Run to start the rip. Several minutes later, you will get an MP4 video with high quality. Then transfer it to the Chromebook with a USB drive, or uplaod it to Google Drive, Dropbox, other cloud storage and watch without the use of an external DVD player.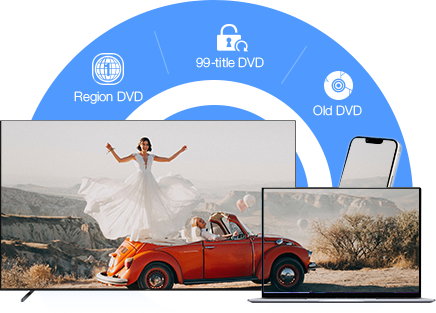 Part 4. 2022 Best External DVD Drive for Chromebook
1. Hitachi LG Multi OS External CD/DVD USB Drive
This external CD/DVD drive works with Chromebook, Windows, Mac, and various other systems. It's compact, lighweight, and very portable. It provides an easy plug and play DVD playback solution on various devices. On a Chromebook, you can use the DVD drive to read CD/DVDs and transfer data. However, you can't use it to play DVDs on your Chromebook due to the Chrome OS licensing policy.
2. Gotega External DVD Drive USB 3.0
This external DVD drive is compatible with a wide range of platforms, including Chromebooks, laptops, PC, Chrome OS, Linux, Windows, and many more. It's easy to carry, light weight and small size. The external CD/DVD drive is powered by USB port so you don't need driver and external power to play a DVD on Chromebook. Note that it contains no Type-C USB support.
3. Laurensory External DVD Drive USB 3.0 Portable DVD Player 
Though this DVD drive has indicated that it's not compatible with Chromebook, here are ways to get it work with Chromebook. To use it as an external DVD drive for Chromebook, you need to go to the Chrome Store Web page and download the app VLC and download the Chrome OS driver. Then you can install software, back up or transfer data, copy photos, etc. with this Chromebook external DVD drive.
4. LG Electronics 8X USB 2.0
This is the best external disc drive or newer Chromebooks. It's light weight, compact, easy to handle, and works as both a DVD drive and a USB drive. This drive is able to decode in numerous disc formats, such as DVD+R/R DL/RW, DVD-R/R DL/RW, and many more. It also includes a smart USB cable which makes things easier.
In fact, most of the LG external USB DVD drives can work with Chromebooks via a USB3. But like other Chromebook external DVD drives, you can't play movie DVDs on Chromebook. You can use the connected DVD drive to access or read files from an appropriately formatted, recorded, and finalized DVD-R.
5. ZSMJ External DVD Drive
This is an external DVD drive made for a Mac which also works on a Chromebook. It has a unremovable cable on it so it's very convenient. You can use it to open DVDs on Chromebook via USB2.0 or 3.0. The entire unit is very lightweight and easy to carry around. You don't need an external power supply at all.
Related: Click to find more external DVD drives for laptop >>