Best 4K Projectors 2020 Under $2000 for Home Theater
Many of you may wonder when the home theater projectors can be all-pervading up to 4K considering the 4K TVs have already entered into everyone's daily life. Actually, the current entry-level 4K HDR projectors, being active in the market, are composed of various brands. Just some of you feel puzzled about the 4K UHD projector or even lack trust to the 4K projector.
The reason of distrust lies in that these entry-level 4K projectors with 0.47" DMD chip is not the native 4K chip. That's the truth. The native resolution of 0.47" DMD chip is not 4K 2160p, but 1920*1080. Yet, by a feat of TI 4K XPR pixel shifting technology, the resolution of 0.47" DMD can achieve up to 4 times pixels than 1920 x 1080, becoming the real 4K 830 mega pixels, which meets the requirement of CEA on 4K image standard.
Hence, the projectors with Ti XPR tech is also worldwidely recognized as 4K projectors. It's undeniable that the native 4K chip brings even better output quality than DMD chip. But this comes at the cost of much much higher price. More importantly, the 4K image is almost identical with the naked eye. That makes XPR 4K UHD projectors highly cost-effective products.
If you're bugdet-minded and want to buy a 4K HDR home theater projector under $2000 or $1500, the below 3 4K projectors with XPR tech shouldn't be missed out!
Best 4K HDR Projectors for Home Theater with Reasonable Price!
Optoma CinemaX P1 4K Laser Projector
Advantages:
1. 4K UHD high resolution (3840×2160) and 3,000 lumens laser light source.
2. Overwhelming high contrast, up to 1,500,000:1.
3. NuForce Dolby Digital 2.0 audio to produce detailed sound.
4. Feature advanced pure glass optics, a laser light source, HDR compatibility and PureMotion image processing.
5. SmartFit app for you to conveniently adjust and manage your 4K laser projector anywhere anytime.
6. Work with Alexa and Google Assistant.
Disadvantages:
1. The price is high, beyond $2000.
2. No game mode yet.
Optoma 4K laser projector is bombarded with a vast number of praises everyday on Amazon and its official webpage. The most compliment is about how crisp and amazing image this 4K projector brings. Many users admit it's not perfect but it's worth the investment, mainly because of the extraordinary image quality it yeilds. Wide color gamut and HDR10 support with a 1,500,000:1 contrast ratio create spectacular color and dynamic black, brighter whites and deeper black with more details. It lives up to its promise: bring the cinematic experience home!
As we mentioned before, this 4K HDR projector is imperfect. Some would appreciate it a lot if Optoma takes strides to extend the screen size from 120" to 200". What's more, most customers give it 4 stars instead of 5 stars due to the dynamic HDR setting, which results in the 4K projector to change the light output between actors too often. The image looked great for one, but would darken and look grainy for the other. Therefore, you'd better have an overall consultation via Optoma customer support or do a deeper investigation based on reviews before you spend $3299.99 on this 4K projector.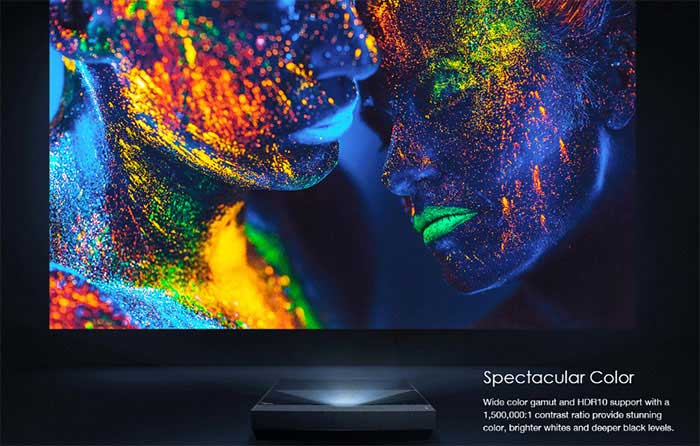 BenQ TK800M
Advantages:
1. Brightness is excellent, up to 3000 lumens.
2. 3840x2160 resolution.
3. BenQ HDR supports HDR 10 and is up to the mark of HLG standard to cast high-class image with auto color correction feature.
4. Support more 3D films and formats.
5. Directly read and project the video content from USB drive.
6. The price is reasonable, under $1500.
Disadvantages:
1. No lens shift.
2. 3D Blu-ray not supported.
3. The contrast leaves too much to be desired, only 10000:1.
4. No MEMC chip.
This 4K home theater projector adopts DLP DMD imaging chip to reach the real 4K resolution. But that's not the point. What's special to me is that its brightness is upscaled to 3000 lumens, which enables you to view the 4K movies without turning off the lights or staying in a dark room. Even when you use it in daylight, it can still promise you a wonderful 4K image.
Other nice extras worth a mention are the all-glass lens and the projection distance. Its optical system takes advantage of a new 7-element, 4-group, all-glass lens with low-dispersion coatings to minimize chromatic aberration and to optimize the sharpness of 4K image to the utmost. In terms of the projection distance, the 1.1x zoom renders a 200" image with a throw distance from 21.78 to 23.94 feet. So you can freely adjust your distance and the screen size. They're all at your full disposal.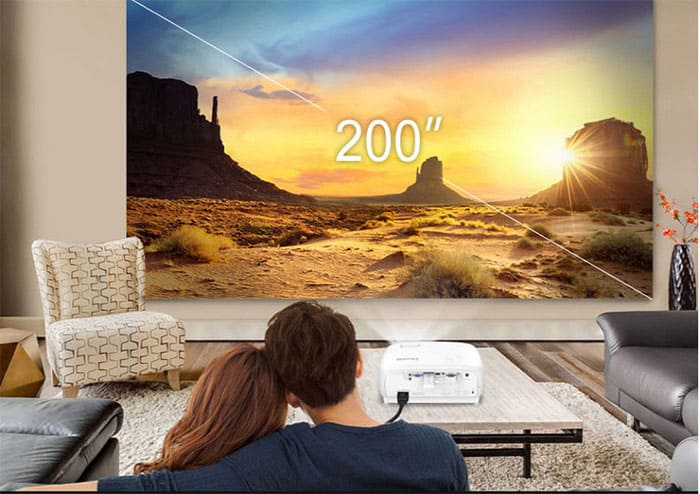 ViewSonic PX727- 4K
Advantages:
1. High cost performance, only $1198 for 3840x2160 resolution projection.
2. Support HDR.
3. RGBRGB color wheel with Rec. 709, and Rec. 2020 compatibility for crisp image and vivid colors.
Disadvantages:
1. Color contrast still needs to be improved.
2. 3D format not supported.
3. 2200 lumens brightness is inferior to world-class 4K projectors.
4. Unable to directly read from USB drive.
This 4K home theater projector is no doubt suitable for budget-minded users who want to strike best balance between price and 4K projection. Its price is attractive and it indeed supports the video projection up to 4K 2160p. Yet, as for other more advanced configurations and settings, just forget it. You get what you pay for.
Of course, the image quality is not equal to the one from Optoma CinemaX P1 4K or even BenQ TK800M. By means of RGBRGB color wheel, alongside with Rec.709, Color Enhancement and Skin Tone techs, the video image is still super clear and bright. Generally speaking, for those who need entry-level 4K projector under $1500, this one is a nice try.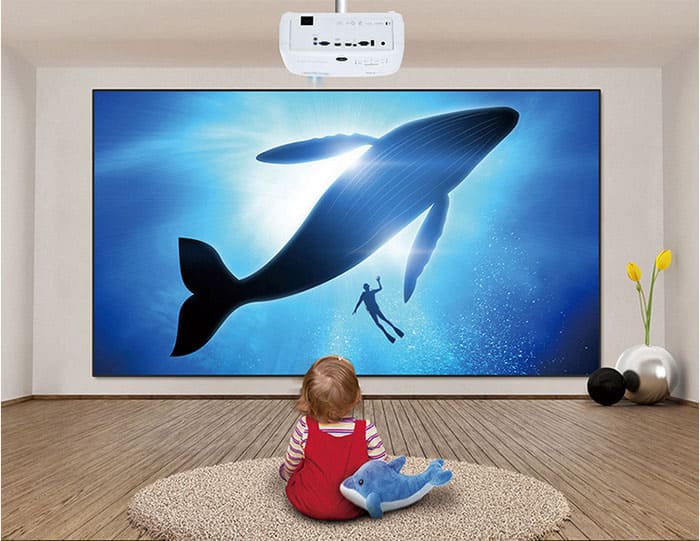 You're warmly welcomed to share with us about more fascinating 4K projectors if you've hands-on experience.