1080p vs 4K vs 8K | What's the Difference between 1080p, 4K and 8K?
There are a lot of buzzwords to describe the video resolutions, from HD, FHD, 2K, 1080p to 4K UHD. While the advent of 4K is still news, 8K comes out. Now things get even more confusing. Customers can't keep asking questions like is 8K better than 4K? What's the difference between 1080p, 4K and 8K resolutions? Should I switch the HD TV to a 4K TV or an 8K TV? Here are the answers.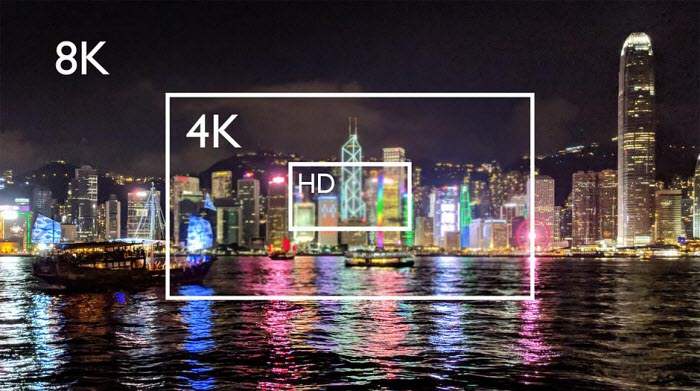 8K/4K/1080p HD Video Converter Free Download
WinX HD Video Converter Deluxe is a tailor-made 4K video converter that you can use to convert between different video formats up to 1080p HD, 4K and 8K. Besides format conversion, it also lets you to compress a 8K/4K video, adjust the video parameters like resolution, aspect ratio, frame rate, etc., and trim/crop a video.
Part 1. 1080p vs 4K vs 8K: Properties
#1. Definition
Resolution, 1080p, 4K, and 8K, indicates the number of pixels on a screen.
1080p, also known as Full HD, is 1920×1080 resolutions. It is a set of HDTV high-definition video modes characterized by 1,920 pixels displayed across the screen horizontally and 1,080 pixels down the screen vertically; the p stands for progressive scan, i.e. non-interlaced.
4K has 3,840 x 2,160 pixels mainly for Ultra HD television, or 4,096 x 2,160 pixels for digital cinema. 4K Ultra HD is exactly four times of the resolution of HD (1080p). BTW, different organizations standardize the 4K resolution differently, including 3,840x2,160, 4,096x2160, 4,096x2,560, 4,096x2,304, 3,840x2,400, 3,840x1,600 and 3,840x1,080.

8K is a resolution of 7,680 x 4,320 pixels. 8K Full Ultra HD is sixteen times the resolution of HD, and four times of 4K Ultra HD. The image effect is much sharper.
| | | | |
| --- | --- | --- | --- |
| | Number of pixels per row | Number of rows of pixels | Total pixels |
| FHD 1080p | 1,920 | 1,080 | 2,073,600 |
| Ultra HD (4K) | 3,840 | 2,160 | 8,294,400 |
| Full UHD (8K) | 7,680 | 4,320 | 33,177,600 |
#2. Specifics
Video codec: The current video compression standard formats for HD, 4K and 8K are H.264/AVC, H.265/HEVC, VP9, AV1 from Alliance for Open Media, and H.266/VVC. HEVC is widely applied to the current 4K TVs, smartphones, including iPhone, but the royalty structure and higher computer hardware demanding are headache. VP9 is the best choice for Android, Windows, YouTube, Chrome, Firefox. While AV1, backed by Amazon, Apple, Google, Intel, Microsoft, Netflix, etc, is meant to replace HEVC, becoming the single standard for 4K and 8K. And H.266/VVC (Versatile Video Coding) is the successor to H.265. (See details on UHD video formats)
Total pixels: 1080p has 2 million pixels, 4K Ultra HD has 8 million pixels, while 8K has 33 million pixels. More pixels, more details.
Frame rate: 1080p and 4K Ultra HD has a frame rate of up to 50 fps or 60 fps, while 8K Ultra HD has 120 fps.
Standard viewing distance: Viewing distance of 4K Ultra HD is 3x screen height, while that of HD is 0.75.
Standard viewing angle: Viewing angle of 4K Ultra HD is 60°, but viewing angle of 8K Ultra HD is 100°.
Audio channels: Audio channel for 4K Ultra HD is 5.1, but the audio channel for 8K Ultra HD is 22.2.
#3. Quality
Higher resolutions bring more pixels, and therefore more details. So compared 1080p to 4K and 8K, it's no doubt that there is a major difference in quality. For example, when you zoom in an image (or put the video on a larger screen), 8K resolution looks far clearer and sharper than 4K, not to mention 1080p. But can you distinguish the differences between 1080p, 4K, and 8K in real life?
It all depends on how big your screen is. To notice the quality upgrade of 4K video over 1080p, you should at least have a display that is 6 inches. On a smaller display, you can hardly distinguish the two resolutions from one another. 1080p, 4K and 8K videos look the same if you play them on an HD TV. But if you play to get a modern 4K TV, 4K and 8K will give you better quality.

#4. Video Size
Now the standard recording resolution of most phones is usually 1080p. To record a minute of video in 1080p at 30fps, it requires about 130MB. That's about 8GB an hour. In a word, you're able to record less than 16 hours of video in 1080p on a mobile with 128GB.
Higher resolutions means larger file size. To be specific, a minute of recording at 4K 30fps takes 375MB and 22.5GB for an hour. That means less than 5 hours of 4K video recording on a mobile with 128GB.
Till now the Samsung Galaxy S20 and Xiaomi Mi10 are able to record videos in 8K resolutions. They will record 8K video @30fps for 600MB a minute and 36GB an hour. If you record 4K/8K videos in raw video formats like RedCode Raw 75, it takes more space: about 121.5 GB per minute for raw 8K footage. New picture improvement technologies that comes with higher resolutions such as HDR and WCG, plus the higher frame rates and deeper color depth, all make 4K and 8K much bigger than 1080p.
| | | |
| --- | --- | --- |
| | 1 minute recording | 1 hour recording |
| FHD 1080p | 130MB | 7.5GB |
| Ultra HD (4K) | 375MB | 22.5GB |
| Full UHD (8K) | 600MB | 36GB |
Note: Larger file size brings challenges. For example, you need more storage to store 4K/8K, more powerful computer to edit them, and more data to transmit them. So, sometimes you may need to compress a video to get a smaller file size.
Part 2. 1080p vs 4K vs 8K: Usage
#1. Device & Platform Availability
1080p is the standard resolution on most mid-range phones, with only a handful of newer phones comes with 4K displays. It's widely used on low-end TVs, laptops, and PC monitors. It is the most commonly used YouTube video resolution today. Movies on standard Blu Ray discs are of 1080p resolution.
4K is the highest resolution available on streaming services like Netflix, Hulu, HBO Max, Disney+ or Amazon Prime TV. Most new TVs come with screens of this resolution. Almost every modern GPUs usually support 4K/UHD output. Game consoles also offer native 4K support, and newer consoles like PS4 Pro, PS5, Xbox One X/S, Series X all have 4K support. There is a range of high-quality mirrorless cameras, DSLRs, video cameras, and even drones that offer superior HD and 4K video shooting.
Samsung Galaxy S20 and Xiaomi Mi10 and some high-end cinema cameras from Canon, RED, Ikegami, etc. are able to shoot videos in 8K. Some new TVs on the market are labeled 8K, but they are pretty expensive.
Note: not all devices are born to play these high-resolution video taken by the latest mobiles. But you can change video resolution, e.g. from 4k to 1080p, to fit your specific device and social platform.
#2. HDTV, 4K TV or an 8K TV
For years, HD TV peaked at 1080p have dominated the market. Until recent years, 4K is the resolution standard for most televisions out the market as of now, and 8K high-end TVs are trickling out. For smaller and low-end TVs, 1080p is enough to provide sharp picture. But when there are more and more 4K devices and contents, 4K is almost as popular as HD and become less expensive.
4K is quite sharp on most TV sizes. By now, 8K TVs are very, very expensive right now which may cost you tens of thousands of dollars. More than that, currently there isn't enough 8K content available to let you enjoy the benefits of 8K quality and the enormous screen size. So, if you have enough money to burn, you can buy an 8K TV.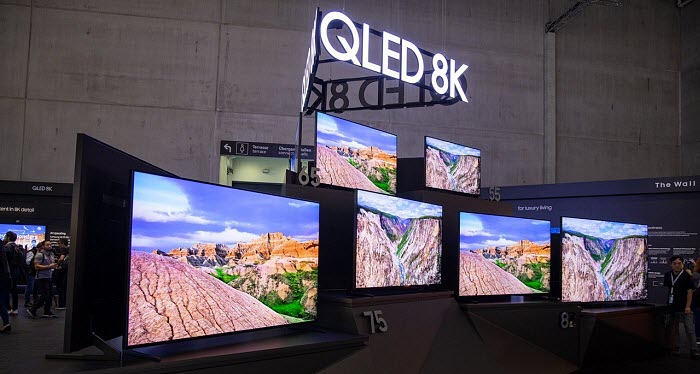 | | | | |
| --- | --- | --- | --- |
| | 8K | 4K | FHD 1080p |
| Height in pixels | 4,320 | 2,160 | 1,920 |
| Width in pixels | 7,680 | 3840 | 1,080 |
| TV sizes | 755" to 292" | 40" to 100" + | 24" to 85" |
| Content | Extremely limited | Wide | Common |
| TV brands | Sharp, Panasonic, LG, Samsung, BOE, Hisense, Changhong, Sony | SAMSUNG, TCL, INSIGNIA, Sony, LG, Hisense, VIZIO, DURAGADGET, Amazon, etc. | SAMSUNG, TCL, Vizio, Sony, LG, Hisense, VIZIO, etc. |
| TV types | 18 | 100+ | N/A |
#3. Gaming
In gaming, video resolution is not the only thing to consider. Many players prefer better gameplay experience than higher image quality. That's why many gaming monitors can offer a higher refresh rate than the standard, such as 144Hz, 240Hz, 360Hz, etc. As long as the hardware running the game is powerful enough to render the frames in real time, most games can be updated to support the highest resolutions available.
By now, Full HD 1080p remains the mainstream standard for high-resolution for gaming. To play games resolution like 4K/UHD, you need more demanding CPU/GPU to render 4K quality at high frame rate. But, monitors with a high refresh rate and 3840 x 2160 resolution, could be beyond budgets.
The biggest hindrance to 8K gaming is also the frame rate. Even if you have bought the expensive 8K TVs like the Samsung Q900TS 8k QLED to play games in 8K @60Hz, a lower resolution can easily give you a higher frame rate, and therefore a lot smoother gameplay. So for most gamers, they may opt for a 4K TV with HDMI 2.1 to take full advantage of the new gaming consoles in 4K @120Hz.
Related reading: Best Graphics Cards for 4K Gaming, Best 4K TVs for (HDR) Gaming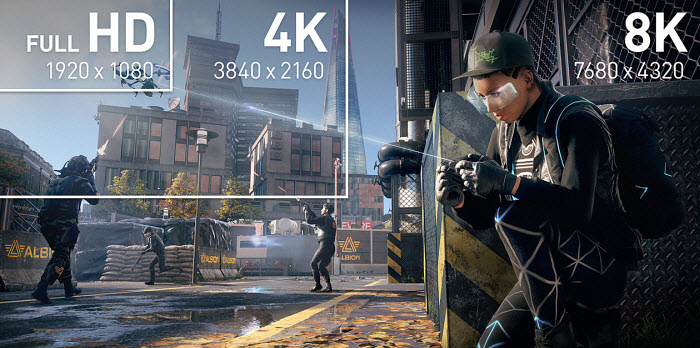 Part 3. 1080p vs 4K vs 8K, Which is Better?
Is 4K and 8K better than 1080p? In a word, it all depends on which way you plan to watch the video. 4K and 8K resolutions are no doubt more future proof. But recording in 4K and even 8K will generate a significant amount of heat in the camera and requires additional processing power to deal with, resulting in a shorter battery life. That is the same case with CPU and GPU.
4K and 8K Ultra HD, the two Ultra HD formats, can provide super vivid image and deliver perfect visual sense. However, it would be a luxury for ordinary people to buy a high-end 4K or 8K UHD TV. And even if UHD TVs are affordable, it is difficult to get various TV shows or movie videos to be fully compatible with the high-tech products, especially for 8K UHD TV. But if you want to play 4K or 8K resolution videos on iPhone, iPad, Android, Microsoft and other devices, a 4K/8K video converter is a good bet.