How to Stream Movies, Music on Windows 10 with Movie/Music Streaming Apps
Here's tutorial of how to download and watch movies on Windows 10 store.
The new features of Windows 10 give users a very persuasive reason to free upgrade to Windows 10 and even tempt a part of people to switch other OS to this new Windows system. Among those new features, the versatile Windows 10 app store totally satisfies people who pay much attention on entertainment and brings an ultimate shopping experience across Windows 10 devices. And here, what we will talk about is how to stream movies, music from Windows 10 PC to devices like Windows phone/tablet, Xbox with movie/music streaming apps in Windows 10 store.
Windows 10 Movie/Music Streaming Apps and How to Stream
If you have installed Windows 10, open Windows Store and you can discover tons of built-in apps ranging from daily use like Office, OneDrive, Mail to entertainment including games, movies, music etc. Besides, you can download third-party apps you want from Windows 10 app store. Now, let's go to check the best Windows 10 movie/music streaming apps and learn how to stream movies/music from Windows 10 PC.
>> Movie Streaming on Windows 10
>> Music Streaming on Windows 10
App for Movie Streaming on Windows 10 - Movies & TV
Before the release of Windows 10, Microsoft had announced a Movies & TV app which derives from Xbox Video in Windows Store enabling users to play and manage personal movies (like copied from DVD with a tool such as WinX DVD Ripper Platinum, downloaded online, home-made, purchased/rented from Xbox Video/Windows Store) as well as stream movies from Windows 10 PC to devices, like Windows Phone/Tablet. It is now available in 21 countries and supports over 100 languages.
How to Stream Movies on Windows 10:
1. Play a video in the Movies & TV app.
2. Tap "Cast to Devices" button at the bottom of the screen.
3. The DLNA/UNPnP devices on your network will be listed. Select one device and then it will start streaming movies from Windows 10 PC to the remote device.
>> Stream Movies from Xbox to Windows 10
>> Popcorn Time Windows 10 for Movie Watching and Streaming
More Windows 10 Movie Streaming Apps
Netflix
• Explore and watch plentiful movies, TV episodes.
• Start from $7.99 /month for this movie streaming service for Windows 10.
>> Fix Netflix Errors
Hulu Plus
• Offer unlimited current hit, classic TV shows/series and movies, including those for kids.
• Check upcoming movies, showtimes, reviews, HD movie trailers.
Flixster
• Check upcoming movies, showtimes, reviews, HD movie trailers.
• Stream full-length movies from your collection on Windows 10.
Crackle
• Deliver full-length Hollywood movies, TV series.
• Monthly update.
• Available in USA, Canada, UK, Australia, Latin America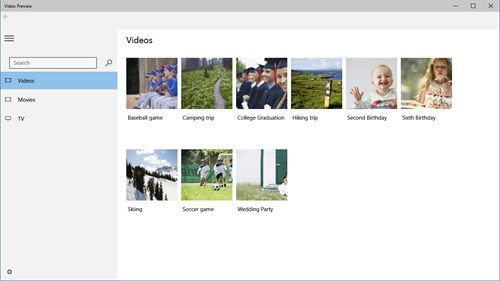 App for Music Streaming on Windows 10 – Groove Music
Groove Music, aka Xbox Music, is a new launched music streaming app on Windows 10. Embracing over 40 million songs covering new hits Good for You, Cool for the Summer etc.), familiar favorites and more in the section, it leads you to explore, stream and download wanted music for offline music enjoyment on any device, Windows Phone, iPhone, Android, Xbox and Web media player. Integrated with OneDrive, you can stream own music to from Windows 10 PC to devices using this app. Users can get free 30 day trial but pay $9.9 a month for further access.
How to Stream Music on Windows 10
1. Sign up for Groove Music Pass and find the music you want to stream.
2. Enter info page of the chosen song/album. Click More option.
3. The Drop-down list appears. Click Download to have the music on your Windows 10 PC or other devices (only 5 at once). You can manage devices for music streaming by "Manage my devices" in "Setting".
More Windows 10 Music Streaming Apps
Spotify
• Enjoy high-fidelity music streaming on Windows 10.
• Access to a great deal of MP3/FLAC music in every genre.
>> Downlod Music from Spotify
iHeartRadio
• Listen to thousands of live radio stations for music, news, sports etc.
• Customize own music stations from catalog of over 18 million songs.
Vevo
• Discover and stream free high-quality music videos, premieres, live performances from your favorite artist on Windows 10.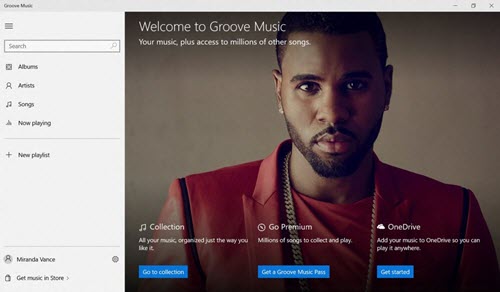 If you still have some questions about how to download and watch movies on Windows 10, please go to Windows forum to post your issues and get help.