What Is Codec? Why Is It Important for Video & Audio?
In everday life, you can watch awesome videos on YouTube, TikTok or the like, record splendid video footage with camcorders, or edit video clips for a vivid vlog. All of this cannot be done with codec. But what is a codec? How does it compress to make video and audio file smaller? This article will give you the details.
Encode & Decode Codecs for Trouble-free Video Audio Playback
Be cognizant of which codec your videos final destination supports, and convert the video with WinX HD Video Converter Deluxe now! It allows you to convert videos encoded in whatever codecs, like HEVC, H.264, MPEG-4, XviD, DivX, VP9, AV1, AAC, MP3 etc. to 420+ presets for smoothly playback on incompatible PCs/Macs, TVs and portable devices.
Part 1. What Is A Codec?
What Is A Codec?
A codec is a device or computer program which encodes or decodes a data stream or signal. You see, codecs are compression technologies which ahve two components, an encoder to compress the files, and a decoder to decompress. Codecs are usually compressed for data (PKZIP), still image (PNG, JPEG, GIF), audio (DTS, MP3, AAC), and video (H.264, HEVC, VP9, AV1, MPEG-4). Here we'd like to focus on audio and video codecs.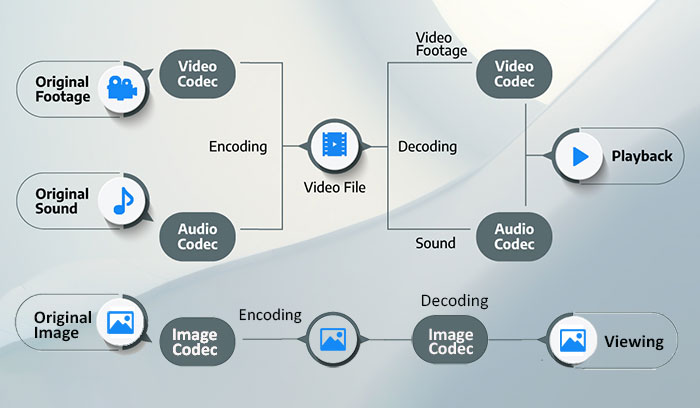 Lossless & Lossy Codec
In addition to sorting by file type, codecs can also be devided into lossless and lossy codecs. Lossless codecs, like PKZIP or PNG, reproduce the same exact file as the original upon decompression.
In the contrast, lossy codecs produce a facsimile of the original file upon decompression, instead of the original file. The more you compress, the more quality you lose. There are two types of compression techniques for lossy codec: intra-frame and inter-frame compression. Intra-frame compression means compressing each frame of the video just as compressing the still image. However, inter-frame compression uses redundancies between frames to compress video. For example, in a scenario of sunrise, much of the background remains static, and only the sun is dynamic. Inter-frame will store the static background information once, then store only the changed information in subsequent frames.
Inter-frame compression is much more efficient than inter-frame compression, so most codecs are optimized to search for and leverage redundant information between frames.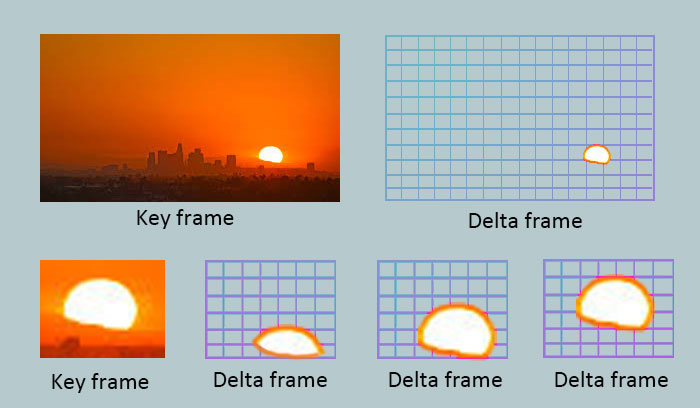 Why Codecs Are Necessary?
You know, video and audio files can be huge. This means that they can be difficult to to transfer over the Internet. Thus, codec arises at the historic moment to speed up downloads, algorithms encode, or shrink a signal for transmission and then decode it for viewing or editing. This helps video and audio transfer at least to be 5 times faster.
Related: What Is Video Decoding - Overview
Part 2. The Common Types of Codecs
Now that you know what codecs are, let's discuss some common types of codecs. In your daily life, you're probably more exposed to codecs like H.264, MPEG-4, DivX, and XviD, MP3, AAC. Actually, there are a variety of common codecs. You can decide which one is the best fit your needs.
MPEG-4: MPEG-4 file uses both progressive and interlaced video. It's a widely-accepted compression standard that is applied better compression techniques than MPEG-1. Moreover, some codecs like H.264, HEVC are derived from MPEG-4 indeed.
H.264: H.264 is a family of standards with great flexibility and a wide variety of applications. It enables compression for high and low bit rates and both high and low video resolutions. It saves bandwidth of large multimedia greatly.
HEVC: As a successor codec of H.264, HEVC is developed to have a higher coding efficiency and improved video quality. It saves about 50% bitrate at the same high quality.
ProRes: ProRes is a widely-used codec for video editing software developed by Apple such as iMovie and Final Cut Pro. You can find it in several formats like ProRes 422, 4444 and RAW. It can handle video footages up to 8K with superior color.
WMV: WMV is originally designed to compress files for internet streaming on Windows. Microsoft claims that WMV provides a compression ratio that is two times better than MPEG-4 and three times better than MPEG-2.
AV1: AV1 is a new video coding format using VP9 video codec as a base. It is mainly used for transmitting high-quality video efficiently over the internet. It is open, royalty-free for next-gen media delivery.
MOV: MOV files use Apple's proprietary compression algorithm. It's often used for larger and high-quality video, audio, and effects storage.
...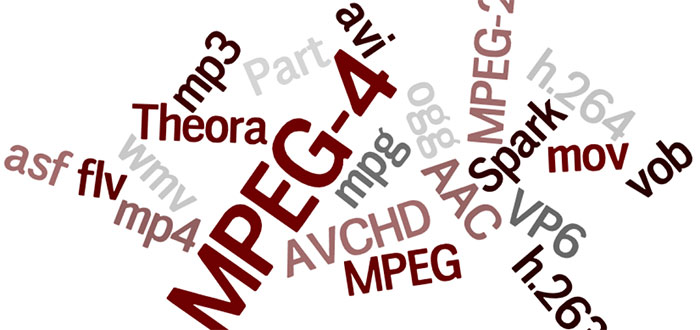 Part 3. Which Codec to Download and Install?
I bet you must have got such an error message, "Missing codec. The item was encoded in a format that's not supported", when you're playing videos. Besides converting the unsupported video codec to the supported one with a video converter, you can also install the proper codec pack to make your video playable. But which codec to download and install? Here are some suggestions:
1. K-Lite Codec Pack
K-Lite Codec Pack is a widely-used codec pack with high praises. It plays all the popular movie formats. K-Lite comes in four flavors: Basic, Standard, Full, and Mega. Basic does just fine for DivX and XviD formats playback. Standard pack is the most popular one, which has everything an average user needs to play the most common file formats. Mega pack is a comprehensive bundle, which even include Media Player Classic. Of course, if you're a power user, you can choose Full pack for additional encoding support.
2. X-Codec Pack
X-Codec Pack is a lightweight spyware-free and adware-free codec collection. By downloading the complete assemblies of codecs, you can play all major audio and video formats. By the way, it won't take you long to download X-Codec Pack as it isn't a huge size.
3. CCCP
CCCP (Combined Community Codec Pack Project) is a collection of useful codecs for playing just about any kind of video file you're likely to encounter online. It provides a comprehensive set of codecs that will not only play common files but also uncommon ones. CCCP is capable of decoding practically any groups' files without breaking compatibility for other formats.
Part 4. More about Codecs and Containers
Many of you may be confused about codec and container. Why MOV is a codec sometime and sometime it's a container? What's the difference of codec and container. You can find the answer out there.
Firstly, codec is the short for Compression Decompression. It's used to compress or decompress the audio, video, image, and data. While container is used to send audio and video content from one place to another. It combines all the audio video streams with its metadata and represent in a single file format. A container can contain the various codecs of audio and video.
Briefly, the concept of codec is to encode and decode the data to reduce the size of content. Container is to package this data then transport and represent it at the receiving end. Here are some examples of codecs and containers.