What is TS Video? How to Play TS Files on Windows/Mac?
What is TS Transport Stream Video? TS Format Wiki
Transport stream (TS) is a standard format specified in MPEG-2 for the transmission and storage of audio, video and data, and commonly used in broadcast systems such as DVB and ATSC. It is also a video stream file format for storing video on DVDs. Transport stream specifies a container format encapsulating packetized streams, with error correction and stream synchronization features for maintaining transmission integrity when the signal is degraded.
The connection of Transport Stream to Program Stream is as follows. Firstly, PS is designed for reasonably reliable media, such as disks, while TS is designed for less reliable transmission, namely broadcast. Further, Transport Stream transmissions may carry multiple Program Streams.
Part 1. Some Important Elements of a Transport Stream TS:
Packet - A packet is the basic unit of data in a transport stream.
PID - Each table or elementary stream in a transport stream is identified by a 13-bit packet ID (PID).
Programs - Transport stream has a concept of programs. Each program is described by a Program Map Table (PMT) which has a unique PID, and the elementary streams associated with that program have PIDs listed PMT.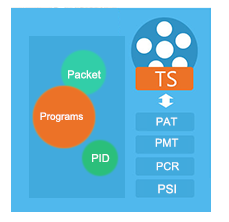 Program Specific Information(PSI) - There are 4 PSI tables: Program Association , Program Map, Conditional Access, and Network Information. The MPEG-2 specification does not specify the format of the CAT and NIT.
PAT - Stands for Program Association Table. It lists all programs available in the transport stream.
PMT - Program Map Tables (PMTs) contain information about programs. For each program, there is one PMT.
PCR - To enable a decoder to present synchronized content, like audio tracks matching the associated video, at least once each 100 ms, or PCR is transmitted in the adaptation field of an MPEG-2 transport stream packet.
Part 2. How to Open TS Video Files on Windows or macOS
Theoritically speaking, TS is not natively supported by either Windows or macOS. If you're playing back TS video stored in DVD disc, just insert DVD disc to DVD player for TV or load DVD disc to DVD drive for computer, needless of any extra TS video player software.
As for TS video playback on Windows 10/11 or MacBook iMac, TS video player is a must-have. The highly sought-after TS file players go to VLC player and 5KPlayer (both cross-platform software with Windows & macOS supported).
VLC media player
Key feature: free play TS video, as well as MTS, M2TS, MOV, MP4, WMV, ProRes, FLV, AVCHD, etc. videos on Windows 10/11/macOS.
Key benefit: free play DVD (MPEG-2) content, convert TS to MP4 H264/HEVC or extract audio from TS.
Room to get improved: video audio out of sync, black screen and subtitle not working errors occur now and then.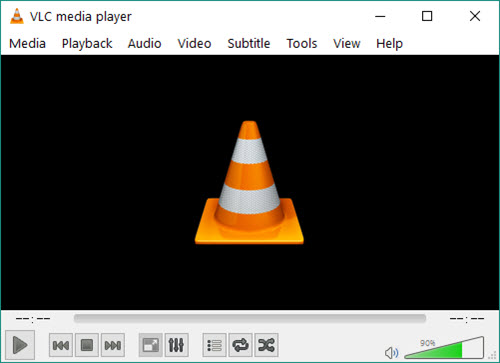 5KPlayer
Key feature: free play TS video (intact or slightly damaged one supported), MTS/M2TS, AVCHD, MP4 (H264/HEVC/AV1), MOV....
Key benefit: free play DVD disc, audio/music file, free download video/music from 1000+ sites and stream TS video files to iOS/Android.
Room to get improved: separately download dmg or exe installation for computer.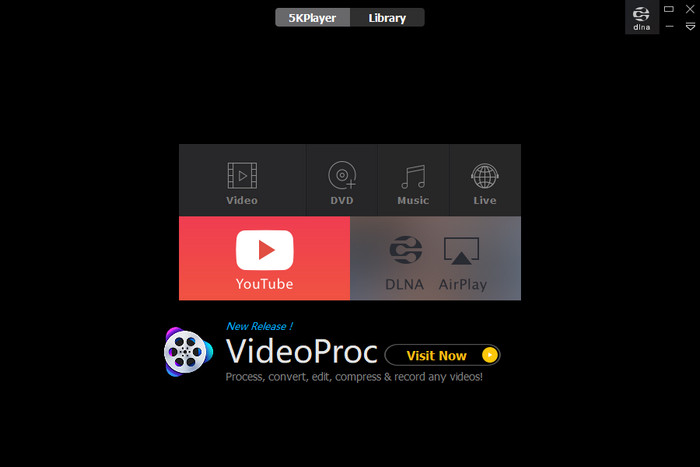 Notwithstanding you can download and install extra TS video player to play .ts video files, it still brings you much inconvenience when it comes to play TS on iPhone Android, Xbox PS5, stream TS to Plex, Roku, or even upload TS video to YouTube, Instagram, etc. for social sharing. In such case, the most direct yet effective solution goes to convert TS to MP4 format - the current most popular digital format so that you can play, edit, stream, transfer or share TS video footages without any barrier. To achieve this, download top TS to MP4 converter first!
Part 3. Download BEST TS Video Converter to Convert TS to MP4 for Better Compatibility
What is TS video converter? Since TS video format can also be accepted natively by a very limited number of player apps, programs or hardware, a TS video converter can make HD TS video more compatible.
HD Video Converter Deluxe can convert TS to MP4, HDTS to MKV, TS to AVI, TS to FLV, WMV, TS to MPEG, TS to iPhone, iPad, iPod, Apple TV, Samsung, HTC, Windows Phone, Suface Pro/Book, Chromecast, PS4, and so on at the world's fastest transcoding speed without quality loss thanks to built-in hardware accelerator.
3 Steps to Free Convert TS to MP4 on Windows 10/11 or macOS
Free download and install the top TS video transcoder on Windows 11/10/8/7 computer or MacBook/iMac/Mac Studio, and now change TS video to MP4 in 3 simple steps. Batch conversion is supported.
Step 1: Launch WinX and click "Video". Click "+Video" button to import source TS video files from computer into the program.
Step 2: Choose MP4 as output format in the Output Profile column. Hundreds of other popular formats and device profiles are also available for choosing. Freely select one based on your need.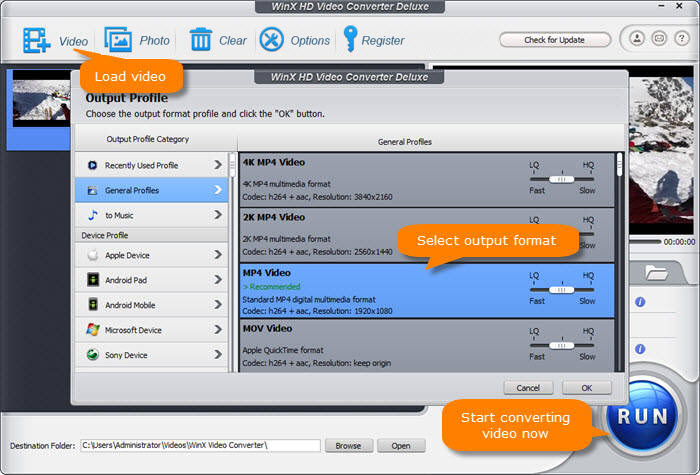 Step 3: Hit "RUN" to start converting video from TS to MP4 H264 or HEVC codec at ultrafast speed (GPU hardware acceleration tech supported). The default output folder will auto pop up after the conversion finishes. To change destination folder to store the converted TS video file, you can click "Browse" to set a specified folder before hitting "RUN".
Related: you can also click here to convert ts to MKV.
Part 4. FAQs about TS Transport Stream
What's the difference among TS, MTS and M2TS?
.TS (Transport Stream) is a communications portocol for audio, video, and data. It is a type of digital container format that encapsulates packetized elementary streams and other data.
MTS format is a high-definition MPEG, AVC, H.264 transport stream video file format which commonly used by HD camcorders such as Sony, Canon, Panasonic, JVC. etc.
M2TS files are raw AVCHD videos recorded using Sony's camcorders, such as the HDR-SR(xx)series models. Panasonic, Canon and other brands of AVCHD camcorders also record in M2TS format.
Therefore, basically speaking, there is no big difference among these three video formats. And if there is any, the difference gap is narrow. Check here to read more detailed comparison if you wanna delve into this deeper.
How do I open .ts files on Android?
Two methods are provided here for you:
1. Open CMD starting from your ts files folder (by shift+right click on the folder) and run copy /b *. ts Joined.
2. Download and install a free TS video player on Android phone or tablet. VLC for Android, MX player or TS-Player apk for Android can be your best mate for open TS video files directly on Android device.
Can VLC convert TS to MP4?
Yes. VLC player can free convert video format from TS to MP4, all on its own, no extra plug-ins or add-ons. What you need to note is that it can support you to output TS as MP4 H264 or HEVC codec, no AV1 codec yet. And remember to check if your TS file is intact before you go, since VLC has no power to handle incomplete, damaged or corrupted TS files.