How to Send Video by Email (Gmail) in Any Size
Currently, Ultra HD video like 4K has won by a landslide in video recording world. A 60s 4K XDR HEVC video at 60fps shot by iPhone 11 consumes roughly 400Mb, let alone GoPro Hero 7 recording, a 1-min 60s 4K at 30fps with Protune up to 585Mb.
There is no problem to store these hi-def footages on their own storage card since mobile devices get upgraded with larger and larger storage space. Yet, that's a totally different story when it comes to send this kind of videos via Email. You know, Gmail only allows you to send a video attachment smaller than 25Mb. What to do if your video file is more than 25Mb or 100Mb? Read on...
How to Send a Video via Email That's Too Big
Part 1. Send Large Video Through Gmail & Google Drive
Log in Google account, open Gmail, tap Compose and click Attach files to select video (smaller than 25Mb). Afterwards, fill in recepients and subject. When everything is ready, hit Send button and the video will be sent successfully via Gmail. But if your video footage is more than 25Mb, you'll get informed with this notice: Therefore, you have to use Google Drive to send a video over 25Mb on Gmail. The specfic steps are:
Step 1: Click "Insert files using Drive" at the bottom of the new message window. Step 2: Tap "Upload" on the pop-up window and drag your video files into the window. You can click "Add more files" button to load more video clips. Afterward, you'll be informed with a line of red words at the bottom - "the selected attachments will be shared via a Drive link". Step 3: Hit "Upload" button to upload your file to Google Drive. Be patient since some large-sized 4K videos are uploading at a snail's pace.
Step 4: The video file with a red icon stands for the attachment file (smaller than 25Mb). Another one with a blue icon represents a video file Drive link, which is accessible to recepients and can be downloaded instantly in browser.
Hit "Send" button or tap "Schedule send" to preset send time. On top of Google Drive, Dropbox is also a silver bullet when it comes to send a video over 25Mb or 100Mb by Email Gmail. And the whole process is easy peasy. Open Dropbox folder > drag your video footage to folder > right-click to choose Dropbox from the expanding option list > select "Copy Public Link" > go back to Gmail > paste the link (this link is available to anyone) to the content box > click "Send" to send your large file on Gmail with dropbox link.
If you're sick of the slow uploading speed and drive/dropbox link, you can consider to properly compress video for Emailing.
Part 2. Compress Large Video for Emailing
Speaking of compressing video for Emailing, WinX HD Video Converter Deluxe is a must mention. With 370+ codec inputs and 420+ profiles supported, it supports you to shrink large-sized video from low-compression efficiency codec to high-compression efficiency codec like HEVC x265. Thus, your video file can be whopping reduced, 30-50% smaller than before while keeping the identical quality.
To further downsize video (say 70% size off), it empowers you with more freedom, letting you cut off unnecessary clips, remove black border from image, delete redundant audio/subtitle tracks, as well as lower resolution, frame rate, bit rate to compress video for Emailing. Of course, video quality would reel from parameter adjustment. Yet, the effect is subtle, only 2% quality loss (partly due to High Quality Engine).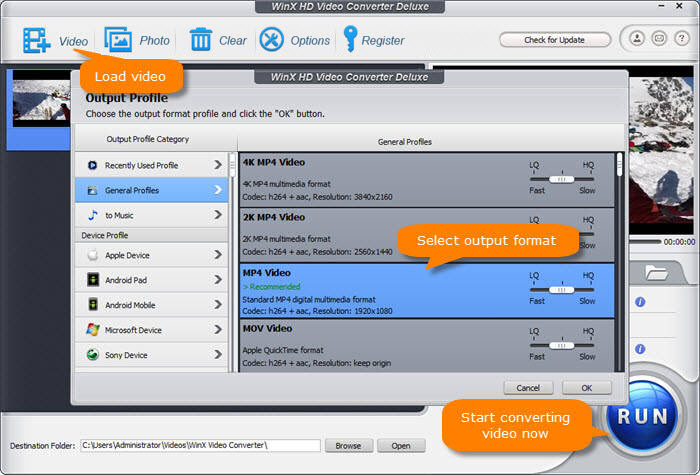 That's not the whole story. This video compression software can convert any video to MOV, MP4, H264, H265, M4V, MKV, AVI, WMV, FLV, 3GP, SWF, MP3, iPhone iPad, Android, Xbox, PS5/4, etc. no limit on file size. To crown it all, you can get video customized via edit (trim, crop, merge, subtitle...), parameters adjustment and video downloaded from 1K sites!
Free Download WinX HD Video Converter Deluxe to resize 100Mb+ videos to smaller for faster Emailing with original quality.
Check YouTube video tutorial to get the hang of WinX Video Converter. Or head to video compression article guide.