Best Phone Video Formats for iPhone, Android, Microsoft
It would be maddening when your Android phone videos are rejected by iPhone after you upgrade mobile phone from Android to iPhone. The same also happens in other mobile phone switch like Microsoft to Android, Microsoft to iPhone, etc. The reason is simple. Smart phones with different operating systems vary from each other in supported video formats.
So, if you want to play video files on any mobile phone without incompatibility issue, you'd better get the hang of phone supported video formats of each brand phone. After that, you can choose or convert video file to the best video format that is supported by all the smartphones such as MP4 H.264.
Free Download Phone Video Format Converter
iPhone MOV and M4V video formats are not compatible with Android phones system. Android phone videos formatted AVI or WMV are not accepted by iPhone. A phone video format converter is quite useful to solve phone video compatibility issues. WinX HD Video Converter Deluxe, a leading phone video converter helps you play videos in any phone you own without video format compatibility error.
The video converter can change all phone(Android, iOS, Windows) video formats like AVI, WMV, MOV, MKV, MP4, FLV, M4V, etc to MP4 H.264 or any other formats you need. All the phone video formats are at your control. It's quite easy to change the video formats - load your video, select video format, click RUN, done! It's GPU accelerated, no lagging, no crashes. You won't notice any quality loss after transcoding.
For Windows and Mac only. If you are a mobile user, please click here.
Phone Video Formats
Part 1. Supported Video/Audio Formats by iPhone
The supported video formats supported by iPhone vary from models. All iPhone models support playing and recording MP4, MOV, M4V with H.264 or MPEG-4 Part 2 codecs. HEVC codec is only supported by iPhone 7 and later iPhone models. Please note that iPhone is friendly with HEVC hvc1 subcodec, not hev1. If you want to play HEVC hev1 video footage on iPhone smoothly without errors, use an HEVC video converter to convert hev1 to hvc1 first.
iPhone compatible video container formats: .mp4, .mov and .m4v.
iPhone compatible video codecs: HEVC, H.264, MPEG‑4 Part 2, and Motion JPEG.
iPhone compatible audio formats: Apple Lossless, Dolby Digital (AC‑3), AAC, Protected AAC, MP3, FLAC, Linear PCM, Dolby Digital Plus (E‑AC‑3), and Audible (formats 2, 3, 4, Audible Enhanced Audio, AAX, and AAX+), Dolby Atmos, Spatial audio playback.
Note: FLAC audio format can only be playable on iPhone 7 and later iPhones. Meanwhile, iPhone 8 and newer iPhone models all exclude AIFF and WAV audio files.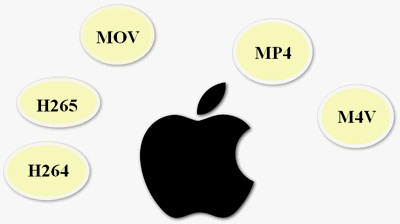 Part 2.Android Phones Supported Video Formats
The default video player in Android phones enables you to play video in H.263, H.264 AVC, MPEG-4 SP, and VP8. Android phones formats are a little different from iPhone supported video formats. iPhone M4V and MOV formats are not compatible with Anroid phones. To play M4V, MKV, etc. you need to convert them to Android phone formats such as MP4 H.264. Check the following Android phone video container and codec formats for more details. Some codec formats require higher Android version.
Supported video codecs by Android: H.263, H.264 AVC Baseline/Main Profile, H265 HEVC, MPEG-4 SP, VP8, VP9, AV1.
Note: support for H.263 is optional in Android 7.0+ and AV1 decoder is available on Android 10+.
Supported video container formats by Android: .mp4, .3gp, .mkv, .ts, .webm.
Supported audio formats by Android: .aac, .m4a, .amr, .flac, .gsm, .mid, .xmf, .mxmf, ota, .mp3, .ogg, .wav.
Check for more: List of Supported Video/Audio Formats by Android Devices.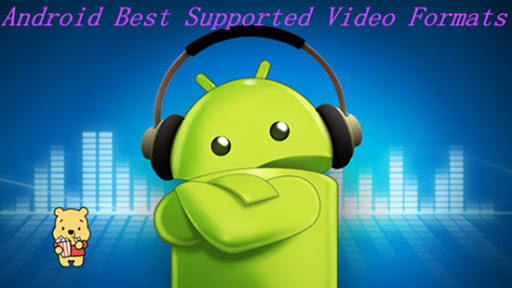 Part 3. Microsoft Windows Phones Video Formats
Windows phone is dead. If you are still using a Windows phone, check for its supported video formats. Windows Phone supports WMV, AVI, MP4/M4V, 3GP/3G2 and MOV (QuickTime) standard. The audio file formats supported on WP include WAV, MP3, WMA, AMR, AAC/MP4/M4A/M4B and 3GP/3G2 standards. We can see that Windows phones supports iPhone video formats M4V, MOV, as well as Android phones video formats WMV, AVI, and 3GP. Windows phones don't support DRM protected video and movie files.
Supported video formats by Microsoft WP8 Mobile: WMV2, MP4 (H264), MP4 (MPEG4).
Supported audio formats by Microsoft WP8 Mobile: WMAV2, WMA, AAC, M4A, MP3.
See, the supported video formats vary a lot among iPhone, Android phones, and Microsoft Windows phones. But there is one video format supported by all of them. That is MP4 (H264). Consequently, in case you want to play your recording videos on any of mobile phones without incompatibility issue, the best way is to convert video to MP4 (H264). WinX HD Video Converter Deluxe can do this favor for you!
Losslessly Convert Video to MP4 with Best Compatibility for All Phones
With 370+ codec inputs and 420+ profiles supported, WinX HD Video Converter Deluxe allows you to convert whatever videos to iPhone, Android, Microsoft supported MP4 (H264) format, as well as decode video to MOV, HEVC, M4V, WMV, AVI, FLV, WebM, 3GP, iPhone iPad, Android, Microsoft, Sony, PS4/5, Xbox One, etc. any format/device.
Any video converter is essentially useless if it can't produce high quality. WinX knows that and develops advanced High Quality Engine to maximumly keep your quality, up to 98% quality reserved. And there's more to it than meets the eye: download videos, edit video footage, compress video file....download to dig out more on your own!