WMV vs MP4 – Which is Better and Smaller?
Both MP4 and WMV are two common video formats. But which has better quality and small file size, MP4 or WMV? Should you save your project in WMV or MP4 for YouTube, Instagram, and other media? If you're not sure about their differences, here we have a MP4 vs WMV comparison on quality, file size, bitrate, compression, and more.
| | | |
| --- | --- | --- |
| | MP4 | WMV |
| Developed by | Media Program Expert Group (MPEG) | Microsoft |
| Description | MP4 file is a multimedia file that stores a movie or video clip and may also contain subtitles, images, and metadata. | Windows Media Video (WMV) is a series of video codecs and their corresponding video coding formats developed by Microsoft. |
| Extension | .mp4 | .wmv |
| Quality | MP4 has better quality than WMV. | Good but not as good a MP4. |
| File size | MP4 has large file size than WMV under the same video quality. | WMV has higher compression rates than MP4 thus smaller file size. |
| Best for | MP4 is the best format for nearly all the social media platforms, mobiles, devices, etc. | WMV is ideal for Windows devices & software and online streaming. |
| Supported Media Player | Windows Media Player, VLC media player, QuickTime Player, GOM Player, KMPlayer, DivX Player, PotPlayer, Media Player Classic, 5KPlayer, etc. | Windows Media Player, VLC media player, MPC-HC, GOM Player, DivX Player, KMPlayer, Elmedia Player, 5KPlayer. |
MP4
MP4 is a widespread multimedia storage file used for storing video and audio. It may also contain subtitles, images, and subtitles. MP4 provides high quality video while maintaining relatively small file sizes. It can be played on most devices and works well for videos posted on YouTube, Facebook, Twitter, etc.
The video streams can be encoded in the MPEG-1, MPEG-2, MPEG-H Part 2 (H.265/HEVC), MPEG-4 Part 10 (H.264/AVC), MPEG-4 Part 2.
The audio streams can be encoded in the (HE)-AAC, MPEG-1 Audio Layer 1-2-3, CELP, TwinVQ, Vorbis or Apple Lossless.
Pros of MP4
MP4 is the most common video format nowadays. It can be used on virtually all the major media players, platforms and devices.
MP4 has a higher degree of compression with smaller file sizes. Therefore, MP4 is better than WMV for video streaming or compressing high definition audio-video files.
MP4 can store metadata other than video and audio, such as the object descriptors and scene descriptors.
Cons of MP4
As MP4 can contain audio, video, and other metadata, the playback and editing requires a lot of computing power.
MP4 is a lossy format. Its higher degree of compression and smaller file size would result in losses in audio and video quality.
WMV
WMV was designed by Microsoft and is usually played in Microsoft media players, such as Windows Media Player and Microsoft Movies & TV. WMV format provides small file sizes with better compression than MP4. That is why it's popular for online video streaming. It typically can refer to both a video codec and a container file, although it most often refers to a container file. The WMV container is the same as to an .ASF file and has video encoded with one of Microsoft's Windows Media Video (WMV) proprietary codec.
The WMV codec is a video format stored in the Microsoft Advanced Systems Format (ASF) and compressed with Windows Media Video compression. It can also be stored in a Matroska or AVI container with extensions of .mkv and .avi respectively.
Pros of WMV
WMV is an ideal format for streaming videos over the internet as it can store a large amount of audio and video with smaller file size than MP4. Compared to MP4, WMV has a 2x compression ratio.
WMV is the default format for the world's most popular operating system, Windows and works with all Windows apps & devices.
Cons of WMV
WMV is originally designed for Windows apps and is not as compatible as MP4. WMV can't be opened on Apple and Linux systems.
The "Digital Rights Management (DRM)" is a signature feature of WMV format that offers protection of content from copyright violation and unlawful reproduction.
WMV is confusing as it refers to both the file container format as well as the Windows Media Video codec.
How to Convert WMV from/to MP4 with Best Quality
Need to convert WMV to MP4 or vice versa, or want to convert WMV/MP4 to other formats? Try WinX HD Video Converter Deluxe. It will easily convert videos among MP4, WMV, H264, MPEG-4, HEVC, AVI, MOV, MKV, FLV, and 350+ profiles. It will convert MP4/WMV videos with up to 98% quality and 5X faster speed (than any other peers) by courtesy of multiple-core processor (up to 8 cores), hyper-threading tech and AMD, Intel QSV and NVIDIA CUDA/NVENC GPU hardware acceleration tech!
Step 1: Download the WMV to MP4 video converter and install as per the prompts. Run it and click the "+Video" button on home screen to load in the WMV/MP4 video you'd like to convert.
Step 2: From the output format window that opens up automatically, choose an output format. For example, you can go to Genral Video > select MP4 (H264 or HEVC).
Step 3: Tap RUN button to start to convert videos from/to MP4/WMV on Windows or macOS.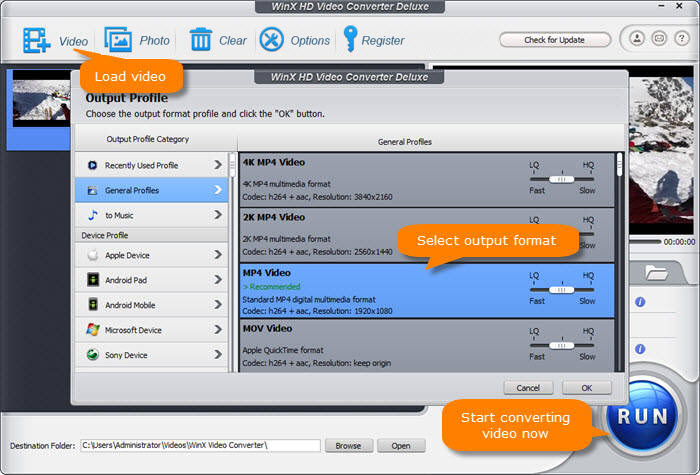 FAQs about WMV vs MP4
Which is better for YouTube, WMV or MP4?
YouTube supports the following video formats: .MOV, .MPEG-1, .MPEG-2, .MPEG4, .MP4, .MPG, .AVI, .WMV, .MPEGPS, .FLV, 3GPP, WebM, DNxHR, ProRes, CineForm, HEVC (h265). As you can see, both MP4 and WMV are accepted by YouTube. However, for the best video quality and better viewing experience, YouTube recomends MP4 with a standard aspect ratio of 16:9, H. 264 video codec, and AAC-LC audio codec. So MP4 is better than WMV for YouTube upload.
Is MP4 better quality than WMV?
Yes. MP4 is able to provide high video quality and yet maintain relatively smaller file sizes. WMV offers better compression ratio than MP4 but at the cost of quality loss. If video quality is what you care, select MP4 over WMV.
Is WMV smaller than MP4?
WMV files have a compression ratio that's 2x higher than MPEG-4. So under the same video quality, WMV has a smaller file size than MP4 if they're using the same encoding settings. However, both WMV and MP4 support various video codecs. If the MP4 video is encoded using a codec like HEVC, the file size will be further compressed.