Fast Intel Quick Sync Encoder: Use QSV to Encode H.265/HEVC and H.264/AVC Videos Speedily
Quick Sync supported encoder is able to convert videos at faster speed.
What is Quick Sync? It refers to the use case of quickly transcoding ("syncing") a video. Intel Quick Sync Video[wiki] (QSV) is Intel's brand for its dedicated video encoding and decoding hardware core. It is a technology that is capable of offloading video decoding and encoding task to the GPU, thus saving the CPU usage to do other tasks.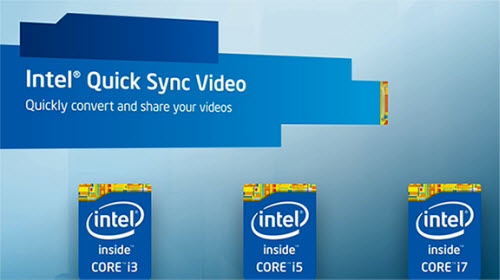 As a specialized hardware core on the processor die, Quick Sync offers a much more power efficient video processing which is much superior to video encoding on a CPU or an all-purpose GPU. According to a benchmark from Tom's Hardware showed in 2011, Quick Sync could convert a 449 MB, four-minute 1080p file to 1024×768 in 22 seconds, while in 172 seconds when Quick Sync is disabled. So we can see, video conversion will be processed a few times faster with Quick Sync enabled. However, not all video transcoders support Intel Quick Sync now, despite that it was introduced several years ago.
Here we will introduce a piece of Quick Sync encoder software which uses Intel QSV to encode H.265/HEVC and H.264/AVC videos, namely WinX HD Video Converter Deluxe.
Free Download QSV-supported Encoder
GPU-accelerated WinX HD Video Converter Deluxe ushered in Intel QSV and NVIDIA CUDA/NVENC in 2015. Thanks to the support for hardware acceleration, its video transcoding process is advanced 16x faster than ever. It is a QSV encoder that can quickly render H.264/H.265 videos in MP4, MKV, MOV, FLV, etc, without quality loss. Windows version is available to run on Windows 10, 8.1, 8, 7 and lower, and Mac edition is compatible with macOS Big Sur and lower.
WinX HD Video Converter User Guide: How to Use Intel Quick Sync Video to Encode H.265/HEVC and H.264/AVC?
To begin with, you should click one of the download buttons above to get this Intel Quick Sync video encoder installed on your computer. Then open this program and encode videos following the tutorial below.
Step 1. Add the videos you need to convert by clicking +Video.
You're allowed to import multiple source videos for batch encoding.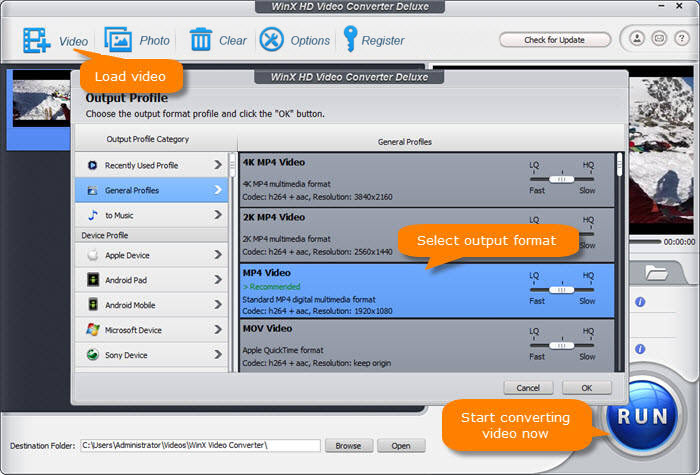 Supported inputs:
| | |
| --- | --- |
| High Definition Video | 4K video, AVCHD Video (*.mts, *.m2ts), H.264/MPEG-4 AVC (*.mp4), HEVC/H.265 (*.mkv), MPEG2 HD Video (*.mpg; *.mpeg), MPEG-4 TS HD Video (*.ts), MPEG-2 TS HD Video (*.ts), Quick Time HD Video (*.mov), WMV HD Video (*.wmv, *.xwmv), Blu-ray Video (*.mts, *.m2ts), HDTV Video (*.ts), Matroska Video (*.mkv) |
| HD-Camcorder Video | JVC HD camcorder Video (*.mod, *.tod), Sony HD camcorder Video (*.mts, *.m2ts), Panasonic & Canon HD camcorder Video |
| Regular Video | AVI, MPEG, WMV, MP4, FLV, F4V, H.264/MPEG-4, DivX, XviD, MOV, RM, RMVB, VOB, ASF, 3GP, 3G2, QT, DAT, Google TV, WebM, DV, Vpx 8, G2M4, iCod, YUV411, mp2v, MXF, DAV |
Step 2. At Output Profile, choose which format you want to encode your videos to.
There're hundreds of optimized output profiles to address different user needs. Choose one as needed. Apart from the profiles in the table below, this Quick Sync encoder also presets profiles for audio and popular devices like iPhone, iPad, Android handsets from Samsung, Huawei, Xbox, Surface pro, Chromecast, Roku, PS4, etc.
Supported outputs:
| | |
| --- | --- |
| General Video | Chromecast, 4K MP4, 2K MP4, MP4, H.264, AVI, WMV, HEVC/H.265, AVC, MOV, M4V, MKV, MPEG1, MPEG2, RM, 3G2, 3GP, ASF, WebM (VP8), FLV, F4V, SWF, DV |
| Web Sharing | YouTube (MPEG4, MP4, FLV), Facebook (MP4, MOV, AVI, FLV), Vimeo (MP4) |
| VOB | NTSC, PAL |
| HD Video | TS HD, MTS, MOV HD, AVC HD, MKV HD, MPEG HD, AVI HD, WMV HD |
Step 3. Enable Intel Quick Sync on this encoding software.
On the right side of the main screen, you should see Hardware Accelerator option. Make sure Intel is checked. Certainly, you can also check nVIDIA to speed up video encoding.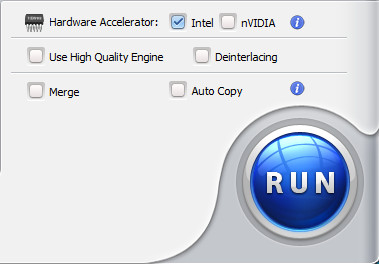 See also: Best and Fastest HEVC/H.265 Encoder with NVIDIA NVENC/CUDA Support
Step 4. Hit RUN to begin video encoding with the help of Intel QSV.
By utilizing Intel Quick Sync Video technology, Nvidia CUDA/NVENC (if you choose it), along with MMX-SSE, Hyper-threading, AMD 3DNow! and multiple CPU cores, it conducts video encoding at the fastest speed.
Now free download this Intel Quick Sync Video-supported encoder application to have a try!
Comparison: Encode Videos with Quick Sync vs Encode Videos Without Quick Sync
Here, let's carry out a test on WinX HD Video Converter Deluxe 5.12.0 and check the difference between video encoding with Intel Quick Sync and encoding without Quick Sync.
Input video information

Output video information

Testing computer information

Encoding time
(NVIDIA isn't checked)

Container format: MKV
Codec: H.264+MP4A
File size: 81.5 MB
Length: 00:02:30
Resolution: 1920x800

Container format: MP4
Codec: H.264+AAC
File size: 33.9 MB
Length: 00:02:30
Resolution: 1920x800

Processor: Intel(R) Core(TM) i5-4460 CPU @ 3.20GHz 3.20 GHz
RAM: 8.00 GB
OS: Windows 10 64 bit

Encoding time with Intel Quick Sync Video enabled

21 seconds

Encoding time with Intel Quick Sync Video disabled

83 seconds
(Note: there're other programs working on my computer while testing, which may slow encoding down.)
As we can see, Quick Sync accelerated encoding speed is much faster. Additionally, there s little CPU consumption when QSV turns on.
How to Check If Your Computer Support Intel Quick Sync Video?
Well, how do you know if your Intel Processor includes Quick Sync? Here's the clue.
Firstly, check your CPU model.
• Windows 7: Open the Start menu, right-click Computer, and then click Properties.
• Windows 8 & 10: Right-click the Start menu, then click System.
Then, check the Processor.
Secondly, open this site, and check if your CPU model is in the list or not. Ctrl+F makes search easier. If it is, your computer supports Quick Sync. And then you can make use of it to speed up video encoding and decoding.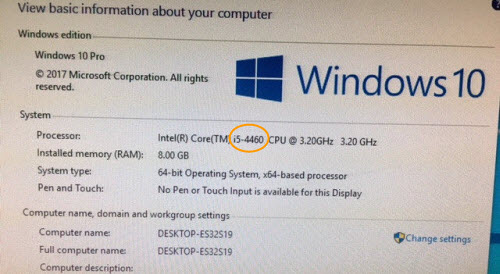 Aside from acting as GPU hardware-enabled video transcoder, WinX HD Video Converter is also available to compress videos, edit videos, free download videos online, make photo slideshow videos, and recording videos (only Mac version support).