Intel Quick Sync Decoder - Fast Decode Videos with Intel Quick Sync Video Technology
Learn how to utilize Intel Quick Sync to boost video decoding speed while delivering high-quality content and optimal file size.
"My Intel i7-4700HQ in my laptop has the Intel Quick Sync. So, is there a video converter supporting video decode with Intel Quick Sync? I guess it should make the transcoding faster and reduce CPU usage greatly."
Some people may don't really get the point of Intel Quick Sync. Quick Sync is a dedicated hardware core on the die of Intel processors, initially integrated into Sandy Bridge CPU microarchitecture. With Intel Quick Sync incorporated, video transcoding speed is several times as fast as it was. This is because Intel Quick Sync Video (aka. QSV) technology is able to adopt hardware to execute concurrent computing on decoding, preprocessing and encoding, instead of CPU-based software computing. However, this doesn't mean that you can boost video decoding and encoding speed only if your computer CPU has Intel Quick Sync embedded. Your video transcoder must have the ability to invoke Intel Quick Sync Video technology, thereby realizing speed improvement and CPU usage reduction.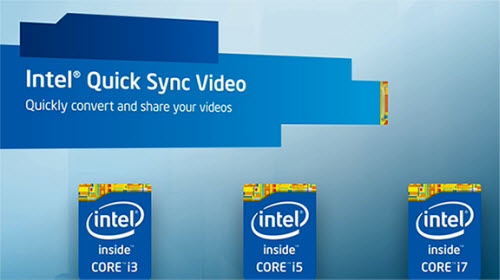 As the title indicates, in this article we'll focus on introducing a video decoder program with Intel Quick Sync Video technology support for speedup. And the chosen one is called WinX HD Video Converter Deluxe.
Comparison Table with and Without Intel Quick Sync Video Selected
Input video information

Output video information

Testing computer information

Decoding time
(NVIDIA isn't checked)

Container format: MKV
Codec: H.264+MP4A
File size: 81.5 MB
Length: 00:02:30
Resolution: 1920x800

Container format: MP4
Codec: H.264+AAC
File size: 33.9 MB
Length: 00:02:30
Resolution: 1920x800

Processor: Intel(R) Core(TM) i5-4460 CPU @ 3.20GHz 3.20 GHz
RAM: 8.00 GB
OS: Windows 10 64 bit

Decoding time with Intel Quick Sync Video enabled

21 seconds

Decoding time with Intel Quick Sync Video disabled

83 seconds
(Note: there're other programs working on my computer while testing, which may slow decoding down.)