Intel Quick Sync Decoder - Fast Decode Videos with Intel Quick Sync Video Technology
Learn how to utilize Intel Quick Sync to boost video decoding speed while delivering high-quality content and optimal file size.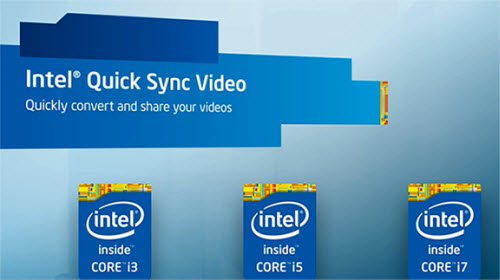 "My Intel i7-4700HQ in my laptop has the Intel Quick Sync. So, is there a video converter supporting video decode with Intel Quick Sync? I guess it should make the transcoding faster and reduce CPU usage greatly."
Some people may don't really get the point of Intel Quick Sync. Quick Sync is a dedicated hardware core on the die of Intel processors, initially integrated into Sandy Bridge CPU microarchitecture. With Intel Quick Sync incorporated, video transcoding speed is several times as fast as it was. This is because Intel Quick Sync Video (aka. QSV) technology is able to adopt hardware to execute concurrent computing on decoding, preprocessing and encoding, instead of CPU-based software computing. However, this doesn't mean that you can boost video decoding and encoding speed only if your computer CPU has Intel Quick Sync embedded. Your video transcoder must have the ability to invoke Intel Quick Sync Video technology, thereby realizing speed improvement and CPU usage reduction.
As the title indicates, in this article we'll focus on introducing a video decoder program with Intel Quick Sync Video technology support for speedup. And the chosen one is called WinX HD Video Converter Deluxe.

Free Download Intel Quick Sync Accelerated Video Decoder
WinX HD Video Converter Deluxe is a professional yet handy hardware accelerated video transcoder supporting Intel Quick Sync Video and also NVIDIA CUDA/NVENC for a long time. It is able to enable Intel QSV to speed up decoding, and also encoding, while delivering quality close to the original and optimum file size.
This Intel QSV decoder is workable on Windows (10 and lower) and Mac (10.13 and lower).
How to Enable Intel Quick Sync on WinX HD Video Converter Deluxe for Hastening Video Decoding?
To use this Intel Quick Sync Video encoder, make sure your device meets the following requirements:
1. Your computer CPU includes Intel Quick Sync. >> How do I know if my CPU supports Intel Quick Sync?
2. Check if your graphics driver supports QSV. It is suggested to upgrade to the latest version of the Intel HD Graphics Driver.
3. Your computer is powered by Windows 10/8.1/8/7/Vista/XP/2003/2000 or Mac OS X 10.6-10.13.
Then, you can download and install WinX HD Video Converter Deluxe on your PC or Mac for further decoding videos with Intel QSV hardware acceleration.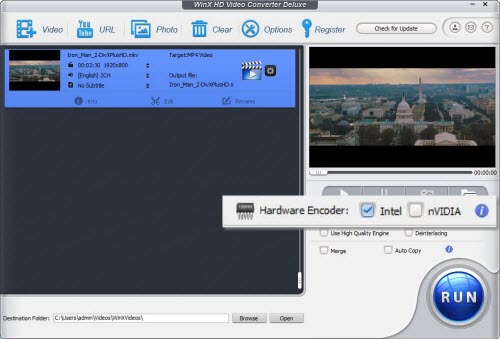 Free download for Windows


Free download for Mac
Step 1. Load the video you want to decode.
You can simply drag and drop target items into main screen or click +Video button at the top left corner to browse and select them. This Intel QSV-accelerated decoder embraces videos in MP4, AVI, WMV, H.264/AVC, H.265/HEVC, MOV, MKV, M2TS, AVCHD, TS, MOD, FLV, WebM and almost all video file formats. SD, HD, 4K and 8K videos are admissive.
Step 2. Choose output format.
This Intel QSV decoder prepares 410+ output profiles to meet various user needs, from video playback on iPhone or other devices to uploading videos to YouTube and the like.
Step 3. Select Intel Quick Sync on this decoder.
This option is under the preview window of the main interface. Just check the box in front of Intel.
Step 4. Begin decoding video with Intel Quick Sync Video technology enabled.
Click on the RUN button at the lower right corner and this video decoder will work immediately with Intel QSV and other advanced technologies (MMX-SSE, Hyper-threading, AMD 3DNow! and multiple CPU cores) activated to increase speed. Actually, once Intel QSV is selected, it will take effect on decoding, processing and encoding. A look at a fast Intel Quick Sync encoder >>
In order to give you a direct sense of Intel QSV's influence on video decoding speed, we have attached a table where you can tell the speed difference when Intel Quick Sync is selected or unselected.
Comparison Table with and Without Intel Quick Sync Video Selected
Input video information

Output video information

Testing computer information

Decoding time
(NVIDIA isn't checked)

Container format: MKV
Codec: H.264+MP4A
File size: 81.5 MB
Length: 00:02:30
Resolution: 1920x800

Container format: MP4
Codec: H.264+AAC
File size: 33.9 MB
Length: 00:02:30
Resolution: 1920x800

Processor: Intel(R) Core(TM) i5-4460 CPU @ 3.20GHz 3.20 GHz
RAM: 8.00 GB
OS: Windows 10 64 bit

Decoding time with Intel Quick Sync Video enabled

21 seconds

Decoding time with Intel Quick Sync Video disabled

83 seconds
(Note: there're other programs working on my computer while testing, which may slow decoding down.)
How Do I Know if My Intel Processor Includes Quick Sync?
To use an Intel Quick Sync Video decoder, make sure that your processor includes Intel Quick Sync. To verify if your processor covers Intel Quick Sync, first of all you should check your CPU model. The following part will lead you to check your processor on Windows and Mac.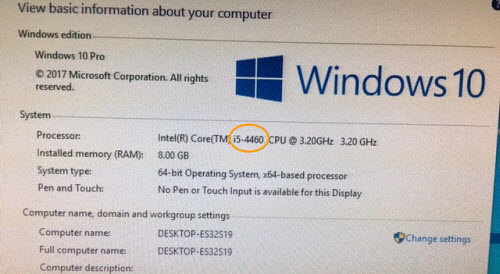 Windows:
▪ Windows 10: Right-click on the Start menu, and then click System.
▪ Windows 8: Click Start menu, type in "system" in the search field, and then choose System option.
▪ Windows 7/Vista: Right-click on the Computer icon on your desktop, and then select Properties.
▪ Windows XP: Right-click on the My Computer icon on your desktop, and then select Properties.
Mac:
1. Click on the Apple icon in the top left corner of your Mac.
2. Choose About This Mac option, and then the processor information (i.e. 3.5 GHz 6-Core Intel Xeon E5) will be presented under Overview screen.
3. However, you need to do more things to find out which generation of Intel processor is inside your Mac:
▪ What kind of processor is inside your Mac: e.g. Core i5, Core i7, Xeon
▪ When was you Mac launched
▪ Then, go to EveryMac.com, find the processor (e.g. Core i5) and click it, locate one that matches the one in your Mac, then click on that link to find out what generation of processor Apple used in Macs at the time your Mac was manufactured.
Once you have figured out your CPU model, open this page and see if it exists there. If it does, congratulations, you have Intel Quick Sync available with your processor, thereby being qualified for using Intel Quick Sync decoder.
Intel CPUs that support Quick Sync are those with Sandy Bridge, Ivy Bridge, Haswell, Broadwell, Skylake, Kaby Lake and Coffee Lake codename.
WinX HD Video Converter Deluxe is one of the few video transcoders supporting Intel QSV and NVIDIA CUDA/NVENC based hardware acceleration on encoding and also decoding. Apart from changing file format, it also provides some basic yet useful edit options (trim, crop, merge, etc.), online video/audio download feature, and more.