How to Speed up Video Encoding -- 4 Tricks to Accelerate Video Encoding
The tips and tricks to quicken encoding 4K/HD/SD video to H.265, H.264, etc.
"I encoded some H.265 video on my Mac using Handbrake. It was painfully slow."
"At the moment I use this commandline to encode 2 hours of HD video, but the speed of encoding (on ffmpeg) appears too slow. Is there a way to get more speed of encoding?"
Above are two posts I found in online communities, both involving slow video encoding. Video encoding happens when we need to encode video into one of the prevailing video formats for fixing incompatibility issue or reducing file size (changing codec from H.264 to H.265 is an effective way). Encoding speed could be slow or fast, because it is influenced by various factors. Well, what factors on earth affect video encoding speed? How can we speed up video encoding? Answers are elaborated in detail below.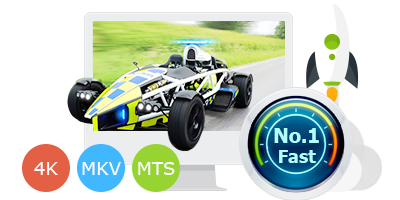 A fast video encoder will make encoding quicker!
The issue that video encoding is slow possibly results from your software. If so, try WinX HD Video Converter Deluxe, a super fast video decoder and encoder owing to the support for up to 8 CPU cores, Intel QSV and CUDA/NVENC GPU acceleration, MMX-SSE, Hyper-threading and AMD 3DNow!.
The Factors that Influence Video Encoding Speed
1. Source file
The video resolution and file size of source file are two of the important elements affecting video encoding speed. The higher is the video resolution and the larger is the file size, the longer we encode video.
2. Output parameters
Similarly, it will cost long time to finish encoding if your output file is set with high bit rate, frame rate, resolution (4K for instance), codecs with low compression ratio, and long duration.
3. Computer configuration
Video transcoding has high requirement for CPU (Central Processing Unit), RAM (Ramdom Access Memory) and GPU (Graphic Processing Unit). Computing with low-powered machine will lead to awfully slow encoding, crash, non-response or other issues. Don't expect an old device to encode your HD movies at fast speed, let alone large 4K sources.
4. The video encoder you use
Different video encoding software has different performance in processing speed, because of different processing methods. Some keep using two threads for encoding, while others utilize as many threads as possible. Additionally, some support soft coding only, while others make use of GPU to boost video encoding speed which will also keep your CPU free for doing other things. Before writing an article about Intel Quick Sync Encoder, we carried out two tests: encode a video with Intel Quick Sync Video enabled, and encode it with QSV disabled. As a result, encoding with the help of Intel hardware acceleration is several times faster and consumes less CPU.
Now I guess that most people already have some ideas about speeding up video encoding. The following part contains our suggestions.
How Can We Speed up Video Encoding?
1. Lower the output quality
I know we all love high-quality content, but there's no necessary to maintain the best quality especially if you plan to play the converted video on small screen devices. Making the output resolution fit for your player can not only shorten the encoding time but also save space and lighten the load of your device. So, lower the output resolution, bit rate and frame rate moderately if possible. The bigger is the bitrate, the larger is the file.
In addition, you can also trim off unwanted part to reduce duration and file size, which is also helpful for speeding up video encoding.
2. Close other programs
While processing videos, quit other programs. In this way, your encoding software will get more system sources to do its work.
3. Upgrade your hardware
It will spend a good chunk of money, but it will ramp up your computer's performance and accelerate video encoding efficiently. To be specific, you're suggested to add RAM, upgrade to a better CPU and GPU.
4. Download a fast video encoder
The speed of encoders is different from each other. Some people will choose HandBrake, an open source video transcoder, to encode videos. According to users' feedback, however, its speed isn't as fast as we want to be, despite that it supports encoding in hardware with Intel QuickSync. Check HandBrake speedup and acceleration tips >>
WinX HD Video Converter is recommended to those who are working on Windows or Mac and are searching for a fast video converter. This program takes full advantage of CPU (up to 8 CPU cores) and hardware acceleration (Intel QSV and NVIDIA CUDA/NVENC), as well as MMX-SSE, Hyper-threading and AMD 3DNow! technologies, thus being the NO.1 fast video converter - 5X faster than others.
Embracing 370+ video audio codecs, it recognizes almost all videos you have and encodes H.265, H.264, MP4, MKV, MOV, AVI, DivX, MPEG1, MPEG2, VP8, FLV, etc. In addition to changing file format, it can also trim videos or do other edits, and reduce file size.
Follow the Simple Guide to Encode Videos with Super Fast Speed
Step 1. Download and install WinX HD Video Converter Deluxe/for Mac (choose based on your own computer OS), and open it.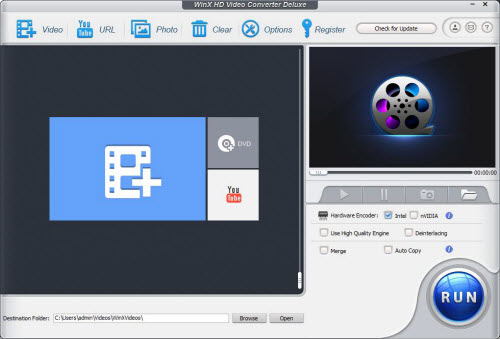 Step 2. Throw the videos you want to encode by clicking + Video and specify output profile.
You're allowed to input multiple source files for batch encoding. In Output Profile panel, choose one based on your own needs. Before you hit OK, check if you need to move the slide bar to Fast. This will speed up video encoding but will sacrifice some quality.
Next, click the gear icon to tweak parameters and Edit icon to trim or crop videos if necessary.
Step 3. Enable hardware acceleration. Go to the right side of the main interface, and make sure Intel and nVIDIA options are checked. Hardware acceleration supports H.264 and H.265 encoding and decoding. It is of great help to encode large and 4K files.
Related: Fastest HEVC/H.265 Encoder with NVIDIA NVENC/CUDA Support
Step 4. Hit RUN and you will see a progress bar showing encoding speed and other information.