Check Whether Your Windows PC Supports H.264 Hardware Acceleration or Not
Briefly speaking, when hardware acceleration is turned on, computer hardware will help software finish media processing in a faster and easier way. There're generally two common hardware accelerations: CPU hardware acceleration and GPU one. CPU hardware acceleration on Windows computer relies on Intel Quick Sync Video (QSV). And if your PC is equipped with discrete graphics card supporting hardware acceleration like Nvidia and AMD, H.264 video transcoding can also be speeded up. To utilize hardware acceleration for H.264 playing and more, we should firstly figure out if our PC is qualified.
* Intel QSV: There are totally 6 generations of Intel QSV: Sandy Bridge, Ivy Bridge, Haswell, Broadwell, Skylake and Kaby Lake & Coffee Lake, all of which have support for H.264 codec but deliver different features and performance. All of the Intel Core i3/i5/i7 processor series, some Xeon, Celeron and Pentium processors have built QSV in processor graphics. >> Check all Intel products with QSV
The CPU model of a Windows computer can be determined at Start Menu -> Computer & Properties (Win 7), System (Win 8 & 10).
* Nvidia: Hardware acclerated H.264 video decoding and encoding is included on all NVIDIA products like GeForce, Quadro and Telsa. Once graphics card drivers are updated to the latest, NVIDIA GPU acceleration on H.264 can be enjoyed. >>Check details on Nvidia (NVENC) GPU and codec support
* AMD: AMD VCE (Video Coding/Codec Engine) is available to encode H.264 video and UVD (Unified Video Decoder) to decoce H.264 video. So any computer equipped with AMD processor that supports VCE or UVD is able to speed up H.264 video processing speed greatly.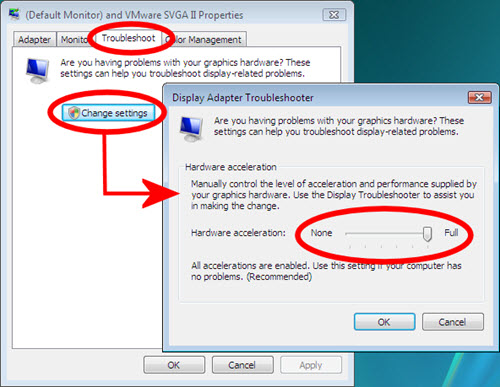 Hardware Acceleration on X264 Video Playback Online or Offline on PC
After doing the following settings on browser or computer, when you're watching streaming H.264 videos on YouTube, or playing large local H.264 video, it will be far more smoother with relatively low CPU usage.
● Turn on hardware acceleration on Chrome: Settings -> Advanced -> turn on (System) "Use hardware acceleration when available".
● Turn on hardware acceleration on Windows 10/8/7 PC: right click personalize on desktop -> Display, Change display settings -> Advanced settings -> click "Change settings" under Troubleshoot option to move the hardware acceleration pointer to full to turn on. >>Best Free HD Video Player for PC 2019