How to Make HandBrake Faster – HandBrake Speedup/Acceleration Tips
HandBrake is one of the most popular video transcoders available to convert various videos and rip DVD/Blu-ray disc on multi-platforms (Windows, Mac and Linux). It offers an easy and free solution to convert video and disc to digital as MP4 or MKV. But issues arrive sometimes bothering unlucky guys, one of which is slow DVD ripping speed.
- "It takes over an hour to covnert a DVD to mp4 and 30-45 minutes to do a TV episode"
- "Handbrake will use as much processor power as your machine can throw at it"
- "I usually try to put some kids DVDs on the iPad or Mac air before a trip. I open them with mactheripper and then convert with handbrake. The process takes 3 hrs on a 2 yr old iMac."
Handbrake gets too slow? Check How to Use Handbrake at GPU Accelerated Speed >>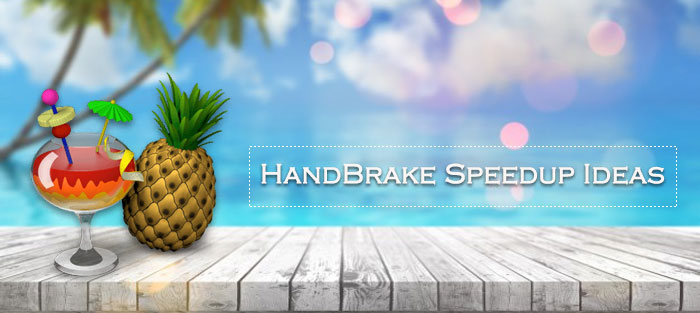 Can't Bear up HandBrake Slow DVD Conversion Any More?
Cpmvert DVDs wotj CSS, region code, FBI Warning, Sony ArccOS, Disney DRM and other schemes on latest DVD movies, 99-title DVDs, workout DVDs etc. in clicks. The support of Level-3 Hardware Acceleration empowers this best HandBrake alternative to invoke Intel, NVIDIA and AMD GPUs to achieve 47x real-time faster DVD processing speed while keeping nearly lossless quality.
For Windows and Mac only. If you are a mobile user, please click here.
The Most Possible Reasons That Make HandBrake Rip Slow
1. Google Chrome Slows Down Handbrake
When VideoToolBox is enabled, Google Chrome will make Handbrake slower by 30% (compared to Safari) though the GPU acceleration is supposed to speed up Handbrake DVD ripping/video transcoding. This is because Chrome locks down the low-level VideoToolBox framework and prevent other apps (including Handbrake) from accessing it.
2. Computer Configuration
HandBrake will run very slowly to rip a DVD on a low-end or older computer. The latest HandBrake 64-bit release can't run on 32-bit Intel Macs (2007 and eariler). HandBrake lists minimum system requirements to run this program:
For Windows and Linux:
• Processor: Intel Core 2 Duo, AMD Athlon X2
• Free Memory: 256MB for SD | 1GB for HD | 2GB for 4K
For Mac:
• 64-bit Inel Mac (2010 models and newer)
• Free Memory: 256MB for SD | 1GB for HD | 2GB for 4K
3. Video Codec
HandBrake wraps x265 encoder helping users convert DVD disc to H.265 MP4 or MKV to reduce size but keep quality of resulting file. However, many users involve in the trouble of slow x265 encoding speed. Actually, without GPU hardware acceleration, H.265 encoding needs a more powerful CPU to achieve a great performance. Otherwise, it will result in an extremely slow conversion speed.
4. Encoding Methods
2-pass encoding (available for x264 (10-bit), H.265 10-/12-bit, MPEG-4 and MPEG-2) can deliver a high quality of resulting file but lengthen DVD ripping process. If you switch to 1-pass encoding, the DVD rip will go faster. However, it comes at a trade-off of lower quality. If you want both the speed and quality, unfortunately Handbrake dosen't provide such an option. Try another DVD ripping software like WinX DVD Ripper Platinum, which hits the perfect balance between the speed, quality, and output file size.
5. Improper settings on Handbrake Quality
Constant Quality RF (CRF) targets a certain quality level. Some users apply the really low CRF for better quality, while it does nothing other than slowing down speed, and even getting Handbrake output file larger than input.
6. Source Disc
HandBrake work well to handle good DVD discs but encounter some problems when importing old, damaged or copy-protected ones. HandBrake will cost more time to scan DVD titles. It may run interruptedly because of bad/broken sectors or complex encryption schemes on DVD. some newly released DVD discs can't be converted at all.
Solutions to Speed up HandBrake on PC/Mac
According to above-mentioned HandBrake slow reasons, we list the most effective and pointed ideas that are worth trying.
1. Upgrade Your Hardware
Follow HandBrake system requirements to get newer and powerful hardware ensuring that HandBrake can be run normally and speedily on your computer. HandBrake announces that it can scale well up to 6 CPU cores so that a hexa-core processor can boost speed maximumly. On the other hand, although you get a octa-core processor, it can only invoke 6 cores for DVD ripping.
2. Select Proper Video Codec
HandBrake makes use of Intel QSV for H.264 encoding to greatly accelerate DVD to MP4 ripping speed. H.264 (Intel QSV) is the priority choice if you takes speed as the first important thing. H.264 (x264) is another choice if your Intel processor doesn't include QSV.
>> Learn more about Intel QSV Support in HandBrake
>> How to Enable NVENC Encoder in HandBrake?
3. Install libdvdcss to Rip CSS-protected DVD
Users who try to rip copy-protected disc with HandBrake usually experience slow ripping speed and eventually go to a failure because HandBrake isn't armed with the feature to remove encyprtion from DVD. libdvdcss is a software library which can circumvent CSS encryption on DVD. With this tool, HandBrake can convert CSS-protected discs with ease. >> How to Install libdvdcss for HandBrake to Rip DVD
4. Get an Alternative to HandBrake to Speed up DVD Ripping
If you follow all above tips but still dissatisfy with its ripping speed, it is suggested to get a faster DVD ripper as an alternative to Handbrake.
WinX DVD Ripper Platinum is such a perfect tool to rip ANY DVD to MP4 (H.264), AVI, WMV, MOV, or iPhone, iPad, Android, Windows Mobile, TVs, Xbox, Sony PSP, etc. Besides unprotected home-made DVDs, it works as DVD decrypter to bypass CSS, region code, RCE, Sony ArccOS, Disney DRM and other schemes on latest DVD movies/TV shows, workout DVD and even some special discs.
To deliver a faster experience and higher effiency, this HandBrake alternative takes full advantage of Intel QSV, NVIDIA NEVNC/CUDA and AMD to active hardware encoder and decoder to accelerate DVD ripping speed by 5x faster while hardware processing helping output a great quality (nearly lossless). Thanks to hardware acceleration, CPU is free for other tasks instead of fully occupied for DVD ripping.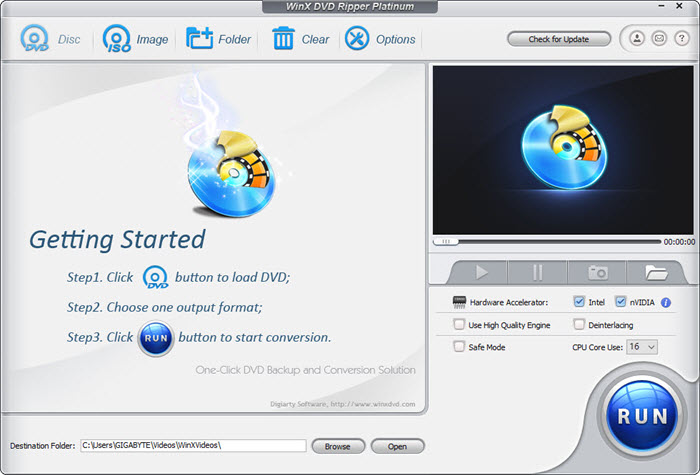 Related External Source from Wiki:
1. HandBrake - HandBrake is a free and open-source transcoder for digital video files, originally developed in 2003 by Eric Petit (a.k.a. "titer" from his SVN repository username) to make ripping a film from a DVD to a data storage device easier. Since then, it has undergone many changes and revisions...
2. DRM - Digital rights management (DRM) is a set of access control technologies for restricting the use of proprietary hardware and copyrighted works...