Can You Use NVENC in HandBrake? How to Enable NVENC Encoder?
HandBrake users' request of adding Nvidia NVENC support is finally met with the release of HandBrake 1.2.0 Windows edition. As a result, they can leverage Nvidia NVENC GPU hardware-accelerated encoders to speed up H.264/H.265 encoding process. You'll find that HandBrake will run much faster with NVENC enabled than software transcoding.
Part 1. What Hardware and Configurations Are Required for NVENC Encoder?
According HandBrake documentation, NVENC encoder supports the following hardware and configurations:
Nvidia GeForce 10 and 20 Series graphics cards, such as GeForce GTX 1080 and GeForce RTX 2080.
Driver "399.24" or later.
Windows 7 SP1 and later. (Linux users may also be able to use this feature via the command line interface)
Despite that, you can also have a try on Nvidia NVENC if you're working on old graphic cards and operating systems.
Part 2. How to Enable NVENC Hardware Encoding in HandBrake?
Step 1. Download and install HandBrake. Next, open it and load the video, DVD, or Blu-ray you want to convert into HandBrake.
Note: Some users may see an error message when they launch HandBrake:
HandBrake.exe - This application could not be started.
This application requires one of the following versions of the .NET Framework:
.NETFramework, Version=v4.7.1
Do you want to install this .NET Framework version now?
Then, what you should do is to click Yes, download Microsoft .NET Framework from the popup page, and install it following the onscreen instructions. If you fail to install .NET Framework 4.7.1 because the parameter is incorrect, check the solutions here.
Step 2. Specify which title and chapters you want to transcode, and select a HandBrake preset based on your own needs.
Step 3. Choose Video tab, click the drop-down icon of Video Codec, and then choose H.264 (Nvidia NVEnc) or H.265 (Nvidia NVEnc).
See the differences between H.264 and H.265 | HandBrake x265 encoding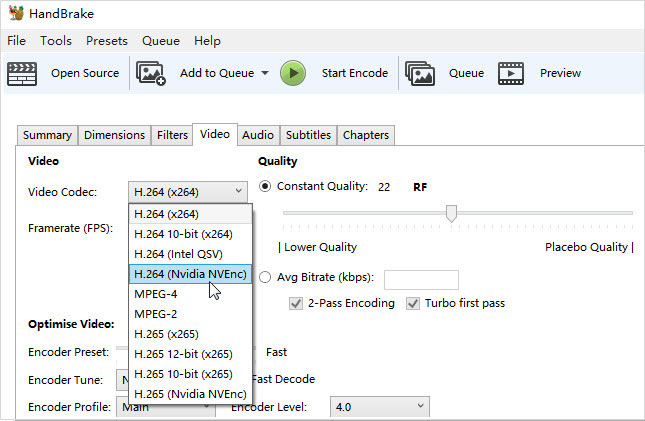 HandBrake provides many other options, so you can adjust them as needed.
Step 4. Click Browse to choose a save path and type a name for the output file.
Step 5. Hit the green Start Encode button, and then HandBrake GPU encoding will start. Please be noted that NVENC GPU hardware acceleration is available in encoding only. Other portions like decoding and muxing are still handled by CPU.
You may be looking for this: How to Fix Handbrake Won't Start Encoding / Stops Encoding Issue
Part 3. NVENC GPU Hardware Acceleration Do Not Necessarily Affect Quality and Size
GPU encoding is undoubtedly faster than CPU/software based encoding, but many HandBrake users say that they have sacrificed size or quality for more speed. NVENC encoded files are always much larger than the software encoded versions of the same files.
"When I tried it, the resultant NVENC encoded files were much larger than the software encoded versions of the same files, like 4x the software encoder's resultant file. I don't remember the exact size but I want to say it was like 4.6GB vs 900MB etc."
"I've been getting around 4x the file size and slightly worse quality when compared to CPU."
However, not all NVENC-accelerated tools boost speed at the expense of quality and size. The best HandBrake alternative - WinX HD Video Converter Deluxe - makes a good balance among speed, quality and size. It uniquely capitalizes on Intel QSV, AMD, NVIDIA CUDA/NVENC powered level-3 hardware acceleration, thus adopting hardware acceleration in decoding, processing (such as resizing), and encoding.
This way it can improve speed maximally, minimize quality loss, and meantime reduce file size through resizing processing. Minimum quality loss also benefits from Inter and Intra Prediction before decoding, Inter-frame and Intra-frame compression, Entropy and Hybrid encoding, and sample adaptive offset.
Free Download WinX Video Converter to Convert Video/DVD for a Balance among Speed, Quality and Size
Hardware-accelerated WinX HD Video Converter Deluxe is a versatile program, capable of doing what HandBrake can do like digitizing DVDs and converting videos and also doing what HandBrake cannot do like ripping copy-protected DVDs, editing videos, converting audios, downloading videos and music online, and recording screen and webcam. Although it has so many features and functionalities, its interface is very clean and intuitive.