HandBrake Presets: Variation, Limitation, Settings, Introduction
HandBrake Presets are ready-made setting profiles inside HandBrake, the open-source video transcoder, to make the files that are converted and output compatible with for specific devices or software.
A total of 73 HandBrake Presets are located on the right of the interface. They are classified into General, Web, Devices, Matroska and Legacy.
One preset differs from another basically in size (dimensions), video codec, Framerate , ways of encoding and the like. HandBrake allows users to tweak parameters based on the presets for different picture quality, transcoding speed and file size, which are the 3 key elements of video.
Table of Contents:
Part 1: The Variation of Those HandBrake Presets is on its Rhythms:
Regularly, every preset that has a "Fast" in its name, for example, Fast 720p30, will have a fast encoding speed, standard image quality and normal output file size. The rest can be deduced in the same manner. The speed usually shows an inverse correlation to the output quality. Therefore, the HandBrake Preset that comes with HQ or Super HQ in its name indicates relatively high picture quality and large file size.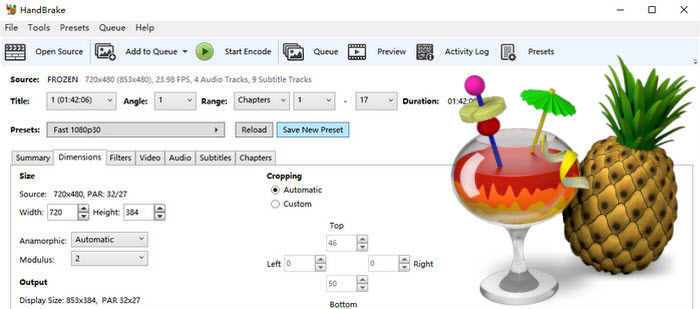 Part 2: What are Missing in HandBrake Presets?
1. In Web Presets of HandBrake, there is no widespread SNS such as YouTube, Facebook and Twitter, except Gmail. Before uploading a video footage, you have to crop the footage, and learn the best HandBrake settings for YouTube, Facebook, Twitter, etc.
2. Still, profile for Plex is missing in HandBrake Presets. Many people are in need of accessing DVDs and movies through this mainstream streaming media server. They will have to understand which video format/container is for Plex Medisa Server, and how to set HandBrake for Plex. MP4 (H264) is recommended for Plex. But encoding a DVD movie to MP4, HandBrake usually outputs an about 6GB large file. You can try a HandBrake alternative for DVD conversion

with better compression yet higher quality.
3. Devices in HandBrake Presets seem non-specific. For instance, there are only Android 576p to 1080p, and Apple 240p to 1080p. You can't tell the specific models from the outside.
Taking Apple devices as an example, they are not divided into specific iPhone, iPad, Apple TV and iPod models. As many people know, different model of device has different screen size. Even the Apple iPad Pros have different screen sizes: 11" model comes in at 2388 x 1668, the aspect ratio being changed from 4:3 to a wider 4.3:3 or 12.9:9; 12.9" model comes in at 2732x2048, 280 x 214.9 x 5.9 mm in dimension.
For entry-level users, it will be more or less confusing. If choosing an Apple profile directly under Devices, the output video file may fail to be played back on the target device, or may have an incorrect dimension (with black letter box). (Learn: HandBrake iPad Preset Settings, DVD to iPhone Preset Settings). But looking closer, you'll find there is explanation on each profile after you hover the mouse over it. For example, this is one for Apple 1080p60 Surround:
H.264 video (up to 1080p60), AAC stereo audio, and Dolby Digital (AC-3) surround audio, in an MP4 container. Compatible with Apple iPad Pro; iPad Air; iPad mini 2nd, 3rd Generation and later; Apple TV 4th Generation and later.
So, please read the statement first before finalizing the profile selection.
Part 3: Is there any Easier Way of HandBrake Settings?
For amateurs, it will be a headache to calculate the Handbrake video Bitrate/Quality settings. It will be also annoying to figure out the difference between Constant Framerate and Peak Framerate, between 2-Pass Encoding and Turbo first pass, between HandBrake presets normal and high profile, what are settings for no quality loss, no compression, etc. And the settings you've used in handbrake might have not been good enough. For DVD to video conversion
Try direct DVD ripping without extra settings by using WinX DVD Ripper. You don't have to bother with the jargon or the calculation. The DVD ripping software is built-in with 350+ specific output profiles for you to rip any (copyright protected) DVDs to MP4, H264, HEVC, MOV, MKV, AVI, VOB, MPEG-2, iPhone iPad, Android, Xbox, PS5/4. And it has arrived a perfect balance between output quality and file size.
For video transcoding and passthrough
WinX HD Video Converter Deluxe is one of the best HandBrake alternatives if you need fast and easy video conversion. Compared with HandBrake, it has ready-made presets for YouTube, Facebook, Vimeo, Apple iPhone 12/11, Apple TV 4K, iTunes, iMovie, iDVD, Final Cut Pro, ProRes, Huawei Mate 40, Samsung Galaxy S21, HTC Jetstream, Amazon Fire 7, Google New Nexus 7, and more.
It supports both fast transcoding (input video A and output video B with different codec) or turbo-fast passthrough (change video format but keep the codec, with "Auto Copy" ticked.)