How to Remove Watermark from Clipchamp Video (Voice Incl.)
Clipchamp is a powerhouse for video enthusiasts, with video editor, video converter, compressor, webcam recorder, screen recorder software provided. On the other hand, Clipchamp is a troublemaker, as well. It annoys its fans to a fault when they find the watermarks and "Clipchamp Create" voice within their outputs. Because they have to re-create a video if they fail to remove watermarks from clipchamp video. Luckily, there is always a way to get problem solved. Here this post shares with you how to get rid of clipchamp watermark and "Clipchamp Create" stock audio watermark from your Clipchamp video project.
Jump to the part you need if time is limited:
Part 1. How to Clear Stock Video & Audio Watermarks from Clipchamp Video
No matter you choose Clipchamp video converter, editor or create at the top menu of online Clipchamp webpage, eventually you'll be re-directed to app.clipchamp.com after you log in with Google/Facebook account or Email. You might get lost after you enter this page, for almost all the features are covered here (free & premium features included, too). And it's high likely that you get a resulting video file with stock video and audio watermarks. In such case, follow the below workarounds to remove watermarks from Clipchamp video project.
Solution 1. upgrade to Premium plan that consists of a wide selection of stock video, audio & image assets, as well as templates. Monthly and yearly subscriptions are available, from $9 - $39 monthly and $72 - $324 yearly; check detailed price plans.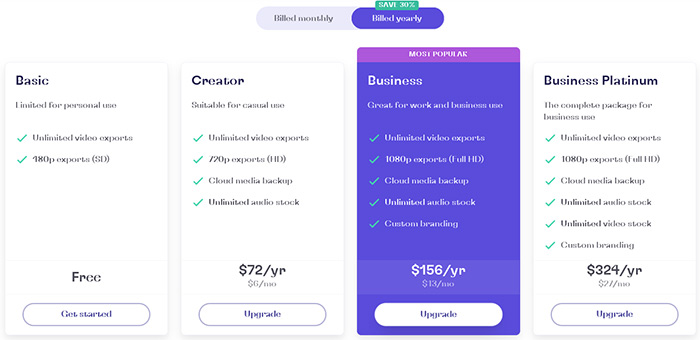 You might wonder why Premium plan? That's because there are some free stock videos, audio and images, as well as paid ones with a yellow star icon

. Once you accidently choose the premium stock data, your output video will be tagged with Clipchamp watermark and end up with "Clipcham Create" voice watermark. So pay for it to remove Clipchamp watermarks. This is a way to help you out of re-creation trouble.
Solution 2. delete the stock assets (video, audio or image) from the timeline of your video project if the upgrade plan is too dear for you. And go to free online stock website to dig out the multimedia materials for using in your video project. Keep in mind that stock assets (though it's labelled as copyright free) are suggested to use in a legal way and that don't harm the originator or copyright owner's interests.
Solution 3. head over to Clipchamp alternatives to create watermark-free videos with more free stock assets, like Visme, Adobe Spark Video.
Part 2. Is Clipchamp the Best Tool to Convert, Compress and Edit Video?
No! Clipchamp is NOT the best software for video conversion, compression and editing. On top of the irritating watermark issue, Clipchamp also has other downsides to annoy you during video processing.
Top Clipchamp Downsides:
1. Video Converter. When you want to convert video on Clipchamp and choose "Convert" under "Tools" of the top banner, you're re-directed into app.clipchamp.com. You would feel depressed by the output options when you export video. No video format/codec option, No 4K option. Worse still, you can only opt for 480p as output quality if you insist on free plan. The options with yellow star icon like 720p, 1080p, Quality are specially designed for premium subscription. And the resulting video file is auto saved as .mp4 format.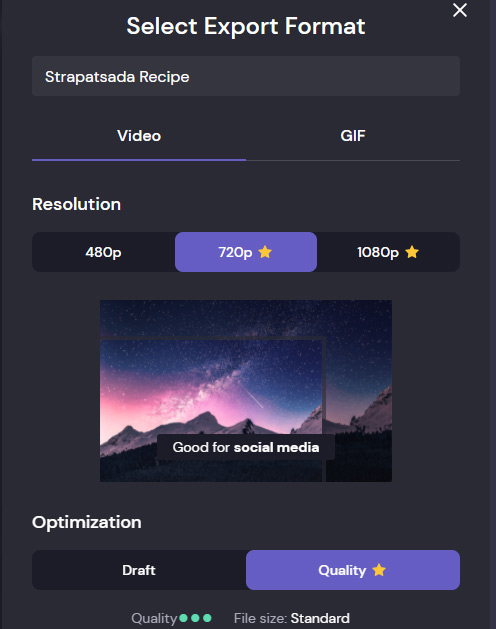 2. Video Compressor. Currently, you'll get a pop-up window, saying "Utilities is being discontinued". Though it's now still alive and can be used to compress video via resolution adjustment (e.g., 4K 2160p to 1080p), video conversion (video to web WMV/FLV format or MP4) and quality options (Low, Medium, High), it might be unaccessible someday. Developer team has already planned to give it up.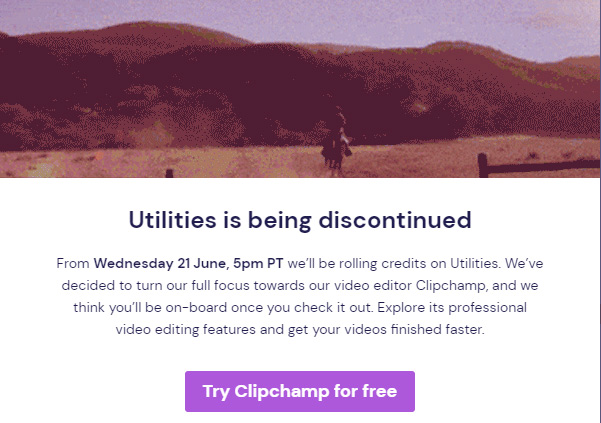 3. Video Editor. Clipchamp editor offers you with a bunch of filters, transitions, templates, stock videos, audio and images. However, it still doesn't live up to what it promises on the official webpage. There is no video crop, flip & mirror, rotate or subtitle adding features. Plus, it doesn't export video to 4K 2160p video, either. Video parameter settings adjustment is still in its infancy, only aspect ratio available, no options for frame rate, bit rate, video/audio codec, audio channel, etc.
4. Buffering. Clipchamp chews up your network speed and CPU capability. Just load a 1080p video to Clipchamp and it gets stuck and buffering. Then the CPU usage skyrockets from 45% to 82% (no other programs running). I have used Clipchamp on a Windows 7 computer with configurations: Intel(R) Core(TM) i5-4460 CPU @ 3.20GHz 8.00 GB RAM.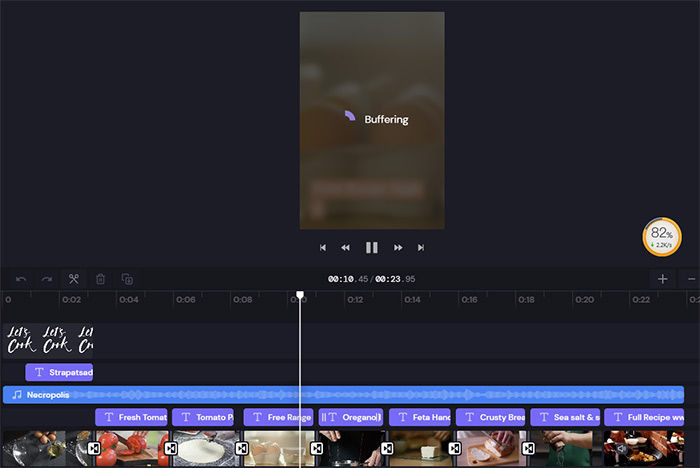 Part 3. Download Best Clipchamp Alternative for Video Conversion, Compression, Editing
Clipchamp has many shining points (shown on its official product webpage). Yet, it's indeed not a good option for high quality video, especially for 2K, 4K, 5K and even 8K Ultra HD video. For those who wanna convert, compress or edit 4K 2160p Ultra HD video footage, a better solution instantly suggests itself to you - WinX HD Video Converter Deluxe (NO Watermark)
It performs perfectly on its bread and butter - "convert", letting you convert any video to MP4, H264, HEVC, MOV, MKV, FLV, WMV, WebM, 3GP, SWF, YouTube, Instagram, FB, Vimeo, iPhone iPad, Android, Xbox, PS5/4, etc. with 420+ preset profiles.
Compress: downscale 4K to 1080p/720p, lower down 120/60FPS to 30FPS, fine-tune bit rate, remove unnecessary audio tracks...
Edit: trim and cut video length, crop video image, merge clips into 1, add subtitles to video, extract audio from video...
High Quality Engine adopted to ensure zero quality loss; level-3 hardware acceleration powered by Intel, NVIDIA, and AMD tech to quicken video processing speed 15X faster, no buffering, CPU overuse errors.
Now, let's check how to use the best Clipchamp alternative to convert or compress a video.
Step 1. Open WinX after installation and click "+ Video" button to browse and open target video you want to convert or shrink. Like Clipchamp, it also supports loading multiple files at one time for batch conversion.
Step 2. On Output Profile panel, scroll down to find an output format you want to convert to. You're advised to opt for "MP4 (H264)" (best format among file size, quality and compatibility), or "MP4 (H265)" (higher compression effeciency with smaller size, no quality loss).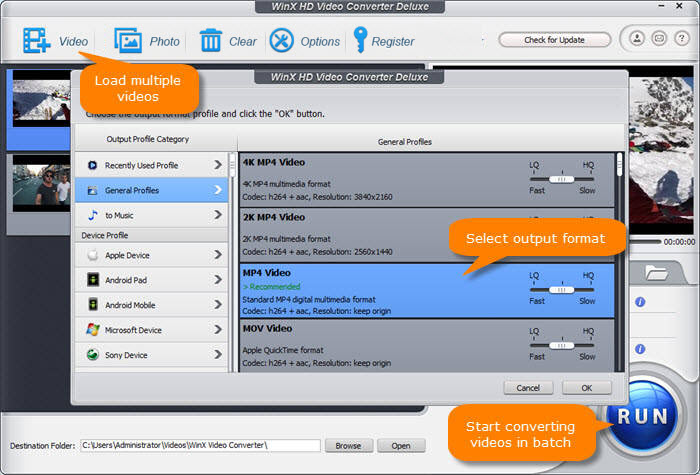 Afterwards, go back to main screen and continue if video compression is needed.
Click gear icon and you will find options to downscale resolution 8K to 4K, 4K to 1080p, and adjust frame rate, bit rate, aspect ratio...
Click Edit and you can perform some basic video editing jobs, including trim, crop, merge, add subtitles, tweak volume...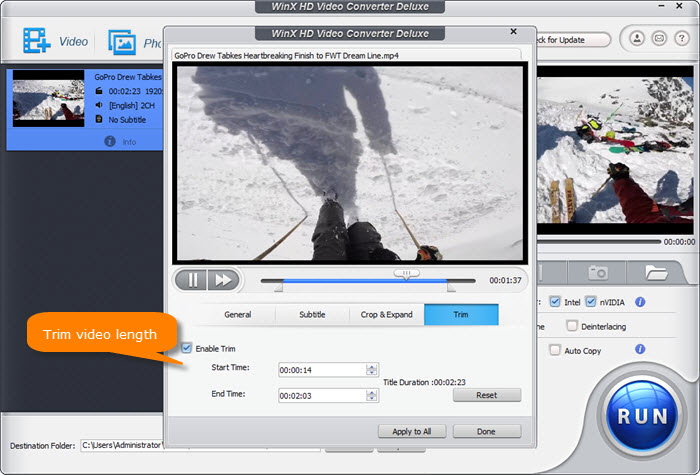 Step 3. Hit RUN to begin converting or shrinking video file. When the procedure is done, you can load the resulting video file to video player and this video project won't bother you with the annoying video or audio watermarks.
If you've ever used any other programs to free convert, compress or edit videos without watermark, you're warmly welcomed to share with us via our official twitter/Facebook account or Email and we'll instantly update them to this post.