How to Convert M2TS to MKV Video on Windows 10 with the Best Quality
The .m2ts is a filename extension used for the BDAV MPEG-2 Transport Stream container file format. It is based on the M2TS (MPEG-2 transport stream) container. You may cope with M2TS video files frequently since this container format is commonly used for high definition video on Blu-ray Disc and HD camcorders. Since M2TS has poor compatibility and large file size, some people want to convert M2TS to MKV. MKV is can hold an unlimited number of video, audio, picture or subtitle tracks inside one single file, and it has better compatibility than M2TS. Windows 10 has already added native MKV support.
Well, how to convert M2TS to MKV? We'll show you 5 ways to convert your M2TS movies ripped from BD disc or recorded by HD camcorders to MKV.
Part 1. Best Software to Convert M2TS to MKV Without Losing Quality
The best M2TS to MKV converter for Windows and Mac is HD Video Converter Deluxe. This tool is fully compatible with Blu-ray and HD camcorder .mts/.m2ts videos. It can help you remux M2TS to MKV without quality loss and transcode with perfect quality. It allows you to select desired audio and subtitle tracks, make some basic editings like crop and cut, and gives you full control over video/audio settings. Intel/Nvidia/AMD hardware acceleration is fully appllied to guarantee the fastest video decoding, processing, and encoding speed.
Besides converting HD/4K M2TS to MKV, HD Video Converter Deluxe can transcode MP4, MOV, WMV, AVI, and more, totally 370 codec formats supported, to over 420 output profiles like iPhone, iPad, and Android.
Let's free download it to have a try. It is lightweight and clean.
Now, we'll show you how to convert M2TS to MKV with HD Video Converter Deluxe.
Step 1. Launch HD Video Converter Deluxe and import M2TS file.
You can drag and drop target M2TS file to the main interface of HD Video Converter Deluxe or click the + Video button to browse and open the M2TS file you want to convert to MKV. You can import multiple files to convert at a time if necessary.
Step 2. Select MKV as the output format.
After M2TS files are loaded, Output Profile window will show up. Now, you should scroll down to PC General Video and choose Matroska Video. Then click OK. Step 3 (optional). Make some settings.
Check whether the selected audio and subtitles tracks are what you want.
Click the gear icon to change codec format, video resolution, bitrate, frame rate, etc.
Click the Edit button if you need to trim video, crop video, or add external subtitle.
Check Auto Copy if you just want to convert M2TS to MKV losslessly.
Click Browse button at the bottom if you want to select a different destination folder.
Step 4. Convert M2TS to MKV.
If everything is set up, you can click the blue RUN button to begin converting M2TS to H.264-encoded MKV.
Part 2. Convert M2TS to MKV Online for Free
If your M2TS file is a small file, you can try a free online M2TS to MKV converter such as CloudConvert. CloudConvert allows you to convert M2TS video that doesn't exceed 1GB for free. You don't need to install any program. Just open CloudConvert M2TS to MKV Converter and follow the steps below.
Step 1. Click Select Files to find and open the M2TS video stored locally or on a cloud storage for later converting to MKV.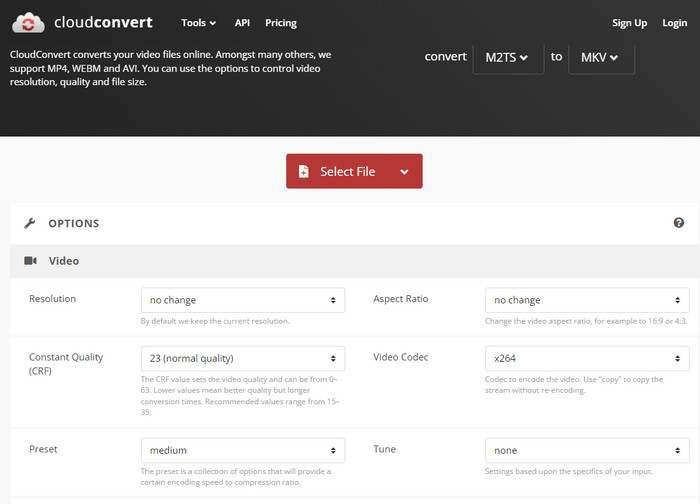 Step 2. Make sure MKV is selected as the output format.
Step 3. Click the wrench icon if you want to adjust resolution, quality, duration, codec, or others.
Step 4. Click Convert button to begin uploading and converting your M2TS to MKV.
Step 5. Once completed, download the MKV file to your computer.
Part 3. Convert M2TS to MKV for Free with HandBrake
HandBrake is a free open-source video converter for Windows, Mac, and Linux. It can convert various video formats including M2TS to MKV, MP4, and WebM. A selection of video codecs are available including H.264(x264), H.265(x265), MPEG-2, MPEG-4, Theora, VP8, and VP9. And, it provides quite a lot of options to set quality, subtitle, encoders, and so on.
Free download and install it on your computer, and then follow the steps here to perform M2TS to MKV conversion.
Step 1. Open HandBrake. Then, you will see Source Selection. What you need to do now is to click File or Folder to import M2TS files.
Step 2. Click Preset, scroll down to Matroska, and select a desired MKV preset.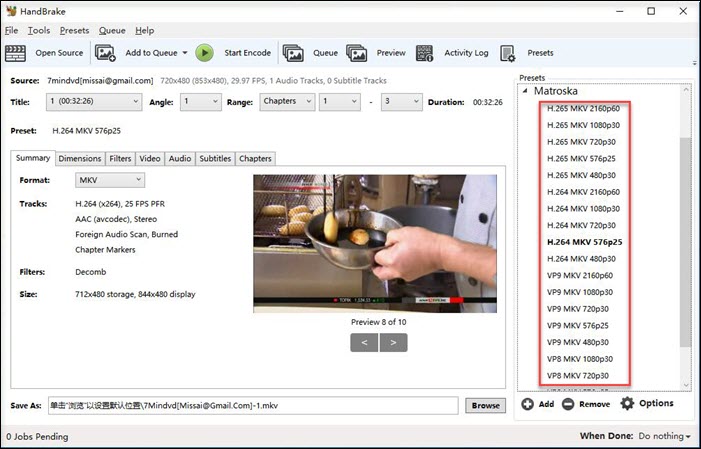 Step 3. If you need to make some adjustments, go to Summary, Dimensions, Filters, Video, Audio, Subtitles, and Chapters tabs.
Step 4. Click the Browse button at the bottom right to specify where you want to store the MKV output.
Step 5. Click the Start Encode button at the top to begin converting M2TS to MKV with HandBrake.
Part 4. Convert M2TS to MKV for Free with MKVToolNix
MKVToolNix is a set of free tools to create Matroska files from other media files such as M2TS, extract tracks/data from Matroska files, and get information about Matroska files. It can convert your M2TS to MKV without re-encoding. Therefore, you won't see any quality loss. It can be installed and used on Windows, Mac, and Linux.
Let me show you how to remux M2TS to MKV with MKVToolNix.
Step 1. Open the MKVToolNix application.
Step 2. Click Input tab and click add button to import M2TS file.
Step 3. Select and edit tracks if necessary.
Step 4. Click Browse to choose a save path.
Step 5. Click Start muxing to change your container format from M2TS to MKV.
Part 5. Convert M2TS to MKV with FFmpeg
Another way to remux M2TS to MKV is FFmpeg. Actually, FFmpeg can not only remux content, but also transcode video. Diffierent from other tools recommended above, FFmpeg is a command-line tool. It may be difficult for new users. Any way, give it a try.
Step 1. Download and install FFmpeg on your computer. It is available for multiple operating systems.
Step 2. Open FFmpeg command window and enter command line behind the cursor.
To remux M2TS file to MKV, your command line will generally look like: /path/ffmpeg -i /path/inputfile.m2ts -c copy -map 0 /path/outputfile.mkv
Part 6. Why Convert M2TS to MKV File
One situation you need to convert M2TS video to MKV format - If your M2TS files is ripped out of Blu-ray Disc, after converting Blu-ray M2TS video to MKV formats, you have decrypted M2TS file stored on Blu-ray Disc to open source MKV video. It is a desirable Blu-ray Disc backup solution, since you can shrink full content of 50G Dual-layer BD m2ts to 10G video in MKV format, yet the degradation is unperceivable to your eyes!
At the mean time, you can keep original BDAV M2TS audio track, subtitle track, video track (for multi-angle BDAVs), and menu within one single Matroska file. That means, without any Blu-ray movie features abandoned, you can make perfect Blu-ray Disc backup in MKV format. The HD MKV movie viewing experience is just as fantastic as when you playback original Blu-ray M2TS video.
If you pursuits minimum output MKV file size, you can get even smaller size by reducing these redundant Blu-ray elements. For instance, some chapters deliver little information, like Movie Extras, you do not have to reserve computer hard disk space for them. Also you do not need to keep all language and subtitle tracks in your output MKV video if you feel they are useless. And if you transcode the MPEG-2 encoding to a more efficient encoding like H.264, then the new file could use the MKV container format and be substantially smaller.
The other occasion you need M2TS to MKV converting - if you are HD Camcorder shooting lover, then you have great chance to deal with AVCHD camcorder, which records video in M2TS format. Thanks to AVCHD M2TS and MKV video employs H.264 video codec, after converting M2TS to MKV format, you will have lossless output quality. The export MKV image is as appealing as your 1080p AVCHD recordings.
And also, as mentioned above, MKV is open source video format. Open source programs have an arguably higher potential for more creative solutions and broader implementation. When playback AVCHD M2TS video, you definitely have to pay close attention to overheat of your computer, high-end CPU and Graphic Card required, or even you hardly find competent AVCHD Player software. But after converting AVCHD M2TS video to MKV video, there awaits many free MKV players and free MKV editors.
To sum up, no matter your source M2TS video is ripped off from Blu-ray Disc or AVCHD recording, one thing you need to note is that - if you want to use a stand-alone device like a HTPC, Popcorn Hour or a Western Digital player, you'll probably have better compatibility with the MKV container than M2TS.
Free download the best M2TS to MKV converter for your computer!