GoPro 4K HEVC Video Format Not Recognized in Editor/Player
Most GoPro video won't play errors are caused by incompatible video format or high resolution issues. Here are the solutions
There are kinds of "GoPro not recognized" errors, one of which is GoPro camera cannot be recognized on PC while another refers to GoPro video file format not recognized, causing playback problems. To fix issues like GoPro camera doesn't appear or is not recognized in Quik app for desktop computer, please follow these troubleshooting steps on official GoPro Q&A site. If your GoPro 4K video footages cannot be recognized or played correctly in editors like Adobe Premier Pro or players like Windows Media Player, please check the following detailed tutorial.
Also see: Easy Tips to Fix Adobe Premiere Pro Not Importing HEVC Videos Properly >>
4K HEVC GoPro Video File Format Converter for Windows/Mac – HD Video Converter Deluxe
Transcode GoPro videos in three simple steps to solve file format not recognized problem.
Convert GoPro videos recorded in HEVC, MKV, MP4, H.264 to ProRes, MP4, FLV, MOV, etc for editing, playing or uploading.
Downscale GoPro 4K (HEVC) to 1080p, or upscale 1080p to 4K with best quality for easier playback.
Cut, crop, merge GoPro 4K, 1080p videos, change video resolution, aspect ratio, frame rate, bit rate, etc.
Part 1. What Video Format Do GoPro Cameras Record In?
Video files shoot by GoPro cameras mostly are encoded in H.264 format and encompassed into MP4 container. But things are a little bit different when recording with GoPro Hero6 Black, which supports shooting 4K (4:3) files in HEVC, leading to GoPro video not recognized issues.
GoPro HERO6 Black

GoPro HERO5 Black

GoPro HERO

GoPro Fusion

Video file format

MP4 (H.264), MP4 (H.265/HEVC)

MP4 (H.264)

MP4 (H.264)

MP4 (H.264)

Video resolution

4K, 4K (4:3)
2.7K, 2.7K (4:3)
1440p
1080p

4K
2.7K
1440p
1080p

1440p
1080p

1440p
1080p
When Will "GoPro Videos Not Recognized" Happen?
1. If you record HEVC footages with GoPro HERO6 Black but try to play it on a platform that does not support HEVC/H.265, then the video won't be recognized, or rather decoded, correctly. And you will have a playback error.
Part 2. How to Fix GoPro Video Format Not Recognized Error?
Try HD Video Converter Deluxe to convert GoPro video to the format that's compatible with your devices! Here are the easy steps.
Step 1. Load GoPro Hero6 4K video
Launch WinX HD Video Converter Deluxe and click "+Video" button to find and load the GoPro Hero6 4K video which you'd like to compress to 1080p into the program. GoPro Hero6 Black 4K HEVC, 4K H.264 videos are supported. You can add several videos for batch editing and converting.
Step 2. Choose output video format
In the pop-up Output Profile window, choose one desired video format as the output. Hundreds of video formats and preset device profiles are available including MP4, FLV, AVI, WMV, MOV, MPEG, H.264, HEVC, iPhone X, iPhone 8/8 Plus, iPad, Android Samsung Galaxy S9/S8 and more.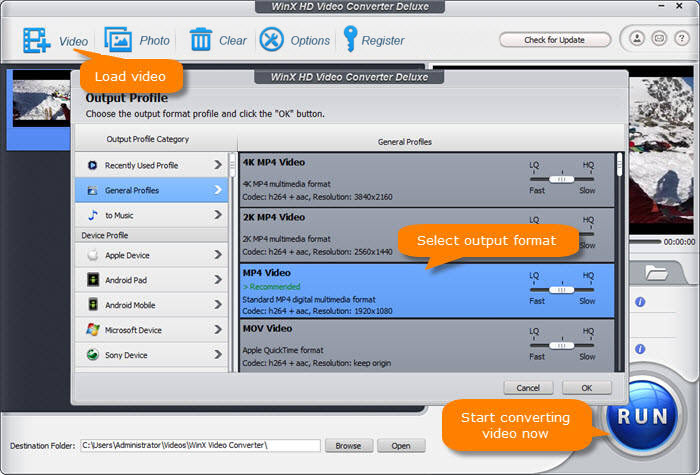 Step 3. Select 1080p as target resolution
Then click the gear icon. In this window, you could change resolution, video codec, frame rate, bit rate, aspect ratio, etc. Click the down-arrow beside Resolution and choose 1920x1080 as the target resolution.
Optionally, you can click "Edit" button to cut GoPro video clips, crop GoPro video frame, or click "Merge" option on the main interface to merge several GoPro video clips into one.
Step 4. Compress GoPro Hero6 4K to 1080p
Compressing or converting GoPro 4K videos or other large videos consumes much CPU power. WinX HD Video Converter Deluxe delivers high performance in large 4K video decoding, processing and encoding since it utilizes Intel QSV and Nvidia CUDA/NVENC hardware acceleration. It is advised to enable hardware acceleration on the main interface to ensure a fast and smooth GoPro 4K to 1080p compressing process.
Hit "RUN" to start downscaling GoPro Hero6 Black 4K video to 1080p at superfast speed with best quality.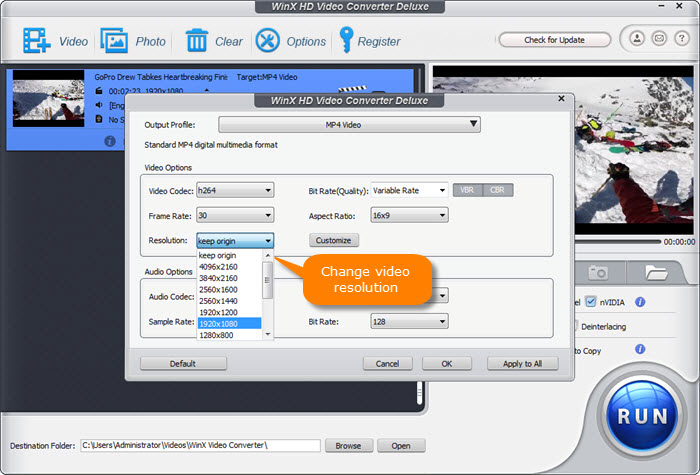 Best GoPro Video Editor & Converter for Windows/Mac - HD Video Converter Deluxe
Best all-in-one GoPro video editing software and photo slideshow maker, video converter and downloader allows users to fast compress GoPro Hero6 4K to 1080p, edit any GoPro video/footage, make impressive GoPro photo slideshows and convert the video file to MP4, AVI, WMV, FLV, MOV, iPhone, iPad, Android, etc.
About GoPro and Its Products Line – Wiki Resource
GoPro: GoPro, Inc. (formerly Woodman Labs, Inc) is an American manufacturer of action cameras, often used in extreme-action videography and part of the connected sport movement. Its famous products include HD HERO cameras, HERO 2/3/4/5/6, etc...