Best HandBrake Settings to Convert DVD/Video to Xbox One X/S?
Get to know the best HandBrake encoding settings for Xbox One when ripping DVD movies, episodes or converting videos.
Xbox One has the support for playing DVDs, Blu-rays and media files directly when related apps, say Blu-ray Player and Media Player, are installed in advance. But in some cases, people still need to process DVDs or videos with third-party software for watching them smoothly or in the way they prefer.
This article will share what're the best encoding settings for Xbox One when using open source HandBrake to transcode video files or convert DVD for Xbox One. Before that, let's just take a look at Xbox One supported media formats.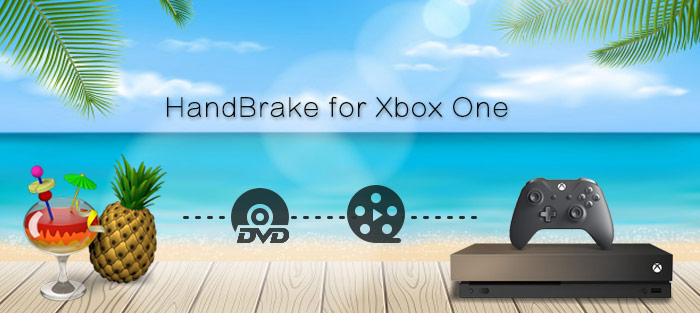 Convert DVD/Video to Xbox One X/S with Easier & Better Settings than Handbrake
WinX DVD Ripper Platinum - Rip/copy any DVDs to Xbox, Playstation, Wii, iPhone, iPad, Android, etc. in MP4, MOV, MKV, ISO image, with best blanace on quality, size and speed.
WinX HD Video Converter Deluxe - Convert 4K/HD videos to Xbox Ones X/S, Series X, 360 etc. 80% file size smaller without losing quality.
This post will take you about 4 mins to read through, or you can go to the part you're interested in:
Part 1 Video & Audio Formats for Xbox One Players
Q - I've got a lot of videos I'd like to convert with HandBrake so they can be used for direct playing on my Xbox One. What is the best container format for Xbox One?
Customers usually play media file on Xbox One in two ways. They can direct play media content stored in USB flash drive with Media Player app and play DVD or Blu-ray films with Blu-ray Player app. Alternatively, they can also leverage some Xbox One available streaming services to sync the digital files from media library to the machine. Plex and Kodi are two of the widely used steaming programs.
Below is an overview table on media formats supported by different Xbox One players. Maybe sometimes you just don't need to transcode your DVD or video, because the players themselves have a well support for common media files already.
Xbox One

[Blu-ray Player]

app supported discs

Blu-ray discs

Standard DVD discs

Region A, B, C

Region 1, 2, 3, 4, 5, 6, 7, 8

Note: It supports mastered Blu-ray discs. 3D Blu-ray is also supported when played on 3D TVs. Xbox One S All-Digital Edition has no hard drive, but you still can play DVD on Xbox One.
Xbox One

[Media Player]

app supported media formats

Video Formats

Audio Formats

.mkv, mov, .asf, H.264/MPEG-4 AVC, WMV (HD), 3GP, 3GP2, AVI DivX/XviD, DV AVI, H.264 AVCHD, MPEG-2 TS/HD

MP3, AAC, 3GP, ADTS, WMA, WAV

Note: Plex only supports MP4 4K with HEVC/MPEG4 video encoding method and MKV 4K with HEVC/MPEG4/VP9 encoding method. And 4K videos are not enabled with subtitles in Plex.
Xbox One

[Plex]

app supported media formats

Video Formats

Audio Formats

MP4 (H.264/HEVC/MPEG4/VC1/WMV3 + AAC/AC3/MP3/EAC3),
MKV (H.264/HEVC/MPEG4/VC1/VP9 etc. + AAC/AC3/MP3/FLAC etc.);
MOV (H.264 + AAC), WMV, AVI, ASF and MPEGTS/TS containers.

AAC, ALAC, E-AC3, FLAC, MP3, M4A, WAV

Note: It supports mastered Blu-ray discs. 3D Blu-ray is also supported when played on 3D TVs.
Xbox One

[Kodi]

app supported media formats

Discs

Video Formats

Audio Formats

Blu-ray Disc (unencrypted), CDs, DVDs

MP4, MKV, AVI, WMV, ASF, FLV, MPEG-1, MPEG-2, H.263, MPEG-4 SP and ASP, MPEG-4 AVC (H.264), H.265 (as from Kodi 14) HuffYUV, RMVB, WMV etc.

MIDI, AIFF, WAV/WAVE, AIFF, MP2, MP3, AAC, AACplus (AAC+), Vorbis, AC3, DTS, ALAC, AMR, FLAC etc.
Part 2 What're the Best HandBrake Settings for Xbox One
Q - Can someone please suggest what I should set my settings to in HandBrake for the best streaming experience using an Xbox One? Thank you!
Q - I've built a Plex media server with a "not so powerful" processor. So when I play the 4K media through Plex on my Xbox One X, it always buffers every few seconds. I'm planning to convert them to a format which can direct play on Xbox with HandBrake so that I don't need to upgrade the server..
Since people may transcode DVD/video to Xbox One for different purposes, there's no consistent answer to the best HandBrake preset for Xbox One. Here we will give some setting tips all about Handbrake for your reference.
Tip 1 - HandBrake only supports converting DVD/video to MP4 or MKV container format.
HandBrake video codecs for MP4: H.264 (10-bit), MPEG-4, MPEG-2, H.265 (10-bit/12-bit),
HandBrake video codecs for MKV: H.264 (10-bit), MPEG-4, MPEG-2, H.265 (10-bit/12-bit), VP8, VP9, Theora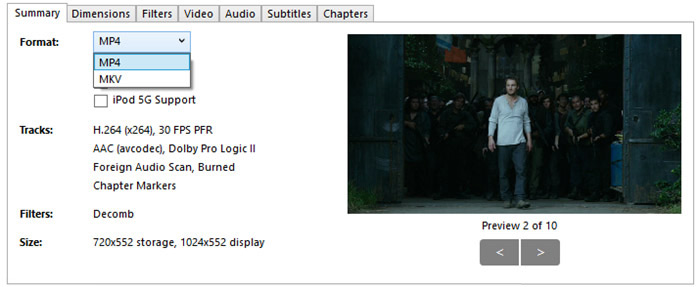 When setting video format and codec with HandBrake, ensure the ones you define are compatible with the Xbox player you will play video with. For example, as is mentioned above, Plex doesn't embrace MP4 H.264 video in 4K resolution.
Tip 2 - You'd better make it clear what you care or need most. If you put high quality on the first place, you should do high quality settings (like choosing "High Profile" under legacy or any HD preset) and bear the relatively bigger file size or slower video transcoding speed. If you are apt to compress video size more for streaming faster, related "Fast xxx" and "Very Fast xxx" are more suitable. >> HandBrake Video Quality Settings Tip 3 - If you digitize your standard DVD with HandBrake for playback on Xbox, you'd better rip DVD to H.264 MP4 with video frame rate the "Same as source" and "Variable Framerate". "HD 480p30 Surround" and "HD 576p25 Surround" are also alternative choices for NTSC and PAL respectively.
Note that it's unnecessary to upscale DVD video to 720p or 1080p, because it will lose the quality greatly. Furthermore, HandBrake defines the subtitles as hard subs with "Burn In" checked by default. In other words, if you prefer soft subs that you can control, you need to replace the tick into "Default" option under subtitles section.
>>HandBrake DVD to MP4 Settings
Tip 4 - Video encoding settings will affect the output quality greatly. We can see an official suggestion on best video Quality value setting: 18-20 for standard definition sources and 20-23 for high definition sources. Also, you can fine tune the level of "Encoder Preset" and "Encoder Profile" to adjust output video quality, size and transcoding speed.
>>6 Factors that Affect or Decide Video Quality Tip 5 - If your TV or media server processor is not powerful enough to handle your large 4K (Blu-ray/camcorder/iPhone) video, the video may buffer at times or even fail to play with certain error message. At this time, you're suggested to downscale 4K to 1080p with HandBrake buy choosing any of the existing Xbox presets, HD 1080p30 Surround or Super HD 1080p30 Surround (slowest but the highest quality).
Tip 6 - HandBrake offers two ready-made Xbox presets under devices category: Xbox 1080p30 Surround & Xbox Legacy 1080p30 Surround. You can choose either of them when transferring HD or 4K Blu-ray videos, and tweak the resolution, video codec, FPS, quality and encoder settings as required.
Part 3 Fed up with the Convoluted Settings for Xbox One? Try an Easier HandBrake Alternative
WinX DVD Ripper Platinum is a one-stop DVD ripping software you can have a try!
Similar to HandBrake, it's capable of ripping DVDs and converting various video sources to Xbox One S/X and enabling GPU hardware acceleration if you computer is qualified.
But much more powerful and user-oriented than HandBrake, it can decrypt copy protected DVDs alone and transform DVD/video to MP4, MKV and more other formats like AVI, MOV, WMV, MP3 and such, all of which are preset with the best balance between file size and quality.
Better still, it offers more editing features like cut, trim, crop, merge, spit and more, with which you can custome any video sources freely and fast, including the Xbox recorded (4K) gaming videos. Disclaimer: Digiarty Software doesn't advocate ripping protected DVDs for commercial purpose & suggests referring to DVD copyright laws in your country before doing so.
Video Tutorial: How to Rip/Backup DVD to Xbox One with the Best Settings
Still have question on how to convert DVD/video to Xbox One X or S? Please feel free to Mail Us >>