How to Download and Install tvOS 14 on Apple TV to Play 4K YouTube Videos
To watch 4K YouTube videos on Apple TV, you need to get tvOS 14. But this new tvOS hasn't been officially released yet. It is still in beta stage. If you are anxious to have a try, follow our guide below to install tvOS 14 beta on Apple TV and play 4K YouTube videos on Apple TV.
Note: Beta software may contain bugs and issues, so it is possibly unstable.
Is your Apple TV Supported by tvOS 14?
tvOS 14 compatible devices: the fourth and fifth-generation Apple TVs, namely Apple TV HD and Apple TV 4K.
tvOS 14 incompatible devices: the third generation Apple TV and earlier versions are not supported, because they don't support tvOS.
If tvOS 14 is compatible with your Apple TV, you can keep on reading the steps of installing tvOS 14 beta software. If not, you can try our other methods to watch YouTube videos in 4K on Apple TV.
How to download and install tvOS 14 on Apple TV HD/4K?
Apart from checking compatibility, you also need to enroll in the free Apple Beta Software Program. Let's check how to get enrolled.
1. Open your browser, and then go to Apple Beta Software Program page.
2. Click the blue Sign Up button.
3. Type in your Apple ID and tap the Sign in button.
4. Agree to the Apple Beta Software Program terms and conditions if necessary.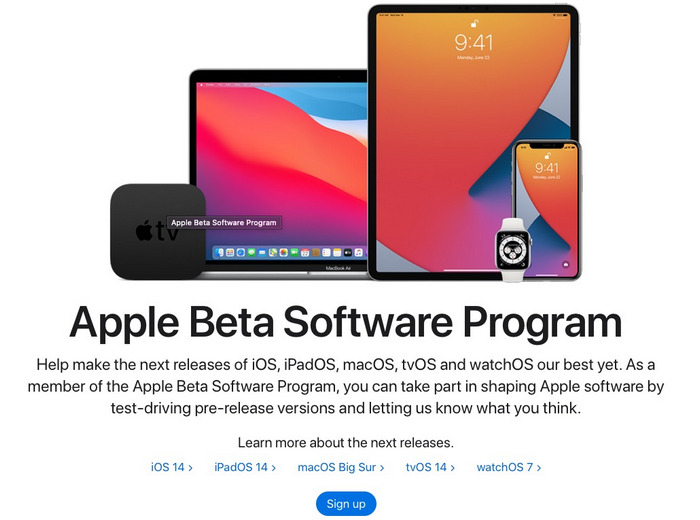 Now, you can download and install Apple tvOS 14 beta.
1. Open your Apple TV, and navigate to Settings and click Accounts.
2. Under Apple ID, sign into at least one of the account options (iCloud, iTunes and App Store, or Game Center) with the same Apple ID that you used to enroll for the Apple Beta Software Program.
3. Click through to Settings -> System -> Software Updates, and then turn on Get Beta Updates. And now follow the onscreen instructions to complete the process.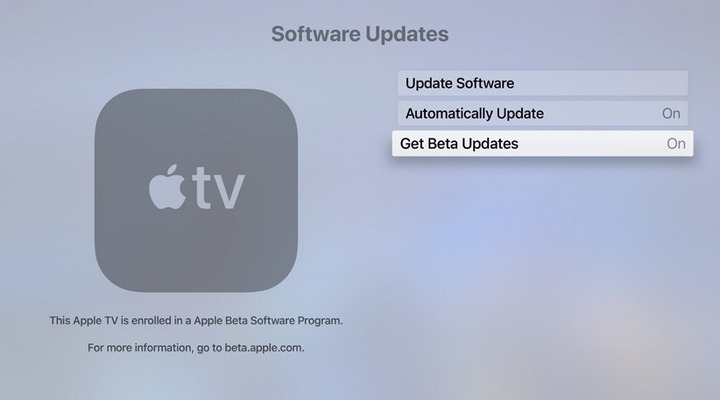 If you have Automatically Update turned on in the Software Updates settings, your Apple TV HD/4K will download and install the latest tvOS 14 public beta software automatically. To manually check for updates, you can click through to Settings > System > Software Updates > Update Software.
When you finish tvOS 14 installation, open YouTube app, play a 4K video, and now you should be able to choose 2160P 4K quality.
How to AirPlay 4K YouTube Video from iPhone iPad to Apple TV
As mentioned above, iOS 14 will also add support for 4K in YouTube app. Therefore, you can AirPlay 4K YouTube videos from iPhone or iPad to Apple TV.
Note: Apple hasn't released the official version for iOS 14. Now you can only download and install public beta version. You can learn how to download and install iOS 14 beta on iPhone iPad here. Once done, you can try this AirPlay method.
1. Open the YouTube app on your iOS 14 powered iPhone or iPad, select a 4K video to play, tap the three-dot "More" icon to choose quality as 2160p.
2. Tap the cast icon which is a rectangle with wifi symbol, and then choose AirPlay & Bluetooth devices and choose your Apple TV. Now the 4K YouTube video should immediately start playing on your Apple TV.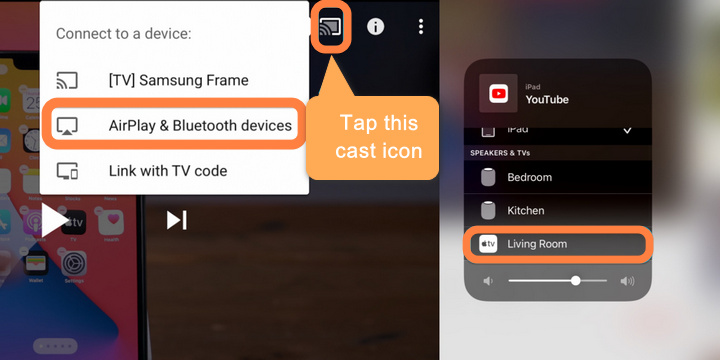 References:
1. "Apple TV 4K will at last play YouTube in 4K with tvOS 14 update". THE VERGE
2. "Apple TV 1080p/4K Support Details, Ports". EveryMac