How to Watch 4K YouTube Videos on iPhone iPad
YouTube app only displayed video up to 1080p resolution on your iPhone iPad in the past decades. Now the case is different. Apple's iOS 14 and iPadOS 14 get updated in support for Google's VP9 codec, indicating that you can enjoy YouTube videos on iPhone iPad with resolution up to 4K 2160p. Of course, this is for YouTube app, 4K still unavailable with YouTube in Safari in iOS 14.
To watch YouTube 4K videos on iPhone iPad, you're required to update to iOS 14 or iPadOS 14 first. Beyond that, check your hardware device iPhone iPad whether they're compatible with YouTube higher-res 4K video or not. Right now, the compatible devices that have an OLED and HDR display include iPhone 11 Pro Max, iPhone 11 Pro, iPhone Xs Max and iPhone Xs. Though iPhone X sports with an OLED and HDR display, it doesn't seem to work with YouTube 4K 2160p yet. As for iPad models, the newer model like iPad Pro (2020) supports 4K YouTube playback. Test your iPad if your iPad is older model.
Play and Watch 4K/4K HDR Content on iPhone iPad
If you have one of the above-mentioned compatible iPhone iPad devices, do as follows to make 4K YouTube content playable on iPhone iPad.
Step 1: Update to iOS 14 or iPadOS 14 public beta on your iPhone iPad. Check the detailed guide if needed.
Step 2: Get YouTube app upgraded to the latest version.
Step 3: Fire up YouTube app, find out the video, play the video and tap the "More" icon at the top-right corner of the screen.
Step 4: Click "Quality" > opt for 2160p. Considering the highest resolution of iPhone model goes to 2688x1242 pixels, 1440p (2560x1440) is also a favorable bet.
Some of you may prefer watching YouTube 4K video on Apple TV. The procedure is much of muchness. Open here to know the nitty gritty if necessary.
How to Watch 4K YouTube Video on Older iPhone iPad
In terms of iPhone X, iPhone XR, iPhone 8 and older iPads, they all fall flat on their face when it comes to play YouTube video at 4K 2160p thereon. How to turn it around? The effective solution is to use WinX HD Video Converter Deluxe to free download YouTube 4K 2160p video (native 4K or upscaled 4K) with whatever codec or format, be it VP9, H265, H264, DivX, MP4, MKV, FLV...
To ensure smooth playback, WinX helps you convert YouTube video to iPhone iPad supported H265, H264, MPEG-4 codecs formatted by MP4, MOV or M4V container format so that you can play YouTube 4K content on your old iPhone iPad without incompatibility issue. As we said before, you're able to download 1440p video from YouTube, as well as Facebook, Instagram, twitter, Dailymotion, etc. 1000+ sites to iPhone iPad if 4K 2160p footages chew up your space.
How to Free Download and Convert YouTube 4K to Older iPhone iPad
Step 1. Download and install WinX HD Video Converter Deluxe on Windows 10/8/7. Launch the program > tap "YouTube URL" and the video download interface will pop up.
Step 2. Open YouTube app > find the desired YouTube video > copy YouTube video URL to the analyze box > click "Paste & Analyze" button. Opt for 4K 2160p resolution as you like. To download and convert YouTube videos in a batch, please repeat step 1 and 2.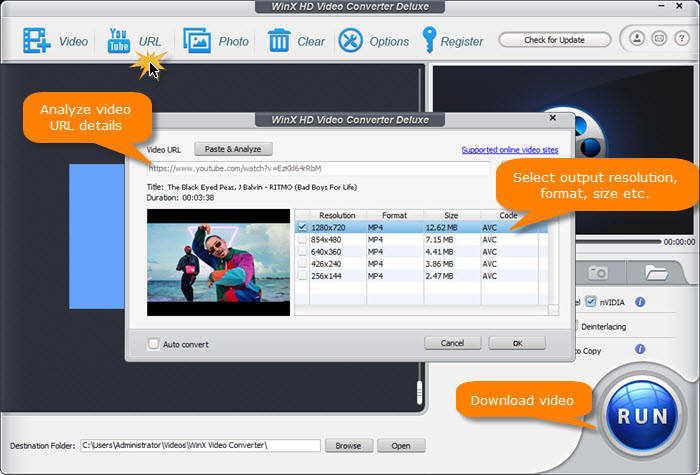 Step 3. Tick "Auto convert" > OK > hit "Download Now" button to begin downloading YouTube 4K footage.
Step 4. The video conversion window will auto pop up after the downloading is accomplished. Choose specific iPhone model under Apple Device column. Move to "to iPad Video" if your device is an iPad.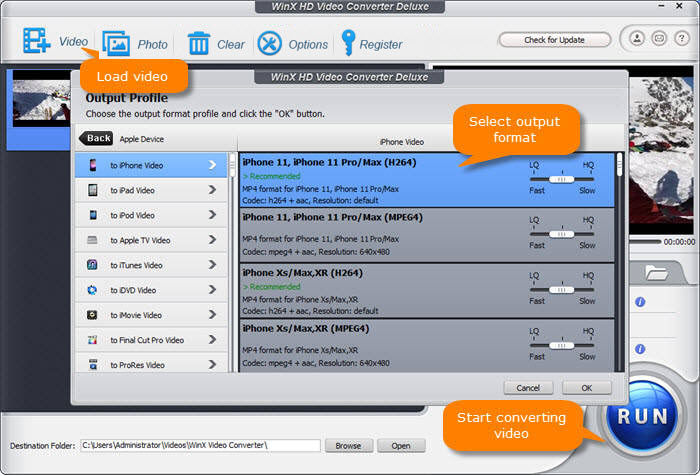 Step 5. Click "Browse" button to choose the destination folder for resulting file storage. Afterwards, hit "RUN" button to converting YouTube 4K to iPhone iPad with best video format and parameter settings.
The whole YouTube 4K content download and conversion count on level-3 GPU hardware acceleration tech, which offloads the compute-intensive download & conversion task from CPU to GPU, 47x real-time faster than software decoding/re-encoding speed.
Video Tutorial: How to Download and Convert YouTube 4K to iPhone iPad
YouTube 4K streaming is high demanding on network bandwidth, at least 25Mbps. Though some areas have been covered by 5G technology, it's still the small part. Most of areas in the globe still adopt 4G technology nowadays. Plus, 5G technology has two standards, sub 6 and mmWave. A sub-6 band 5G technology is powerful enough to cover a larger geographical area for 5G coverage, but is inferior to mmWave in speed downlink. On the contrary, an mmWave 5G technology has an advantage over sub 6 in downlink speeds, but at the expense of less geographical area coverage.
Hence, in lieu of 4G or 5G network you're using, you can't get 100% high speed downlink, alongside with network coverage everywhere. When you move from one spot to another, your network will be affected enormously. The most solution is to get your desired YouTube 4K content downloaded to your mobile iPhone iPad for playback anywhere anytime, no speed or space limits!