How to Open and Play Adobe Flash SWF Files on Windows 10/11
I cannot open video files on a USB drive in windows 10, .swf files to be particular. This seems like it should not be a problem, am I missing something? How to open .swf files in Windows 10? – from Microsoft community
Nowadays playing a video game or Shockwave flash movie in .swf extension on your computer is getting a lot harder than it used to be. Instead, you may be informed of error like "Adobe Flash Player is no longer supported". This is because Adobe and modern browsers blocked Flash player years ago. What's worse, no current browsers or computers have built-in SWF players. So when you tried to open SWF files on Windows 10/11 or Mac, you might end up with failure. You will need to download a program to help play the SWF file on Windows 10/11 or Mac. This post is just what you are looking for.
Cannot Play SWF Files on Windows 10 or Mac? Solve It with WinX Video Converter!
Here comes WinX Video Converter that you can use to fast convert SWF files to MP4/H.264, MOV, MKV, AVI, WMV, etc. for further playing SWF files without issues. No need to install Adobe Flash Player nor worry about malware or virus infection.
Convert SWF, FLV, MP4, MOV, MKV, AVI, and any video format smoothly. 370+ formats supported and 470+ profiles preloaded.
Compress 4K/2K/HD video to smaller size without compromising image quality.
GPU-accelerated HD/4K video converter. 47X faster speed.
Before getting straight to the point, you may have been advised to enable Adobe Flash in your browser in order to play the .swf files. But you have to bear in mind enabling flash indeed solves the problem but it can pose problems. Here're the reasons.
Part 1. Why It's Bad to Open SWF Files on Windows Using Flash Player?
Adobe Flash Player is a free software designed to play SWF files online or on your computer. It used to be an SWF add-on for Chrome, Firefox, and Internet Explorer. It can automatically open and read Flash videos as long as the Adobe Flash Player add-on is downloaded and installed on the browser. Adobe Flash Player is no longer supported as of December 31, 2020. Adobe officially ended support and distribution of Flash Player, and all major web browsers have also removed support for Flash content. Besides, Adobe Flash Player has many disadvantages.
1. It is risky.
Opening an SWF file in Chrome or other browser relies on Flash, which is a common source of malware, viruses, or hacker attacks. For security purpose, you are suggested to open SWF files with alternative programs rather than Flash player.
2. It is outdated.
Open standard like HTML5 has continually evolved and matured over the years, which are more accessible and secure than Flash. Just because of this, modern browser vendors gradually integrate the new standard into browsers and automatically block Flash or other plug-ins in a bid to secure users' system. So when it comes to play SWF file on your computer, you can resort to VLC or other SWF player software.
3. It is phased out by Adobe.
Adobe has retired Flash 2 years ago. It ended the support for Flash on December 31, 2020. This means any Flash Player updates or security patches won't be issued after the EOL Date. So you won't see Flash player download pages from Adobe. In the meantime, any Flash content has been blocked since January 12, 2021.
4. Bad compatibility with newer devices and OS versions.
Adobe Flash Player only works with Windows XP, Vista, Server 2008/7, and macOS 10.5.6-10.6. Users may experience compatibility problems with newer mobile devices, desktop computers, Windows or macOS versions.
But if you still insist on opening SWF files using Flash, you can follow the steps here to download and enable older Flash in IE, for example. Though it is difficult to find the older versions, you can still follow the steps and learn how to open SWF files using Flash Player.
Step 1. Visit the Flash Player download page on Wayback machine. Note: there are still some posts or video tutorials inducing you to find the flash player download page by typing "adobe flash player debug" in the search box and find the untrustful link here. However, in our test it is helpless and instead redirecting you to Adobe Flash Player End of Life page. But you can rest assure vising the page to download Flash player in order to open SWF files.
Step 2. Click "Download the Flash Player projector content debugger" link under Windows, Mac or Linux. Find an exe file and double click it.
Step 3. Click File > Open > select an SWF file or simply drag and drop the SWF file to the Adobe Flash Player window. You can also browse an SWF file on your local computer or enter the URL on the web. Now you can watch the SWF file on your computer. Flash player is also available for you to adjust zoom settings, change image quality, and enable full-screen mode or so. If you are still in need of flash, the tool is still a good compatibility solution unless you are not too much care of security.
Part 2. How to Open SWF Files on Windows 10/11 and Mac?
As is mentioned above, Flash puts you in the risk of virus, etc. What if you have an SWF file to open on your Windows 10/11 or Mac? What can I use instead of Adobe Flash Player? Instead of enabling hidden flash player from Adobe, here are two ways. The first is to use VLC or other SWF players. The second is to convert SWF files to MP4 or other formats.
Solution 1. How to Open SWF Files on Windows 10/11 and Mac Using SWF Player
1. 5KPlayer
5KPlayer is a multimedia player known for its versatility and wide range of supported formats. While it excels in playing common video and audio formats, its support for SWF files is as seamless as some other formats. If you frequently work with SWF files, it's advisable to consider this dedicated SWF players instead of web browsers that still support Flash content. It works great even with complex or interactive SWF files that SWF Video Player fail to handle.
5KPlayer often comes with extra features like media downloading, AirPlay support, and streaming capabilities, offering a more comprehensive multimedia experience. You don't need to install additional plugins or codecs for optimal SWF playback.
Step 1. Open 5KPlayer. Launch 5KPlayer on your computer.
Step 2. Locate the SWF file you want to play on your computer. Simply drag the SWF file and drop it onto the 5KPlayer window.
Step 3. 5KPlayer should automatically start playing the SWF file.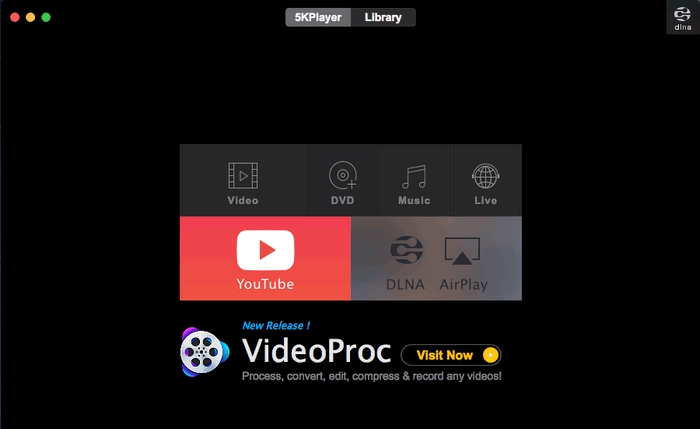 1. SWF File Player
SWF File Player is a free and lightweight player dedicated for playing Shockwave flash files on Windows computer. It can open SWF files and read metadata tags including FWS, CWS, etc for free. You can even resize the program window to fit the SWF file and choose the loop mode when playing the file.
SWF File Player is also available to change camera settings, mic, volume, and background colors, and set playback quality. However, this program features a bit outdated interface,limited features, and only works with Windows platform. You cannot use the program to open SWF files on Mac. But for SWF playback purpose, SWF File Player is still a good option. Just follow the steps below and learn how to open SWF file on Windows 10 using SWF File Player.
How to open SWF files with SWF file player?
Step 1. Install the SWF player on Windows 10/11 or Mac.
Step 2. Open the SWF File Player by clicking the SWF icon in your windows Start menu or the desktop icon.
Step 3. Click File > Open in the top-left corner of the SWF File Player.
Step 4. Find and open the local SWF file you want to view.
Step 5. Tap it and click Open > Play to play the SWF file.
See Also: How to Open and Play SWF Files on Mac 2. VLC Media Player
VLC is one of the best SWF player for Windows or Mac without any further explanation. If there are different codec components in the ShockWave Flash file, there is no need to worry because all codec packages are included in VLC media player. Therefore, you can just open the .swf file in seconds, without too much efforts.
Security Research Form reported that VLC was used as a carrier for malware. Once the malicious VLC file is installed on your computer, it deploys the malware that allows bad actors to take control of the computer. In version 3.0.18, VLC fixed multiple security issues. Make sure you are using the latest version of VLC for SWF files playback.
How to open SWF file with VLC?
Step 1. Find the SWF file and right-click it.
Step 2. Choose Open With > More Apps > Open and choose VLV to open SWF file on your Windows or Mac computer. Alternatively, you can go to VLC > Media > Open File > navigate and find the SWF file you want to open.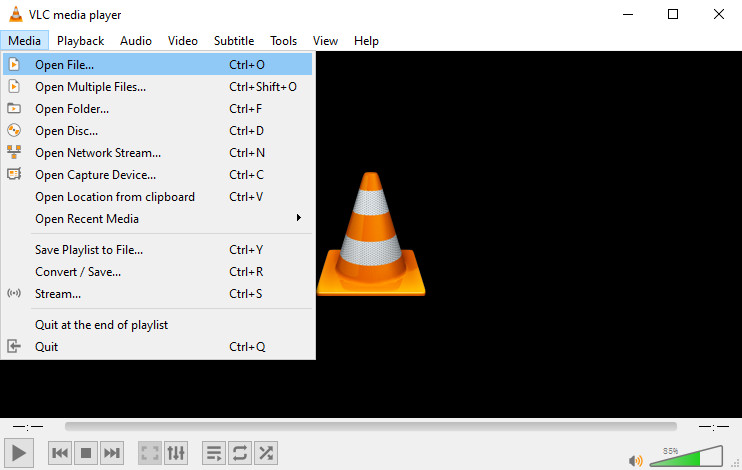 Note: VLC supports playing SWF files usually but not always. For example, the Windows v1.18 no longer plays SWF at all and say "SWF no play whatsoever", "Compressed SWF format not supported", "avformat error: cloud not open: input/output error". If you still cannot figure out this issue, you can convert the file from .swf to .mp4 or other video formats, and then play it in VLC.
Solution 2. How to Play SWF file on Windows 10/11 and Mac by Converting It
Since SWF files lack browser support, you may easily encounter the SWF playback problem on your computer or laptop. If you have a number of projects that were published as SWF from older Captivate or so, why not converting SWF file to more modern formats like MP4, MOV, MKV, etc. Just find the most trustworthy SWF video converter here.
1. WinX Video Converter
Supported OS: Windows (10/11/7/8, macOS Ventura or earlier)
Security: No ads contained. ★★★★★
When it comes to converting from SWF to MP4, WinX Video Converter is a good option, which makes video conversion no longer a hassle. With an intuitive interface under the hood, it gives you full access to SWF, FLV, HEVC, VP9, H.264, MKV, WMV, AVI, and even the large-sized 4K files, regardless of the input file size. In addition, the SWF converter is perfused with over 470 preset profiles for PC, TV, mobile phone, tablet, gaming system, and social site, etc. This makes the overall SWF file conversion a cakewalk for you.
The conversion speed is faster than you can imagine, attributing to its unique hardware acceleration technology. This makes the conversion of .swf to .mp4 or other file format 47x real-time faster without overloading the CPU too much or compromising the output image quality. Besides previewing SWF files and converting them into another formats, you can take advantages of WinX Video Converter to compress oversized SWF to a smaller file, cut, trim, or crop it, and even add external subtitles to the Shockwave Flash file as per your needs. You can simply follow the steps below to convert SWF file to a friendlier format and even play it without an SWF player anymore.
How to convert SWF files for later viewing with WinX Video Converter?
Step 1. Launch the SWF file converter after you download and install it on your Windows 10/11 computer.
Step 2. Click +Video button to load a .swf file. You can add more than one SWF content at a time.
Step 3. Choose MP4 (H.264) as the output format, which has a good compatibility with most media players and devices.
Step 4. Click Browse to save the exported file, and tap RUN button to begin the conversion from SWF file to MP4 format. After that, you can open and play the converted SWF video without Adobe flash player.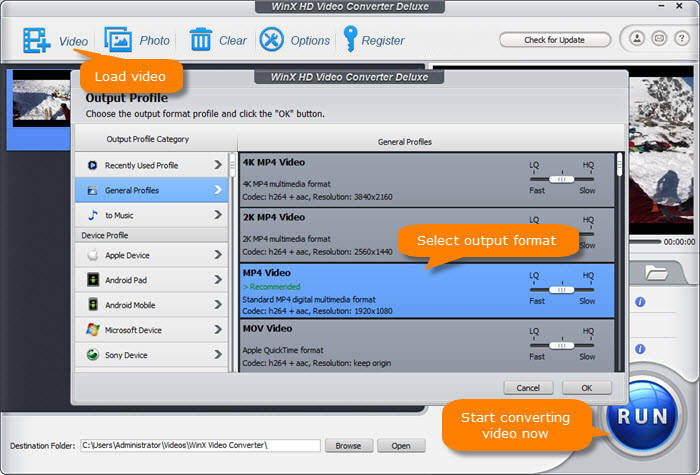 2. Convertio
Convertio is a good online and free SWF to MP4 converter that can fulfill your needs of transcoding format from .swf to .mp4 without downloading any third-party software. Unlike many other desktop tools that make the SWF video converting especially frustrating, Convertio works online entirely and features a simple drag-and-drop interface that resembles much to WinX Video Converter. Therefore, everything flows smoothly.
Make sure your SWF file to be uploaded is smaller than 100MB in size. Or you need to pay for highest tier up to $25.99 monthly to unlock more file size. In addition, online video converters including Convertio may not be great for large SWF files, especially when you are working with slow connection. We'd suffered from some crashes and related issues during the conversion.
How to convert SWF for playback using Convertio?
Step 1. Go to Convertio webpage here.
Step 2. Drag and drop the SWF video from your computer, iPhone or Android. You can also load the SWF file from Google Drive or Dropbox.
Step 3. Choose the output format such as MP4. You can also choose one of the 31 video formats listed in Convertio, such as Xvid, AVCHD, 3GP, ASF, MTS, FLV, AVI, MOV, MKV, VOB, etc.
Step 4. Click the gear icon to customize the settings like codec, resolution, quality, aspect ratio, and more.
Step 5. Click Convert button to start transcoding SWF files.
Step 6. After the conversion process finished, you can download the converted SWF file to your computer or cloud service. Then you can open the converted SWF files on Windows 10 or Mac. Part 3. FAQ about SWF Playback
1. How to open SWF files on Mac?
Apple Safari version 14 released for macOS in 2020 no longer loads Flash player or runs Flash content. But many Mac users may come across an SWF file and run into problem when they want to view and open SWF files on a Mac. Generally, they can rely on VLC for Mac to view and play a SWF file on Mac. Just download VLC on Mac for free, open the program, and then drag and drop the SWF file to VLC. Then the SWF file can be opened on Mac.
2. How to open SWF files on Chrome?
If you have a .swf file you want to open on Chrome, you will need a chrome plugin first. With the plugin called FlashPlayer installed on your Chrome browser, you can automatically play SWF file without any further job. Here is the tutorial to play SWF files in Chrome.
Click Manage extensions.
Toggle the icon on to enable it.
Then Choose a SWF file, right-click on it, and open it with Chrome.
3. What is the best SWF player for windows 10?
Choosing the right SWF player for Windows 11 shall meet the following criteria: easy-to-use interface, high degree of security, and a vast majority of codec and format support, including SWF. In our test, SWF File Player is the best one you can trust.
4. Is it safe to open SWF files on Windows 10/11?
Frankly, SWF doesn't pose any threat to your computer system. What is vulnerable is the Flash. So make sure to run a malware scan to ensure a safe SWF viewing experience especially when you are using Adobe Flash or VLC.
5. How to play SWF file in Windows Media Player?
Follow the steps above to install Adobe Flash Player.
Change the default program for opening .swf file from Adobe Flash Player to Windows Media Player by right-clicking the SWF file > Properties > General > Change > Windows Media Player.
Double-click SWF file and play it in Windows media Player.
6. What is a .swf file?
SWF, short for small web format, is an Adobe Shockwave Flash file format used for multimedia, vector graphics and actionscript. It contains different kinds of audios, videos, vectors, animations or applets, which are compressed in a way that makes them easy to share online.