Top Ways to Convert 4K HEVC HDR 10bit to SDR Video
High Dynamic Range, aka. HDR, helps increase color range and dynamic brightness, getting the brightness boundaries of video better configured. Compared with SDR (standard dynamic range), HDR can make your video more vivid and lifelike thanks to a wider range of colors and depth. Yet, nothing is perfect. Though the 4K HDR video device sales volumes are booming, innumerable SDR TVs, monitors, projectors, desktop and phones are still in use.
So here comes the question: when you view 4K HEVC HDR 10-bit video on HDR unsupported display, the HDR video will lose its original color range and degrade color brightness & saturation. The whole video image would become grey. That's what we usually call washed-out color.
In a bid to playback HDR 10-bit video on SDR devices, you ought to convert HDR to SDR first so as to eliminate the washed-out color issue. HDR video converter is a must for HDR to SDR conversion. Here this post shares with you top ways to transcode 4K HEVC HDR 10-bit to SDR.
Part 1: Convert 4K HDR HEVC to 4K/1080p SDR with WinX Video Converter
WinX HD Video Converter Deluxe is a solid performer in HDR to SDR conversion. To be specific, it can:
Convert HDR 4K HEVC 10-bit video to 4K/1080p SDR video formatted by MP4, H264, HEVC, MOV, MKV, AVI, FLV, WMV...
Constantly optimized conversion algorithm and High Quality Engine ensures you the same depth, color brightness and saturation, without washed-out color, visually the same as the original HDR 10-bit.
Free adjust resolution 4K to 1080p/720p, 60FPS to 30FPS, aspect ratio 18:9/1:1 to 16:9 or vice versa...
Compute-intensive 4K HEVC 10-bit HDR video conversion is proceeded on GPU (not CPU) thanks to GPU hardware acceleration tech!
How to Convert Video from HDR to SDR using WinX
Step 1: Launch the program and click button + Video to load your 4K HDR 10-bit HEVC video footage. Batch conversion is available, as well.
Step 2: on the Output Profile window, go to General Profiles > MP4 Video (h264+aac) > Done or choose HEVC as output format if your destination device supports HEVC codec.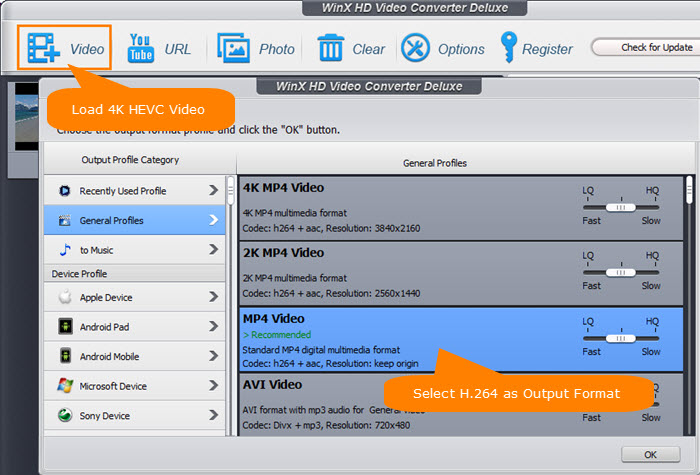 Note: Choose "4K MP4 Video" as output format if you wanna retain 4K resolution. To get lower resolution for better compatibility with your display, tap Settings icon on the main interface and tweak 4K to 2K, 4K to 1080p/720p at your willing.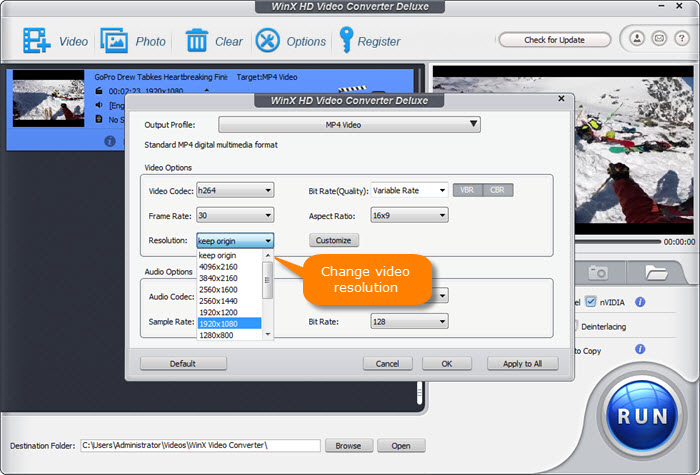 Step 3: Click Browse button to specify the output folder path. The last click goes to RUN button. Don't go away, for the whole HDR to SDR conversion will be accomplished at lightning fast speed. Just a blink of the eye, you can get your desired SDR file.
You may also be interested in a the guide to convert video to 4K for ultra high quality playback.
Part 2: Transcode 4K HDR to SDR Video with Handbrake
Handbrake is a household name in the video converter world. What with video conversion ability and what with free open source feature, it's a must mention in the 4K HDR to SDR transcoding. Check the below Handbrake guide to see how to convert HDR to SDR with MP4 or MKV output format.
Step 1. Import your 4K HDR HEVC 10bit video via "File" under "Source Selection" or directly via drag-and-drop. Then, just wait for it to scan the title. It normally takes a few seconds. Once done, the detailed video info will show up in "Source" section.
Step 2. Choose the output profile from the right-hand panel. Generally, Handbrake offers you with the default profile - Fast 1080p30 under General column. Of course, you're also allowed to choose the specific device profile under Device column, including Roku, Xbox, Playstation, Fire TV, iPhone, Android, Chromecast, etc. Select "Production Standard" under Production or the general profile under Legacy column if you want to convert 4K HDR to 4K SDR without resolution degradation.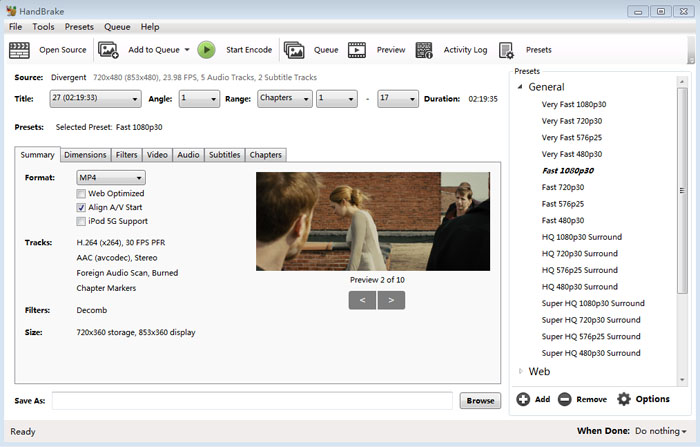 Step 3. Opt for format MP4 or MKV, confirm desired resolution, video codec (H264, HEVC, MPEG-4 or MPEG-2) and quality.
Step 4. Click "Browse" button to choose the destination folder for saving the resulting file. Afterwards, tap "Start Encode" button to begin converting HDR to SDR.
Part 3: Decode HDR to SDR with FFmpeg
FFmpeg is a highly sought-after free open source software project, providing a broad variety of libraries and programs for audio and video conversion. HDR to SDR conversion is also included. More features of FFmpeg is not what you concern but the specific operational process. Therefore, we go straightly to the theme - how to use FFmpeg to transcode video from 4K x265 HDR 10-bit to SDR.
Step 1. Go to http://ffmpeg.org/download.html and download FFMPEG.
Step 2. Extract FFmpeg to a folder. Extract the contents of the zip file to a new folder.
Step 3. Paste the following code to a new created batch file.
F:\Torrents2\ffmpeg\bin\ffmpeg.exe -i F:\Torrents2\ffmpeg\bin\video-input.mp4 -vf zscale=t=linear:npl=100,format=gbrpf32le,zscale=p=bt709,tonemap=tonemap=hable:desat=0,zscale=t=bt709:m=bt709:r=tv,format=yuv420p -c:v libx264 -crf 25 -r:v 30 -c:a copy -preset ultrafast -tune fastdecode -max_muxing_queue_size 1024 F:\Torrents2\ffmpeg\bin\video-output.mp4
Save it as a batch file by adding .bat at the end of the file name and put it in the 'bin' folder. Then, add your HDR video into F:\Torrents2\ffmpeg\bin\ and rename it as "video-input.mp4".
Step 4. Press Windows button+R to open the "Run" box. Type "cmd" and tap "OK" to open a regular Command Prompt. Finally, type convert.bat file to start the conversion from 4K HEVC 10bit HDR video to SDR video named "video-output.mp4".
When the conversion is finished, you can put your resulting SDR video on any platform and device for playback, no washed-out color issue.
Supplementary info:
1. Some users on reddit forum point out that you can easily convert HDR 4K video to SDR without any converter. Just upload your HDR video to YouTube and download the SDR file with youtube-dl after processing. I don't try this method on my own, but you can give it a shot if needed.
2. To convert HDR10+ video to SDR on Samsung galaxy phone, you can directly proceed it on your phone. Head to and open Gallery, choose your HDR10+ video and tap Edit. Tap the current resolution on the upper left-hand corner of the popping-up interface, and choose your desired resolution from the list: 80% (864x1852), 60% (648x1388). Hit Save and Gallery will save a SDR copy of your input video with resolution you choose.
3. Currently, many online video streaming services also adopt 4K HDR HEVC 10-bit video. Considering different users posses different devices, some compatible with HDR video, others not, video content providers have to support multiple video formats to accommodate video display devices with different standards. That's why they need real-time HDR to SDR conversion. Or convert HDR 4K video to SDR video on the fly. Check intel official blog post to get the way on how to convert video from HDR to SDR on the fly.