Problems Displaying HDR Content on Windows 10/11? Fix Now!
Thanks to Windows HD Color settins in Windows 10, you're able to enjoy more vivid and detailed pictures than standard dynamic range display as long as you connect your high dynamic range (HDR) TV or display to a Windows 10 PC. That being said, Windows 10 HDR doesn't work as a perfect performer. Instead, it brings you a laundry list of problems, e.g., the common display or TV isn't showing HDR, Play HDR games and apps can't be turned on/off, Windows 10 HDR washed out, Windows HDR black screen, all SDR contents and apps are too bright or dim on HDR-capable display, etc.
Don't be panic since nothing in the world can guarantee you a 100% success rate. Faced with such maddening problems, please stay calm and try the below workarounds to fix your Windows 10 HDR issues at highest efficiency.
Most Effective Solutions to Common Windows 10 HDR Problems
1. No HDR on Display or TV
Method 1: make sure your display or TV has HDR turned on. Visit your display or TV manufacturers' websites to check the documentation about how to enable HDR thereon.
Method 2: don't forget the most crucial step - turn on Play HDR games and apps option under Windows HD Color Settings (access to it from Settings > System > Display).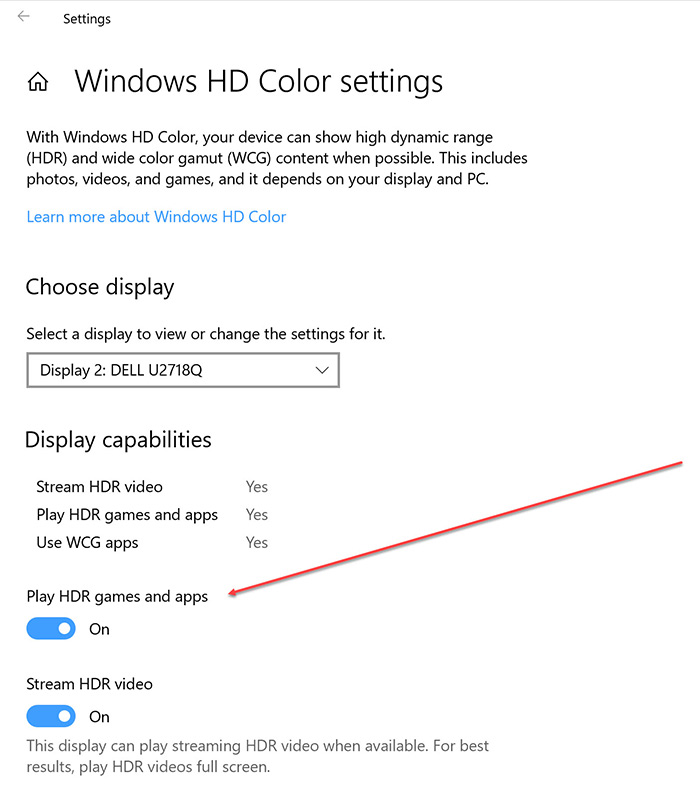 Method 3: check if your Windows 10 PC features the required hardware to display HDR or HDR10. Click here to check more details.
2. Can't Turn on/off Play HDR games and apps
There is one case you might quite familiar with: display capabilities says Yes next to Play HDR games and apps. Surprisingly, there is zero reaction on the Play HDR games and apps toggle, regardless of on or off.
You need to know that HDR consumes more power than non-HDR display. When you laptop is running on battery, HDR will be turned off by default. Hence, to tackle this HDR trouble, proceed as follows:
Method 1: plug in your laptop.
Method 2: click Start button > Settings > System > Display > Windows HD Color Settings > undo Don't allow HDR games and apps on battery option under Battery options.
3. Windows 10 HDR Washed Out
Method 1: if you play HDR games and meet HDR washed out error, leave it off in Windows 10. Generally, your Windows 10 will auto detect your HDR games and turn it on if it supports your specific HDR games. If not, check the below methods.
Method 2: update the monitor firmware and install the latest driver to give it a whirl.
Method 3: navigate to Nvidia Control Panel > Change Resolution > scroll to the bottom to option 3 and opt for Use Nvidia color settings. It should be set 32-bit RGB 8bpc Limited by default. Please adjust the Output dynamic range from Limited to Full. This method is highly recommended by users from techpowerup forum and tested as effective.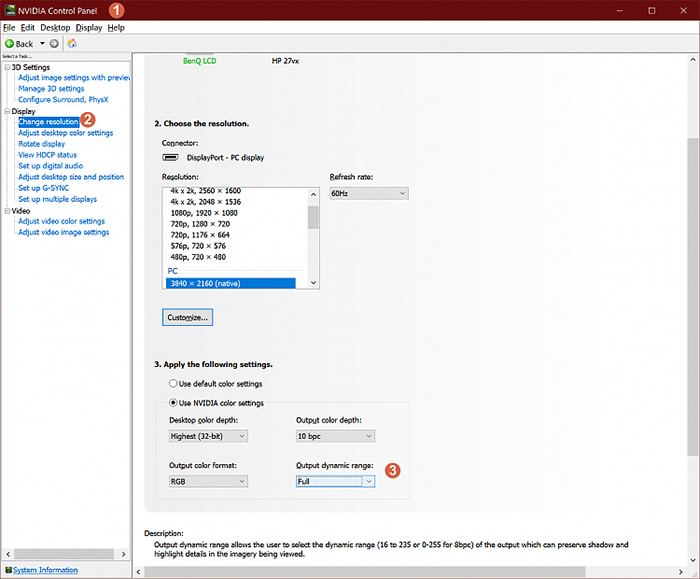 Method 4: as for playing HDR movies on Windows 10, please take changing another Blu-ray 4K HDR player into consideration.
4. Windows 10 HDR Black Screen
Method 1: Update your Windows 10 to newer version (above 1803) for most users complain black screen issue caused by 1803 updates.
Method 2:
For built-in display: make sure your display supports brightness of 300 nits or more. Additionally, upgrade your computer hardware configurations to at least the 7th Intel Generation Intel Core processor, code-named Kaby Lake in case 10-bit HDR video decoding is needed.
For external display:
1) Please download and install the must-have codecs for 10-bit video decoding, such as HEVC, VP9.
2) Check if your hardware configurations reach the entry-level line. One of the common requirements is the HDMI cable. The current widely used HDMI 2.0 can work seamlessly with 4K 30FPS RGB 10-bit and 4K 60FPS RGB 8-bit HDR videos. It sucks when it comes to 4K 60FPS 4:2:2 10-bit and 4K 60FPS RGB 10-bit HDR videos. Thus, you're required to upgrade HDMI or resort to DisplayPort or USB Type-C.
5. Windows 10 HDR Green Screen
Method 1: for HDR game enthusiasts, please unplug your Xbox one controller from your display or TV if you just happen to update your Nvidia driver. Or the green screen will continue annoying you.
Method 2: set RGB 8 bit and dynamic range to full to fix this Windows 10 HDR problem.
Method 3: some 4K TVs, if not all, seem to be troublesome when used as a monitor for 4K HDR gaming. Consequently, please resort to best qualified 4K TVs for gaming.
6. Stream HDR Greyed Out
Method: download the HDR content to the system locally and then play on your Windows 10 to whopping reduce the risk of streaming failure.
On top of the above-mentioned Windows 10 HDR problems, a wide variety of other Windows 10 HDR issues also haunt you now and then, such as all SDR contents and apps on HDR-capable display are too bright or dark, color isn't displaying correctly, colors seem to be over saturated when night light is enabled, brightness appears to be incorrect after you restart, shut down or wake up your PC from sleep, etc. Faced with one of these problems, please resort to Microsoft official support webpage to find all the troubleshooting tips you need in a single page.