2023 Best Graphics Cards for 4K Movies Playback, No Gaming
4K UHD (3840x2160) is 4X more pixels than full HD 1080p and 27X more pixels than standard resolution. That's why 4K Ultra HD consumes much more computation power than 1080p and SD resolution. So when it comes to play 4K movies on Windows PC, it's no doubt that your Windows PC should equip an even higher-end video card to deal with compute-intensive 4K decoding and playback.
Yet, what kind of graphics card is able to play your 4K HDR movies without stuttering or lagging? Well, firstly you need to know the GPU, 4K display, RAM and CPU chip are indispensable. Generally, if your CPU chip is powerful enough to handle 4K software decoding without any error, that's great. If not, you need considering to get your desktop armed with a video card with hardware accelerated decode supported.
In terms of hardware acceleration supported GPU, a plethora of GPUs are available, far more than best GPU for 4K gaming. Given the limited time and space, it's unrealistic to list out all of them. Instead, we show you the minimum 4K movie playback requirements on GPU for your reference.
Part 1. Quick Tips to Pick the Best Video Card for 4K
When you're watching 4K movies, you always want to get the full effect of shoot, for example, the more lush and vivid colors and the deeper blacks.This requires you a decent graphics card. If you're going to buy a new graphics card for playing 4K movies, here are some quick tips for you.
Be sure the video card is matched with your monitor resolution.
Refresh rate is another thing that you should consider. If your monitor has triple-digit refresh rates, you need a card that is more powerful and a processor to reach its full potential. If it only tops out at 60Hz and 1080p, then there is no need.
You also need a good CPU to attach your video card to. Your system needs to work well together - It's not enough that only GPU is good.
Don't get dual cards.
Look at the launch price and the sales situation. This helps you know whether it's a good deal. After all, the public eye is discerning.
Part 2. Minimum Graphics Cards for 4K (H264) Movie Playback on PC, No Gaming
Graphics cards are formed by two types: integrated graphics and discrete graphics. As for 4K H264/MPEG-4 AVC hardware decoding during playback, both GPUs cut the buck. Check the entry requirements of PC 4K H264 movie playback below:
Integrated Graphics:
4th generation Intel® Core™ processor family (Intel Haswell based CPUs)
GPUs include: HD Graphics 4200/4400/4600/5000, Iris™ 5100 and Iris™ Pro 5200.
AMD A10-7800 APU
Discrete Graphics:
Nvidia GeForce
NVDEC (hardware decoding)

Board

Family

Chip

# OF CHIPS

# OF NVENC/CHIP

4K H.264 (AVCHD) YUV 4:2:0

GeForce GTX 650

Kepler

GK107

1

1

√

GeForce GTX 660 - 690 GeForce GTX 760 - 770

Kepler

GK104

1

1

√

GeForce GTX Titan Black

Kepler (2nd Gen)

GK110

1

1

√

GeForce GTX Titan Z

Kepler (2nd Gen)

GK110

2

1

√

GeForce GTX 750 Ti

Maxwell (1st Gen)

GM107

1

1

√

GeForce GTX 750

Maxwell (2nd Gen)

GM206

1

1

√

GeForce GTX 970 GeForce GTX 980

Maxwell (2nd Gen)

GM204

1

2

√
● AMD Radeon™ HD 7000 Series or better
Part 3. Minimum Graphics Cards for 4K (HEVC/H265) Movie Playback on PC, No Gaming
Let's start with Nvidia. The hardware decoding tech of Nvidia is PureVideo HD. To smoothly hardware decode 4K HEVC, the entry-level requirement is to have your video card featured with PureVideo VP7 or higher.
The different 4K (H265) movies with different YUV and color depths set disparate standards for your GPU. Let's begin with 4K H.265 (HEVC) 4:2:0 at 8-bit, 10-bit and 12-bit color depth. The GM206 (GeForce GTX 750 SE, GTX 950, GTX 960) just support playing 4K HEVC 4:2:0.
While the Pascal series (GP102, GP104, GP106, GP107) such as GeForce GTX 1050, 1060, 1070, 1080, the Volta GV100, and Turing series TU 117 like GeForce GTX 1650, Geforce MX550 all support playback of 4K HEVC (4:2:0, 4:4:4, Lossless) at any color depth including 10bit with hardware decoding.
As for the 4K HEVC B Frame playback, it requires at least Turing series, with TU116, TU106, TU104, TU102, or all Ampere sereis GPU chips.
By the way, we are happy to find that GeForce RTX 4080 and 4090 support the playback of 4K AV1 video.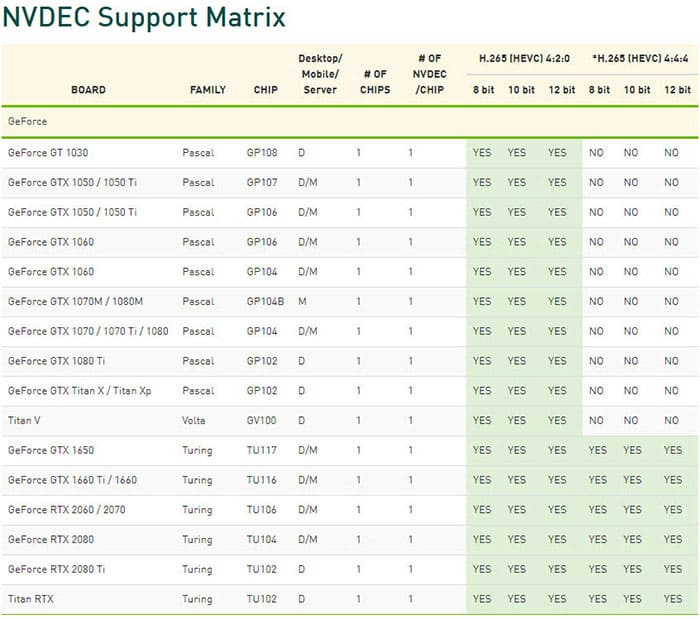 In a bid to know more details (like hardware decoding 4K AV1/HEVC/VP8/VP9), head over to Nvidia official website.
The hardware decoding tech AMD adopts is UVD. You can't hardware decode 4K H265 (8-bit & 10-bit) video for playback unless the AMD's GPU you choose is UVD 6.3 or higher. Currently, the HW decoding supported AMD discrete graphics cover RX 400 series, RX 500 series, Vega series and APU after Stoney Ridge.
Intel Quick Sync Video tech is tailored to those who use Intel integrated graphics for GPU hardware decoding. It's supposed to start from Skylake for hardware decoding 4K HEVC 8-bit videos. You need to upgrade your Intel integrated graphics to at least Kaby Lake if your 4K footage is HEVC 10-bit.
To check if your other configurations on PC meet the basic requirement for 4K smooth playback, click here!
Part 4. What If 4K Movie Playback Still Stuterring?
All your hardware configurations needed fit the bill, but the 4K movie playback on your Windows PC is still problematic, stuttering, lagging, only audio no video, 4K HDR washed out, etc. The potential causes might be complex. It's probably concerned with your hardware device, 4K video player or your original 4K video footage.
If it's the 4K video footage to blame, you're advised to import the 4K movie to WinX HD Video Converter Deluxe, which can auto repair the slightly damaged 4K files, help you cut off the scratched/unplayable clips from the video, downscale 4K to 1080p, adjust 4K 60FPS to 50/30FPS, tweak 4K video bit rate/aspect ratio and convert 4K video codec from AV1/HEVC/VP9/VP8 to H264, MPEG-4, MP4, MOV, AVI, MKV, etc.