How to Edit Vlogs - Best 3 Vlog Video Editing Software
After having spent some time recording enough clips, it's time to add effects and improve the quality of the vlogs you are going to share online. To make your vlogs more outstanding and more compelling to audience, It's quite necessary and important to edit the original clips.
This step-by-step guide will answer the "how to edit vlogs" question and help you become a good vlogger. Also, we will share the top 3 vlog video software, which we have tested strictly from various aspects.
1. iMovie
iMovie is a video editing tool developed by Apple for its iOS and macOS users. If you are just starting making vlogs, then iMovie is just for you, as it is for amateurs and enthusiasts alike.
iMovie offers a large number of special effects and video enhancements you can apply over your vlogs. Moreover, iMovie provides many filters, themes, music and sound effects for users to make a compelling video.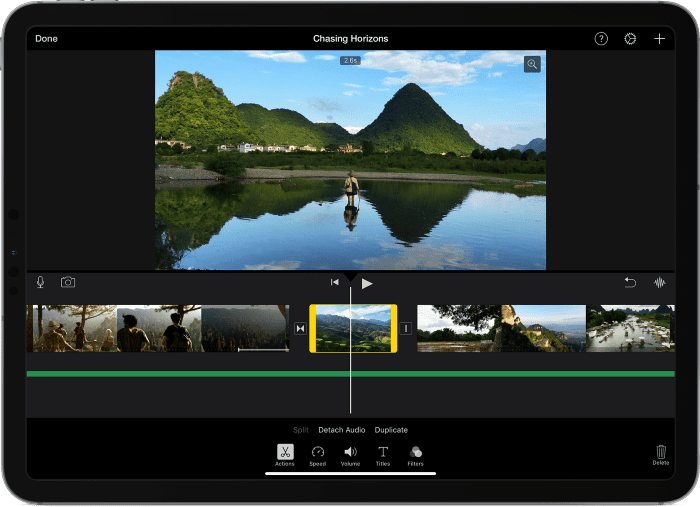 Pros
● User-friendly interface.
● Lots of amazing themes & backdrops.
● a large amount of audio tools.
● HD & 4K video support.
Cons
● Only for Mac or iOS users.
● Not as flexible as some other video editors.
2. Filmora
The second software we would like to recommend to edit and personalize your vlogs is Filmora, which is a wonderful video editing software for almost all creators.
Filmora is great for editing short videos and quite friendly to vlog beginners. On its main interface, some commonly used options are included to meet the basic needs of most people to edit video. Also, it has a growing effects pack that gives you access to more nice effects.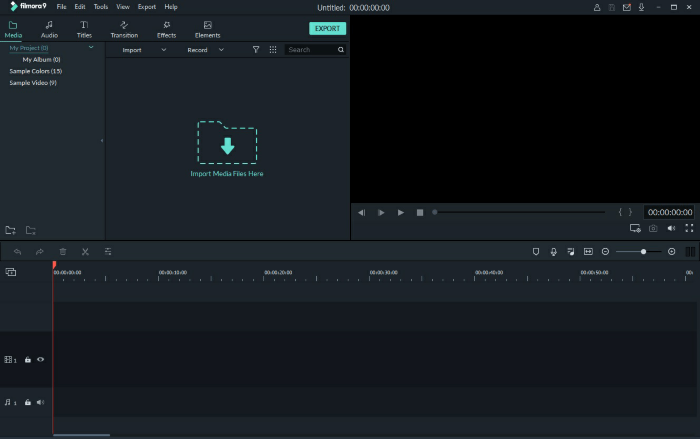 Pros
● Intuitive and easy to use interface.
● Quick video edits.
● Numerous effects.
● Easy to upload media and audio files.
Cons
● Only two video tracks.
● Slow on large videos.
● Have to login every time you use it.
3. WinX Video Editor
If you prefer a 100% safe and clean video editor to help you edit your vlogs, then WinX video editor can be one of the best choices. WinX video editor is a popular video editor for both Windows and Mac users. And four excellent features make it outstanding from so many video editors in the market:
◆ Edit vlog as you like: Integrated with options like crop, expand, trim, merge, rotate, and add special effects to vlogs.
◆ Enhanced outputs quality: Just enable High Quality Engine, then you get vlogs with better quality, everything feels clearer.
◆ Resize Vlog for YouTube: Compress 4K vlog without quality loss for uploading to YouTube and other vlog-sharing platforms.
◆ Customize your vlog: Polish video by tweaking vlog codec, FPS, aspect ratio, resolution etc.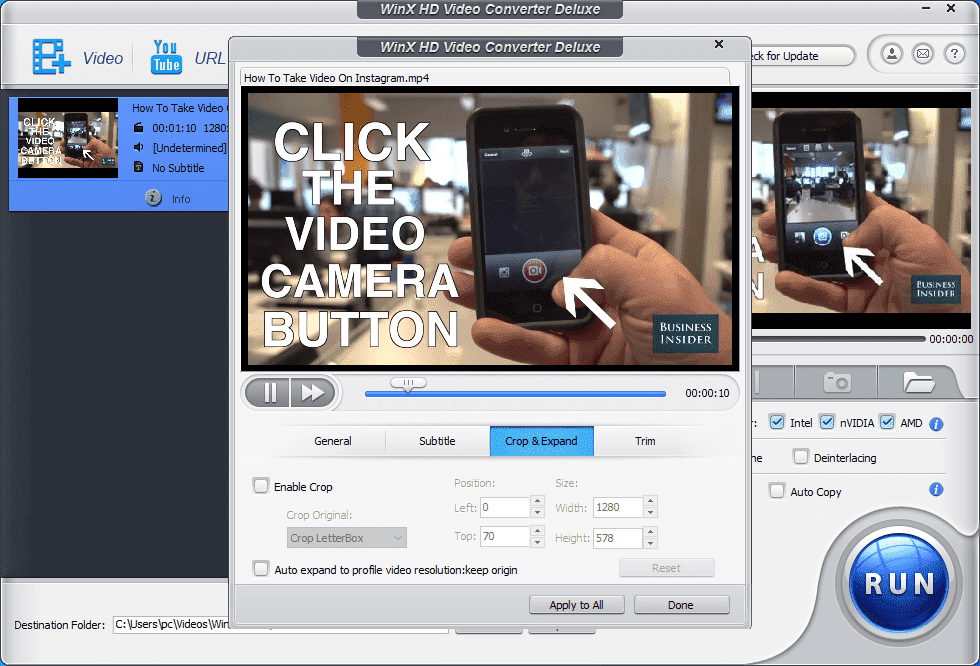 Pros
● 4K Video High-quality output options.
● Intuitive and easy to use interface.
● Excellent transition and effects.
● No watermark while exporting.
Cons
● Sometimes a little slow on a 4K file.
How to Edit Vlogs for YouTube Uploading via WinX
In this part, you will get the detailed steps about how to edit vlog(s) with WinX Video Editor.
Step 1. Download and run WinX.
Firstly, download WinX video editor on your computer, then install and run it. This software is totally free.
Step 2. Load a vlog for editing.
Dragging and dropping the vlog you want to edit, or you can tap the "+ Video" button to load the vlog file.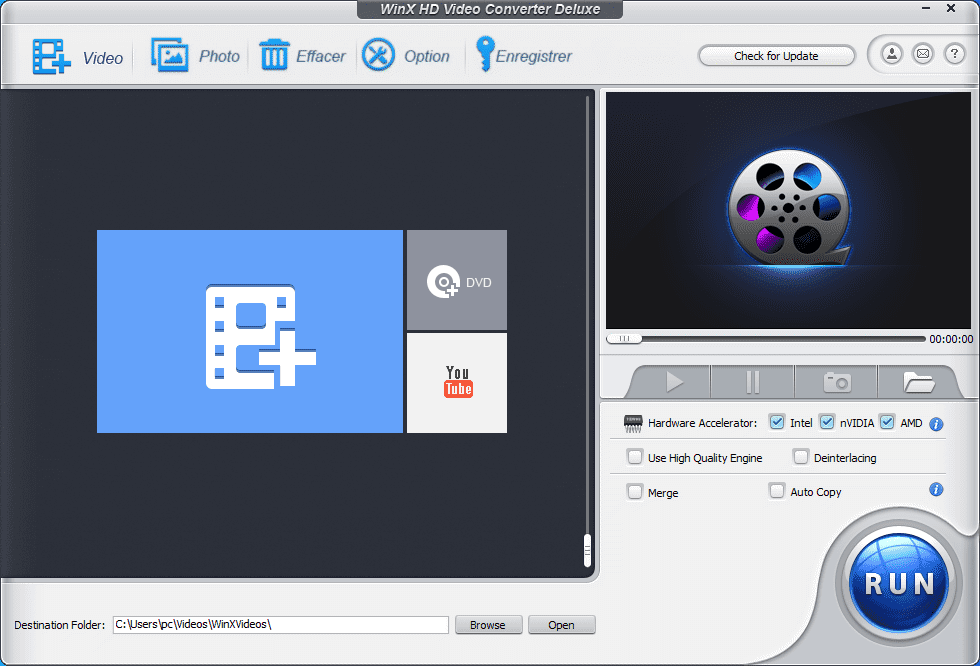 Step 3. Choose output profile for edited video.
After the vlog loading to WinX, it will pop up an Output Profile window automatically. Just scroll down to "YouTube Video" and choose an output format you prefer.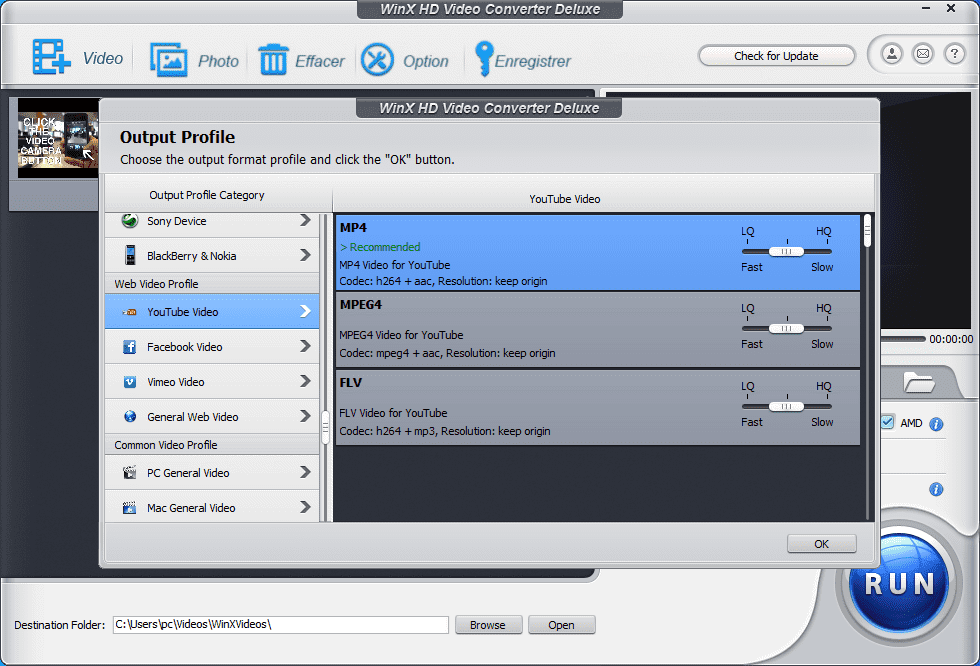 According to YouTube supported upload formats, all the output formats provided here are the best formats for YouTube uploading.
Step 4. Edit the vlog(s) for YouTube.
Click on the "Edit" button, then you can:
● Adjust audio volume: Drag the bar to adjust volume.
● Subtitle: Allows you to search and add extra subtitles.
● Crop: 5 presets - Free, Crop letterBox, 16:9, 4:3 and 1:1. You can set a boundary from left and top with a pixel.
● Size: The resolution of video/image.
● Expand: Auto expand to profile video resolution to fulfill the playback screen.
● Trim: Tap "Trim" button to cut video files to a smaller clip.
● Merge: click "Merge"to combine all clips imported.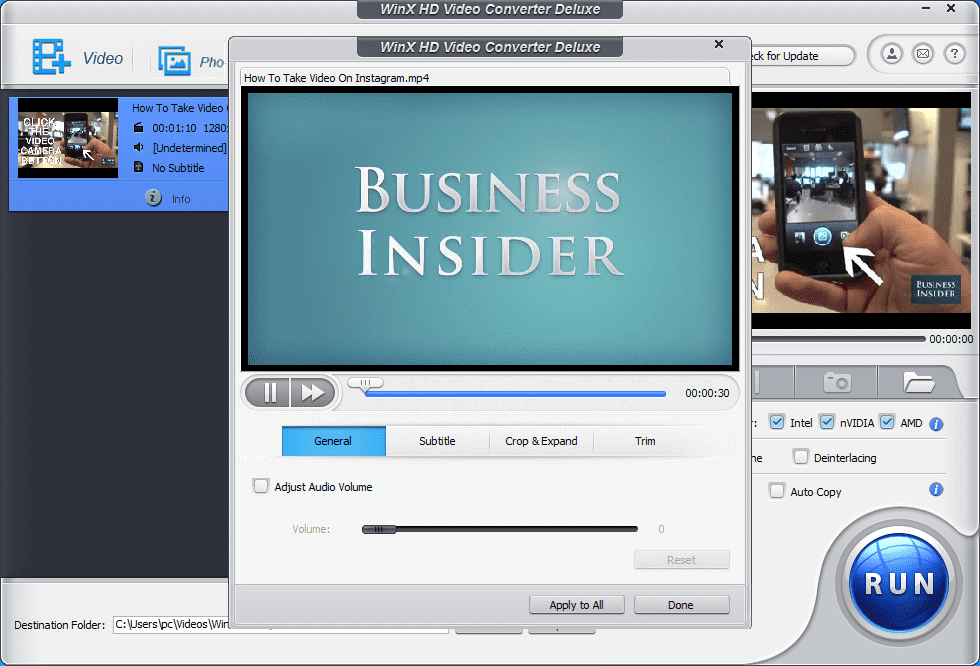 More options:
● Turn on "Use High Quality Engine"for better vlog quality.
● Set "Deinterlacing" if your source is an interleaving video.
Step 5. Export the edited vlog.
Simply press the "RUN" button in the bottom right corner to start editing your vlog. You can click the

button to adjust the vlog video and audio parameters.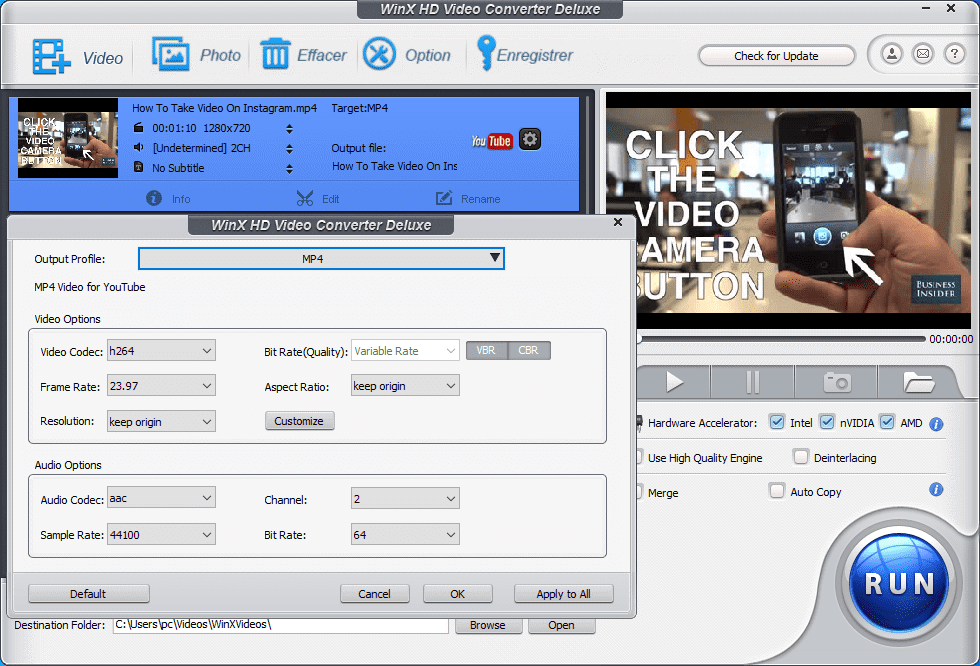 Tips: When you are in Step 3:
● If you want to edit the vlogs for uploading online, you can choose output option from Web Video Profile;
● If you are willing to edit a vlog without quality loss, firstly you should choose an output format same as the original;
● If you want to edit the vlogs for playing on a certain device, you're supposed to find the target from Device Profile.
That's all the excellent vlog editing tools in the market we have found. If you will find other nice tools that are great for editing vlogs, just share them in the comment section to help more vloggers.
Finally, there are many vlog editing tools on the market, but most of them have a variety of additional conditions. If you prefer safe and simple tools to complete vlog editing, then try the three software we have mentioned above. Each software has undergone rigorous testing and evaluation in all aspects.