How to Convert AVI to MPEG for Free? 5 Easy Ways Here!
You may get AVI files from online downloads or some camcorders. But AVI is a proprietary file format created by Microsoft, so if you plan on opening one outside of Windows, you'll find it cannot be recognized. For that, you're recommended to convert AVI to MPEG for better compatibilty. Besides, there are many people want to convert AVI videos for later burning DVDs. This also requires you to convert AVI to MPEG. Then here comes the issue - how to convert AVI to MPEG for free? Scroll down to learn 5 easy ways.
Part 1. AVI vs. MPEG
What's AVI?
Audio Video Interleave, known by its initials AVI and the .avi filename extension, is a multimedia container format introduced by Microsoft as part of its Video for Windows software. AVI files can contain both audio and video data (compressed by several codecs, such as XviD or DviX) in a file container that allows synchronous audio-with-video playback.
What's MPEG?
MPEG is the abbreviation of Moving Picture Experts Group. Among various MPEG standards, Files with the extension of .mpg or .mpeg are the most common used and prevalent format with MPEG1, MPEG2 and MPEG4 AVC video and audio compression format.
MPEG-1: MPEG-1 is the first MPEG compression standard for audio and video. It is mainly used for CD making. In terms of DVD, MPEG1 can be applied to low-quality video on DVD video.
MPEG-2: MPEG-2 is mainly applied to DVD making which provide better video resolution and video quality. It also can be used on blu-ray discs, SVCD videos, etc.
MPEG-4: MPEG-4 provides a framework for more advanced compression algorithms potentially resulting in higher compression ratios compared to MPEG-2 at the cost of higher computational requirements. It can be used on HD DVD and Blu-ray Discs, along with VC-1 and MPEG-2.
Part 2. Top 5 Ways to Convert AVI to MPEG
There are many AVI to MPEG video converters on the market. Which one should you choose to convert AVI to MPEG? We've collected top 5 best free AVI to MPEG converters here and show you how to convert AVI to MPEG with easy steps.
1. WinX Video Converter
Free Video Converter is a free video converter that allows you to convert videos to any formats, including AVI to MPEG, AVI to MKV, MOV to MP4, FLV to WebM etc. It supports more than 420 video and audio formats, and supports batch convert several video files at once. Besides, you'll never be bothered with slow converting speed and poor output quality. With the support of Intel QSV, NVIDIA CUDA/NVENC, and AMD handrware acceleration and high quality, WinX Video Converter can convert video up to 47x real-time faster without quality loss visually.
Now, let's check how to convert AVI to MPEG with WinX Video Converter:
Step 1. Import AVI video file into WinX Video Converter. Open this video converter and you should see a +Video button at the top left corner of the main interface. Click it and then browse and open the AVI file you need to convert to MPEG. You can import several AVI files at once for batch conversion.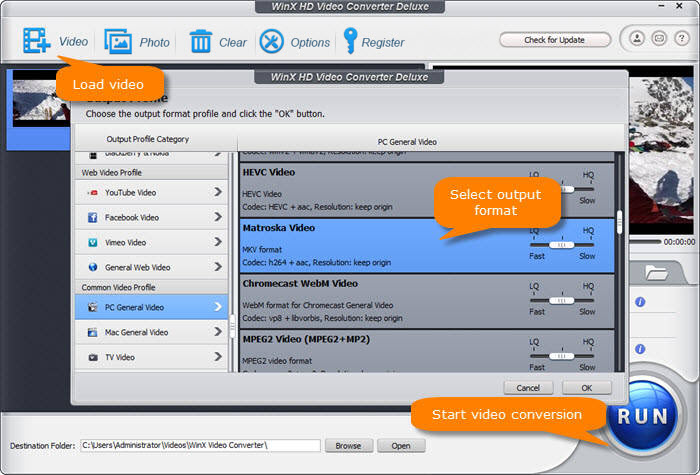 Step 2. Choose MPEG as the output format. When source files are loaded, you will see Output Profile window. You can go "General Profiles" and scroll down to choose MPEG4 Video as the output format. Or go to "PC General Video" to select MPEG2 Video or MPEG1 Video as you need.
Step 3. Start converting AVI file to MKV. Hardware Accelerator (Intel, NVIDIA, and AMD) is enabled by default to boost video conversion speed. When you have done all settings, hit RUN button and wait. You'll get a MPEG file converted from AVI instantly.
2. HandBrake
HandBrake is another choice for converting AVI to MPEG. The free and open-source video converter allows you to convert video to MKV and MP4 encoded in MPEG-2, MPEG-4, H.264, HEVC, VP8, VP9, AV1 etc. It has quick presets and basic control options, allowing you to convert AVI to MPEG-2/MPEG-4 without extra manual settings. Better yet, HandBrake is available on multiple platforms, including Windows, Mac and Linux.
Step 1: Download and install HandBrake on your computer. Drag and drop to import your AVI file to HandBrake.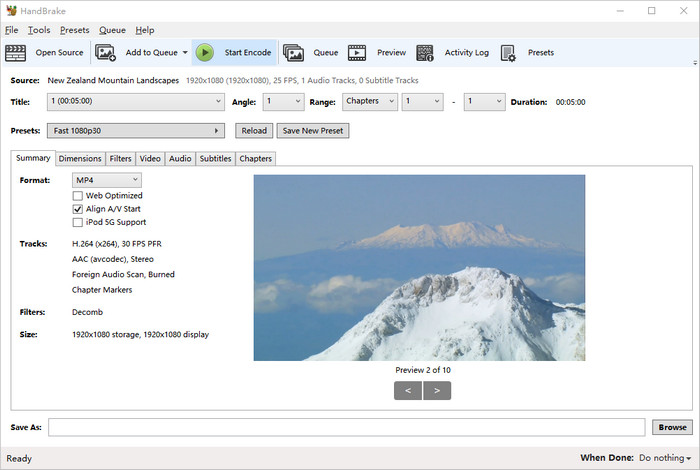 Step 2: Choose MP4 as the output format. And click on the Video column, drop down the list of Video Codec. Here, you're able to choose MPEG-2 for burning to DVD later or MPEG-4 codec for better compatibility on mobile, TV, and desktop etc.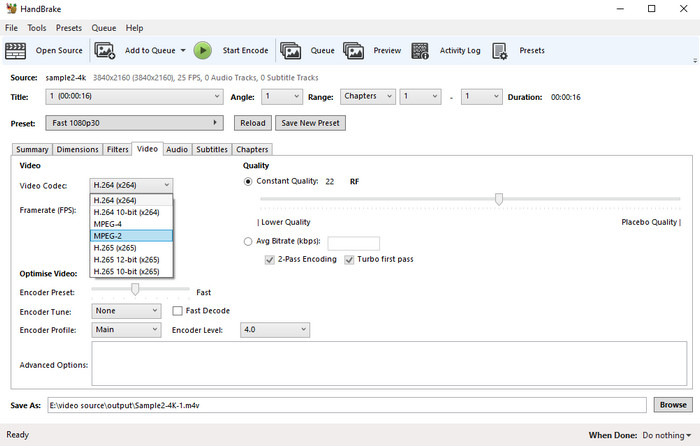 Step 3: Click Browse to choose an output folder for the output MPEG video.
Step 4: Click Start Encode button to start converting AVI to MPEG-2 or MPEG-4.
3. VLC
VLC, a free source media program from Videolan, is a powerful media player and transcoder. It can easily convert your AVI videos to a number of MPG file formats: MPEG-1s, MP4s and MPEG TS files (for burning to DVD). Though VLC doesn't support so many output formats, it's enough for converting AVI to MPEG. Better yet, you don't have to download and install another extra video converter on your computer.
Step 1: Launch VLC Media Player and click "File". Select "Open" and find your AVI in the popup window. Open the file in VLC.
Step 2: Click "Media" on the toolbar, and select "Convert / Save" option. Step 3: Click "Add" button to import the target AVI files to VLC. And then tap "Convert / Save" button.
Step 4: Under the Profile option, select "Video - MPEG2+MPGA (TS)" as the output format.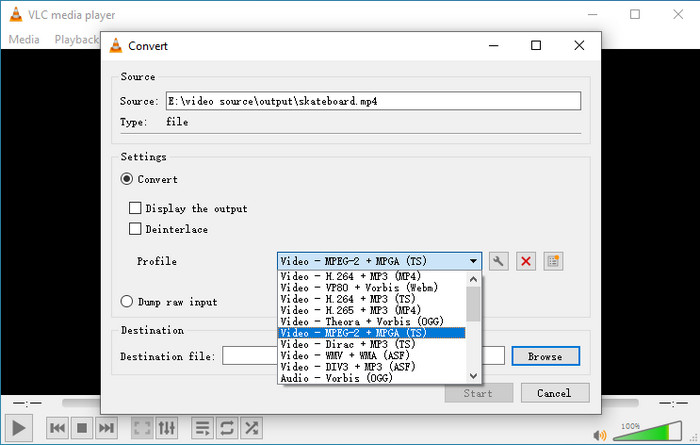 Step 5: Click "Browse" button to specify the output folder path. Then hit the "Start" button to convert AVI to MPEG right now.
4. Convertio
Convertio is a free online video converting tool that allows you to convert videos to a great number of video and audio formats, of course, including AVI to MPEG. You don't have to install third-party programs or plugins for AVI to MPEG video conversion. It's based on web broswers. You can upload your AVI files to its official site and convert it to MPEG, then download the converted MPEG to your device. All done. But this process depends more on network bandwidth, and you maximumly convert videos no more than 100MB for free accounts.
Step 1: Select or drag & drop AVI video to convert it to the MPEG format from your computer, iPhone or Android. Moreover, it supports to choose AVI videos from Google Drive, and Dropbox.
Step 2: Now your video is uploaded and you can start the AVI to MPEG conversion. If it's necessary, you can also change the output format to one of the 37 video formats supported like MPEG-2, MPG etc. After that, you can add more videos for batch conversion. Step 3:Then, you can customize such settings as resolution, quality, aspect ratio and others by clicking the gear icon. Apply them to all the video files if necessary and click the button "Convert" to process.
Step 4: Once your video is converted, you can download it to your computer.
5. ConvertFiles
ConvertFiles is another video converter that helps you convert AVI to MPEG for free online. Similar to other online video converters, it supports to convert videos to various formats and is available to adjust video/audio bitrate, resolution, frame rate, etc. Likewise, the disadvantage is also obvious - depending more on Internet and file size limits.
Manual on converting AVI to MPEG using convertfiles.com
Step 1: Select AVI file from your computer using the browse function to upload AVI to ConvertFiles. Step 2: Choose .MPEG destination format.
Step 3: Tap "Convert" to start converting video. And download your converted MPEG file immediately once it's finished.
Part 3. FAQs of AVI to MPEG Conversion
1. How to play AVI files?
AVI is a video format developed by Microsoft. Thus, it's compatible on Windows by default. You can directly open your AVI files on Windows Media Player. Of course, there are many other media players supporting AVI files, such as VLC, 5KPlayer, SM Player, KM Player, RealPlayer, DivX Player etc.
2. Is MPEG better than AVI?
From above comparison of AVI vs MPEG, you may have a basic knowledge of AVI and MPEG. But as for the question, which is better. It depends. AVI is a little better than MPEG on the video quality. MPEG may be lossy than AVI format. But if you want to burn video to DVD, MPEG is what you need.
3. Can I convert MPEG to AVI?
Certainly, it can be done easily with WinX Video Converter. Simply load your MPEG source video, choose AVI as the output format, and tap RUN button. The MPEG to AVI conversion will be finished in a very short time.