Top Free Ways to Convert MPEG to MOV QuickTime Format
Here list top 4 free MPEG video converters to help you transcode MPEG footage to MOV without virtually quality loss.
You get MPEG video file from Windows PC or somewhere else and wanna edit it in iMovie, Final Cut Pro or playback on Apple TV, iPhone iPad. Then, you're required to convert video from MPEG to MOV format. To do this, here are oodles of ways to give your assistance. Among them, we single out the top free ways to decode MPEG video to MOV without quality degradation visually. Check out!
Way 1. Free Convert MPEG to MOV with WinX [98% Quality Kept]
It's essentially meaningless if video conversion ruins your video quality. For those who concern quality most, you're highly recommended to have a try on WinX Video Converter (free video converter with no limits!).
Simple to use: only 3 mouse clicks to finish MPEG to MOV conversion: load MPEG video > choose MOV > click RUN.
No input file size limit: load MPEG video footage 300MB, 500MB, 1GB, 3GB or even 10GB, and it digests any size of your MPEG file.
98% Quality kept: MPEG to MOV conversion involves codec conversion. Therefore, it must be a lossy conversion. WinX's built-in High Quality Engine (inter-frame & intra-frame compensation, entropy coding...) guarantees you a resulting file up to 98% quality kept.
Surprise you more: also free convert any video to MP4, H264, H265, MKV, MOV, M4V, AVI, FLV, WMV, iPhone iPad, iMovie...
Steps to Free Convert Video MPEG to MOV with WinX Video Converter
Before doing so, you should download and install this MOV converter on your computer. Then, follow the steps to convert your MOV files.
Step 1. Add MPEG video. Click "+ Video" button on the main UI to import the source MPEG video footage or movie. You can also import multiple MPEG videos one time.
Step 2. Choose MOV Output Format. Select "MOV Video (MPEG or H.264)" from Mac General Profiles. You can also convert MPEG to iMovie, QuickTime, iPhone, iPad, Final Cut Pro, Apple TV etc. under "Apple Device" category.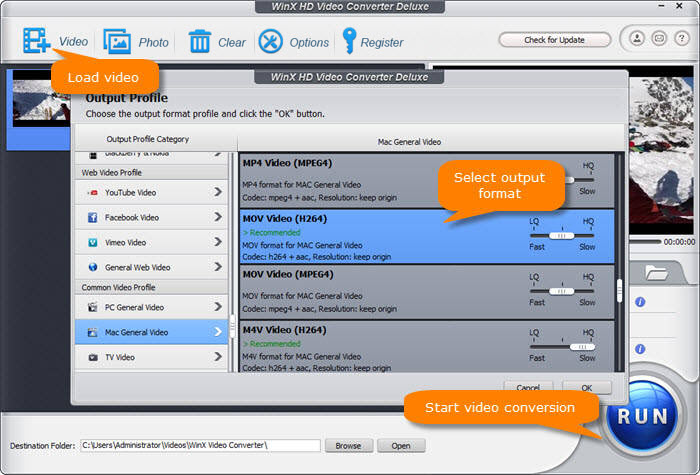 Step 3. Set Destination Folder. Save video after conversion to your computer by clicking "Browse" and select the target folder.
Step 4. Convert MOV Video. Check the Hardware Accelerator to apply GPU acceleration when possible. To get the best results, don't forget to enable the High Quality Engine and Deinterlacing. After all the settings, click the Run button and start converting MPEG video clips to MOV.
Way 2. Free Change Video from MPEG to MOV with QuickTime Player
If you're running on macOS and wanna import MPEG video file to iMovie for further editing, just resort to your QuickTime player, which can change your video file extension from MPEG to MOV so as to load it to iMovie without format incompatibility issue. Read the detailed steps:
Steps to Free Convert MPEG Video to MOV with QT
Step 1. Find your MPEG video file and open it with your QuickTime player.
Step 2. Tap "File" at the top banner of macOS home screen (shown below) > choose "Export as" > select 1080p, 4K or other resolution at your disposal. Afterwards, choose HEVC codec or not (HEVC is automatically ticked on the pop-up window). Step 3. Your input MPEG file is now exporting as .MOV file extension. Step 4. Right-click your exported video file to check its detailed info, and you'll see the file attribute as QuickTime movie already. Step 5. Now import your resulting .mov file to iMovie and iMovie will successfully recognize your footage. After the video editing is done, export it and it'll saved as MOV on your macOS, as well.
Way 3. Online Convert MPEG to MOV on freefileconvert [Max 300MB]
Generally, your MPEG video footage won't be too large as long as it's not a full movie. Thus, for MPEG video clip, free online video converter service is a second-to-none choice for moderate-sized MPEG video conversion. Why choose freefileconvert? Simply, a bunch of online converter tools like aconvert.com, onlineconverter.com won't serve you unless your input MPEG file is less than 200MB.
freefileconvert wins a respectable showing with its larger input file size 300MB and privacy protection (you can delete your video file after MPEG conversion and file downloads). In case your MPEG size is within 300MB, stay here to read the following detailed steps. Or jump to Way 4 if your MPEG is over 300MB (smaller than 1GB).
Steps to Online Convert MPEG (300MB Max) to MOV on freefileconvert
Step 1. Select MPEG file from your computer, URL, Google Drive or Dropbox account. Bulk conversion supports 5 MPEG files conversion at one time. The total file size is up to 300MB, not a single MPEG file. Step 2. Choose the MOV format from the drop-down list as the output format. And there are other mainstream modern formats available (as you can see), including M4V, 3GP, HEVC, FLV, F4V, MXF, VOB, audio format AAC, AC3, MP3, FLAC, and image format GIF, etc. Step 3. Wait until your file is uploaded and converted into the MOV video format, you can download the converted file up to a maximum of 5 times, and can also delete the file from the Download page.
Way 4. Online Convert MPEG to MOV on CloudConvert [Max 1GB]
Turn to another free online MPEG video converter Cloudconvert if your larger MPEG video is excluded by the above freefileconvert. Cloudconvert supports you to free convert majority of modern digital formats to video, audio or image format online without any 3rd party applications or plug-ins. It also lets you free adjust video resolution, aspect ratio, constant quality setting, frame rate, profile, as well as trim video and add soft/hard subtitle (.srt, .ass) to video. Check its detailed tutorial if it strikes your fancy.
Steps to Free Transcode MPEG Videos to MOV with CloudConvert
Step 1. Go to www.cloudconvert.com, and click "Select File" to import or upload your MPEG video footage. Note: multiple ways are available for you to load your input MPEG files, from computer, URL or cloud storage service (Google Drive, DropBox, OneDrive). Step 2. Choose MOV as output format from the drop down menu of "Convert to".
Step 3. Click on "Convert" button to starting converting MPEG video file.
Step 4. After that, simply download the converted MOV video to your computer.
Note:
Conversion minutes limit exits on Cloudconvert for daily conversion. The maximum value is 10 conversion minutes each day. You're required to sign up for a free account to continue using this service.
Cloudconvert free account only gives you 1GB limit for free video conversion. As for even larger MPEG video conversion, pay for its package to get large-sized video converted. No matter which way you choose, it's easy to operate, all roughly 3 or 4 clicks. And you don't have to spend time trying every way. Just pick up the one grounded on your MPEG video size, duration and attributes. Also welcome you to share with us your own fast yet effective method on MPEG to MOV conversion and we'll keep this post updated with any better method.