Fixed: Yahoo Fantasy Sports App Not Working/Loading
How to solve Yahoo Fantasy Sports app not working loading problems?
Q - "My Yahoo Fantasy Sports app for my Kindle Fire still won't load. It keeps saying 'unable to start due to an inability to connect to server, fix your connection'. It's been about 2 weeks now. I've sent multiple emails. I've tried everything from turning off my wireless connection, switching networks, clearing my cache, force stopping the app, and uninstalling and reinstalling the app. Nothing works. The worst part is, I can't get a response from anyone. Does anybody know what's going on? Any help would be appreciated. Thanks"
2021 regular season for most sports have begun since August, such as college football, Major League Soccer, NCAA football, etc, while 2021-22 NBA season is just started a few days ago. But are you ready with sports tools to enjoy online streaming football/basketball videos or playback games before? Yahoo Fantasy Sports app used to be a pretty good one, which however got problems now. Both iOS and Android users are going through Yahoo Fantasy Sports app not working errors. How to solve "Yahoo Fantasy Sports app won't load" problem? Are there any Yahoo sports app alternatives? Read on to find out the answers.
What Is Yahoo Fantasy Sports App?
Yahoo Fantasy Sports is available in webpage and iOS/Android app versions, delivering the service for sports fans of football, baseball, golf, basketball, hockey, etc. It helps you to catch up with daily live updates of Matchups, scoring and breaking player news, manage your roster for chance to win money, and contact with your leaguemates through Fantasy messenger.
How to Fix Yahoo Fantasy Sports App Not Working/Loading?
"Yahoo fantasy baseball app not working. I have a Sony Xperia x performance (Android) and my yahoo fantasy app does not work anymore. When I log in, it just says 'unable to add account' when putting in my password. Using the browser version on mobile is almost impossible."
Close the app and reload it to have a try. Or delete cache and relaunch it.
Check if your password is correct by logging in to your Yahoo account on computer.
Uninstall and reinstall the app.
Check your OS version running on Android or iPhone iPad. Maybe you should update to the latest version.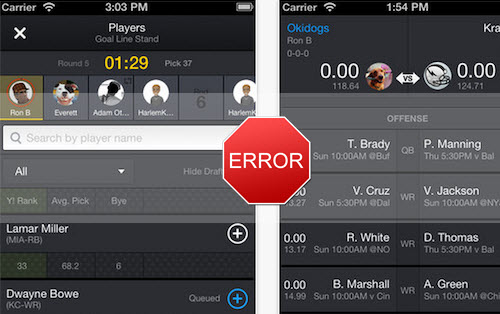 As to the question mentioned in the very beginning, Kindle devices are not supported any more as of the All Star break. And it is said that there are no plans to add the new Yahoo Sports app on the Kindle at this time.
How to Download Sports Videos for Watching Offline?
If it takes too much time of you to fix the Yahoo Fantasy Sports app not loading error, but it still doesn't work, maybe you should try some alternatives or just download sports videos for watching offline. First download a free sports video downloader for Windows (10).

Download sports video downloader: • 100% safe and free | • No adware, spyware at all | • supports 1000+ sites
Step 1. Run the downloader, copy and paste the URL of a sport video. Here we take NBA playoff video download as an example.
Step 2. After the analyzing, choose an output format/resolution you like.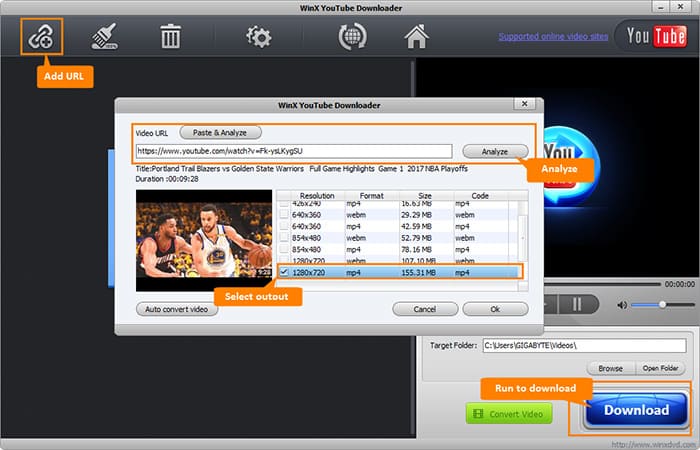 Step 3. Press button Download to begin downloading sports videos for free.
Still have question on how to solve Yahoo Fantasy Sports app not working error? Please feel free to Mail Us >>