VLC DVD Ripper: Review, How-to Guide, Errors, Alternative
Learn How to Rip, Copy or Convert a DVD with VLC DVD Ripper on PC / Mac, and How to Keep Subtitles, Menus and Chapters.
Virtually everyone using VLC[1] has the common sense that it's a media player, but few are aware of that VLC is equally used as a DVD ripper, probably because this function is slightly concealed and not hyped.
This article will give an overall review of the DVD ripping functionality, performance and usability of VLC Media Player, and explain how to use VLC as a DVD ripper the right way and also suggest an alternative if necessary.
How to Convert a DVD Using VLC DVD Ripper on Mac or PC?
Before converting a DVD, you should make sure VLC Media Player has been downloaded and installed properly on your Mac or Windows (10) computer. Then follow the instructions below:
Step 1. Find the DVD conversion feature.
Click Media on the far left on the top of VLC's main interface, find Convert / Save, or try to keyboard shortcut Ctrl + R. Step 2. Add your source DVD into VLC DVD Ripper.
Tap the second button (Disc), namely Disc and choose DVD under Disc Selection. In the same way, you can add a Blu-ray, Audio CD, SVCD/VCD, or click File button to add an IFO file or ISO image file of DVD. Tips:
VLC DVD ripper allows you to add more than one DVD file, regardless the file types.
You can remove any of the added files as you wish.
You can add a subtitle file at the same time.

Step 3. Make settings for DVD conversion.
After hitting Convert / Save button on the bottom, you are in the front of conversion settings: you can choose to convert the DVD or dump raw input. The most important thing in the conversion is to set an output profile: click on the drop-down list and choose the formats and codecs supported by VLC DVD ripper:
Profiles Provided by VLC DVD Ripper:
Video: H.264 + MP3 (MP4), VP80 + Vorbis (Webm), H.264 + MP3 (TS), H.265 + MP3 (MP4), Theora + Vorbis (OGG), MPEG-2 + MPGA (TS), Dirac + MP3 (TS), WMV + WMV (ASF), DIV3 + MP3 (ASF)
Device: MPEG4 720p TV/device, MPEG4 1080p TV/device, DivX compatible player, iPod SD, iPod HD/iPhone/PSP, Android, YouTube
Audio: Vorbis (OGG), MP3, FLAC, CD
Step 4. Edit the selected profile if necessary.

You can edit the selected output profile through the tool-like edit button next to the profile, in which you can choose Encapsulation with corresponding DVD-related features, Video Codec, Audio Codec, Subtitles directly.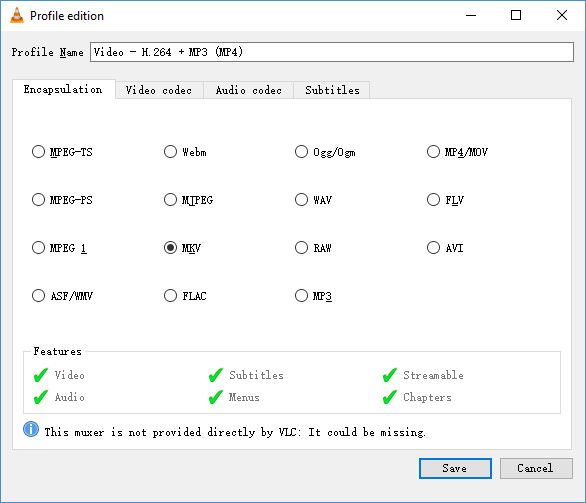 Video Formats and Features Supported by VLC DVD Ripper:
| | | | | | |
| --- | --- | --- | --- | --- | --- |
| Format | Video | Audio | Subtitles | Menus | Chapters |
| MPEG-TS | | | | | |
| Webm | | | | | |
| Ogg/Ogm | | | | | |
| MP4/MOV | | | | | |
| MPEG-PS | | | | | |
| MJPEG | | | | | |
| WAV | | | | | |
| FLV | | | | | |
| MPEG 1 | | | | | |
| MKV | | | | | |
| RAW | | | | | |
| AVI | | | | | |
| ASF/WMV | | | | | |
| FLAC | | | | | |
| MP3 | | | | | |
You can also choose to deinterlace the video and/or display or display the output.
Step 5. Set Destination File.
There is no default setting for destination file. It means only after you Browse to choose a destination folder and set the output file name, can you proceed to the next step. Step 6. Click Start.
After clicking Start button, the DVD conversion is triggered. At the same time, the movie will be played by VLC automatically.
But according to my test of converting Bee Movie, though which is an old and un-protected DVD movie, the conversion took over 90% (maximally 97%) of my CPU use, and caused choppy and crash on the VLC media player. At last, I had to close the program, and opened my Task Manager of computer to end the task. The Review of VLC DVD Ripper
VLC Media Player is an all-in-one tool that embodies a video / music / picture / Blu-ray / CD DVD player, and also stretches to local network streams and internet like Podcasts and radios. As a media player, it is barely professional, but as a DVD ripper, it leaves much to be desired.
Based on my tests and the results, VLC has the following drawbacks in my own opinion:
1. Can VLC rip protected DVDs? This is a frequently asked question. But unfortunately, VLC DVD ripper does NOT rip protected DVDs. I have tested on several DVD ISO image file like Focus (The workout DVD), Frozen and The Dictator, they all failed at all: either no response, no result (0 KB or only several KB of file that leaves unplayable), or crash. And according to other feedbacks from users, VLC DVD ripper has errors like no sound, audio out of sync, not working, etc.
Read on:
How to Rip Copy-protected DVDs >>
How to Remove Copy Protection from DVD >>
Fail to Rip a DVD with VLC? Try the Best VLC Alternative!
• Fast rip general and copy-protected DVDs to MP4, MPEG, WMV, FLV, MOV, MP3, iPhone, Samsung, Apple TV etc, while keeping possible highest quality.
• Adjust parameters, like bit rate, frame rate, resolution, aspect ratio, audio sample rate and more, to get special effect of output file.
2. When choose WebM, FLV or MKV as the output, VLC would show you an error message: This muxer is not provided directly by VLC: It could be missing.
3. It's hard to view the history timeline, to manage the previous or current task, and open the converted file directly (so you'd better remember the output directory you set).
4. It does not support VIDEO_TS folder directly, but instead, it do supports ISO, VOB or IFO file.
5. For DVD files: it does not select main DVD title for you, so you have to play the long list of files under a DVD or folder one by one. This is especially painful for 99-title DVDs.
FYI: the main title is always one of the DVD movie files in longest time and largest size.
The Bottom Line:
VLC Media Player is enough for basic media playback and streaming needs, even as an open-source desktop app. However, in order for VLC to play or copy a DVD, the app has to rely on other app/software/tool to bypass the DVD's copy protection. In order to copy or rip a DVD using only one single program, and do the whole tasks without errors, you are much better off using professional DVD backup software like WinX DVD Ripper Platinum. It will bypass Content Scramble System (CSS), Region Code Enhanced (RCE), User Operation Prohibition (UOP), Sony ARccOS DVD protection, the Analog Protection System, and even the advanced Disney'sTrick.
In a word, if you want to seek a VLC DVD ripper alternative that will convert or copy DVDs fast and independently without error, WinX DVD Ripper Platinum would be the top of the heap. It supports virtually all DVDs, ISO image files and VIDEO_TS folders, and fills in the output formats and device profiles absent in VLC.
WinX DVD Ripper Platinum - Rip any DVDs to MP4, AVI, WMV, FLV, MOV, ISO file, AVCHD, and more file formats for DVD backup. Convert DVD to fit iPhone, iPad, Apple TV, Android Samsung, HTC, Google Nexus, Kindle Fire, Sony, Xbox, and more devices for flexible playback. Support lossless DVD copy at 47x real time faster speed.
For PC and Mac only. Go to mobile page.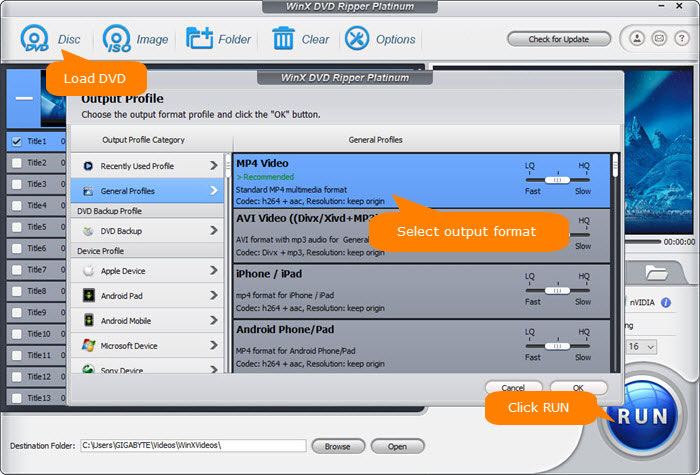 External Reading:
VLC[1]
- a portable, free and open-source, cross-platform media player and streaming media server written by the VideoLAN project. It is available for desktop operating systems and mobile platforms, like Windows 10 Mobile, Windows Phone, Android, Tizen, iPad, iPhone, and iPod Touch. VLC is also available on App stores such as Apple's App Store, Google Play store and Microsoft Windows Windows Store…