Possible Causes & Solutions for YouTube Black Screen Issue
The Web Page Itself or Poor Interework Connection
Solution: Refresh the YouTube video page or restart the browser (open up Safe Mode). Refreshing web page fixes many YouTube not responding issues by restoring the browser to its default state.
Browser Cache/Memory/Page Filing is Filled Up
This is the most common reason of YouTube black screen issue. Since the browser memory is full of cache objects, it cannot play YouTube video normally, not to mention open 5-6 videos at a time.
Solution: Just simply clear the browser data, shut down browser and open the website again. YouTube black screen will no longer here.
* Firefox: Click Firefox History - > Clear history -> "Everything" range of "Browsing & Download History/Form & Search History/Cookies/Cache/Offline Website Data"; or click Tools -> Options -> Advanced -> "Clear Now" for Cached Web Content and Offline Web Content and User Data
* Google Chrome: Click Chrome Menu > More Tools/History > Clear Browsing Data > choose the "Cached images and files/ Cookies and other site and plug-in data" to clear
* Safari (for Mac OS X): Click Safari Menu > Empty Cache > Empty
* IE: Click menu icon > Safety > Delete Browsing History > select Temporary Internet Files, cookies and history / Preserve Favorites Website Data > Delete
Conflicted/Outdated Add-ons
Some added toolbar and anti-virus add-ons like ad-blocker are known to cause YouTube black screen issue, especially on Firefox.
Solution: Disable All of the extensions, or test the extension one by one to see which one is the source cause of YouTube black screen. If you find it out, just remove it from browser or update it to the latest version. >>Easy YouTube MP3 Add-on for Firefox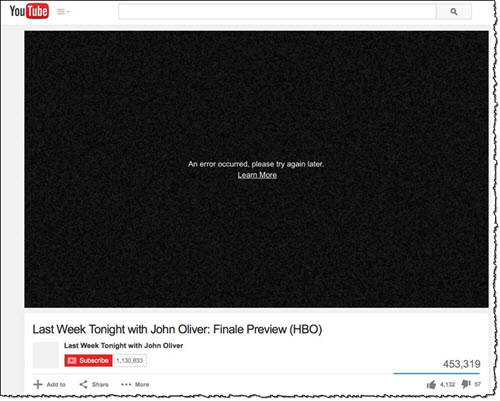 Adobe Flash Player/Java/HTML5 etc. Caused Problem
Adobe Flash Player is another common bug led to YouTube video showing in black screen, follow those troubleshooting steps to throw this problem away.
Solution:
* Uninstall the current Adobe Flash Player (also alike ones line above mentioned Shockwave/Silverlight) and download the latest version to install on your computer.
* Make sure the JavaScript of your browser is turned on.
* Disable the flash/graphics hardware acceleration by right clicking the video area, selecting Setting option to unselect "Enable hardware acceleration".
* Disable YouTube HTML5 Player by downloading some add-on for your browser like YouTube Flash Video Player add-on for Firefox. Because YouTube officially used the HTML5 player when possible. YouTube black screen matter seems exclusive to HTML5 players sometimes for it is preventing them from playing videos properly and the videos don't always have an option in the left click menu to disable hardware acceleration. >>What is HTML5 video
What's more, the YouTube black screen also happens to mobile devices like iPhone iPad and Android, the same fixing method for PC can be used like unistall and reinstall the YouTube app/Adobe Flash player, clear data and cache. Learn what to do when Amazon Prime Video shows black screen.