How to Fix YouTube Black Screen Error for Normally Watching YouTube Videos?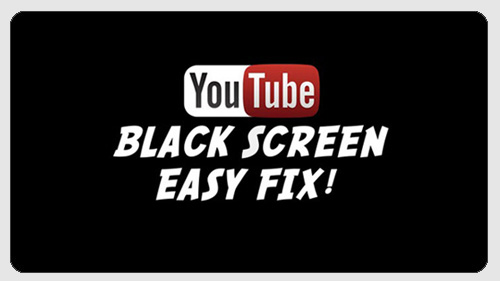 Several Easy Ways to Fix YouTube Black Screen Error for Normally Watching YouTube Videos | Possible Reasons Listed
Q: I'm having the same fricking issues with YouTube right now too!!! All my videos I try to watch are just are totally blacked out. I still have audio but no video. -By Downdector Sep 11, 2019
Q: How to fix black screen on YouTube?
Hello when ever I go to YouTube, it doesn't load video and it just stays black unless I refresh, this is annoying and I am wondering how to fix it, and what causes it.
Q: YouTube playback is met with a green screen or a black screen. On my YouTube player the playback shows just a black screen at the top of the player with the rest being black. I have fully updated Flash, Shockwave, and Silverlight and I did go through and disable hardware acceleration. This seems to be a YouTube only issue. (Relevant info: Windows 10 Insider Preview Build: 10122 Mozilla Firefox All plugins are up to date.)
Q: How to get rid of YouTube video black screen?
Please guys someone help me with this! I searched online for an hour now and they told me to download some extensions and I did but all I ever got was pop ups! Someone please help I think I may have caused a virus in my computer!
In light of so many YouTubers have experienced or may encounter the YouTube black screen error when enjoying YouTube videos, this post will gather many online resources, briefly list the possible reasons and some feasible solutions to remedy/fix YouTube Black Screen error so that you can view the YouTube videos as usual.
Hot search: YouTube Shorts not showing up fixes
Possible Causes & Solutions for YouTube Black Screen Issue
The Web Page Itself or Poor Interework Connection
Solution: Refresh the YouTube video page or restart the browser (open up Safe Mode). Refreshing web page fixes many YouTube not responding issues by restoring the browser to its default state.
Browser Cache/Memory/Page Filing is Filled Up
This is the most common reason of YouTube black screen issue. Since the browser memory is full of cache objects, it cannot play YouTube video normally, not to mention open 5-6 videos at a time.
Solution: Just simply clear the browser data, shut down browser and open the website again. YouTube black screen will no longer here.
● Firefox: Click Firefox History - > Clear history -> "Everything" range of "Browsing & Download History/Form & Search History/Cookies/Cache/Offline Website Data"; or click Tools -> Options -> Advanced -> "Clear Now" for Cached Web Content and Offline Web Content and User Data
● Google Chrome: Click Chrome Menu > More Tools/History > Clear Browsing Data > choose the "Cached images and files/ Cookies and other site and plug-in data" to clear
● Safari (for Mac OS X): Click Safari Menu > Empty Cache > Empty
● IE: Click menu icon > Safety > Delete Browsing History > select Temporary Internet Files, cookies and history / Preserve Favorites Website Data > Delete
Conflicted/Outdated Add-ons
Some added toolbar and anti-virus add-ons like ad-blocker are known to cause YouTube black screen issue, especially on Firefox.
Solution: Disable All of the extensions, or test the extension one by one to see which one is the source cause of YouTube black screen. If you find it out, just remove it from browser or update it to the latest version.
Adobe Flash Player/Java/HTML5 etc. Caused Problem
Adobe Flash Player is another common bug led to YouTube video showing in black screen, follow those troubleshooting steps to throw this problem away.
Solution:
● Uninstall the current Adobe Flash Player (also alike ones line above mentioned Shockwave/Silverlight) and download the latest version to install on your computer.
● Make sure the JavaScript of your browser is turned on.
● Disable the flash/graphics hardware acceleration by right clicking the video area, selecting Setting option to unselect "Enable hardware acceleration".
● Disable YouTube HTML5 Player by downloading some add-on for your browser like YouTube Flash Video Player add-on for Firefox. Because YouTube officially used the HTML5 player when possible. YouTube black screen matter seems exclusive to HTML5 players sometimes for it is preventing them from playing videos properly and the videos don't always have an option in the left click menu to disable hardware acceleration.
Software to Help Play All YouTube Video on Whatever Devices
YouTube black screen matter being solved, you can achieve the best YouTube video audio enjoyment! If you'd like to bring YouTube media offline on the move, WinX HD Video Converter Deluxe can do you a great favor, which is all-in-one solution as a SD/HD/4K/8K YouTube video downloader, YouTube video converter, photo slideshow maker, and video editor for editing video to best size for YouTube uploading.
Tip: Still have trouble on how to fix YouTube black screen problem on any Windows (10) or Mac based browers, just go to YouTube help forum or corresponding browser support page like Firefox support to search useful replied, or ask for help. You can also feel free to Mail us .