[Updating] Help Tips and Solutions to Fix Various YouTube Errors
YouTube is an important channel to acquire hot news in the world. But, YouTube errors sometimes come without calling for. For example, YouTube was suddenly down with login error, YouTube video not loading/playing and encountered a spinning wheel., not to mention the frequent 500/503 Error, white screen error. That's really annoying.
If you're fed up with the unexpected YouTube outages, here's a chance for you to learn how to fix YouTube error messages. In this post, helpful tips will be displayed to troubleshoot top 10 YouTube errors.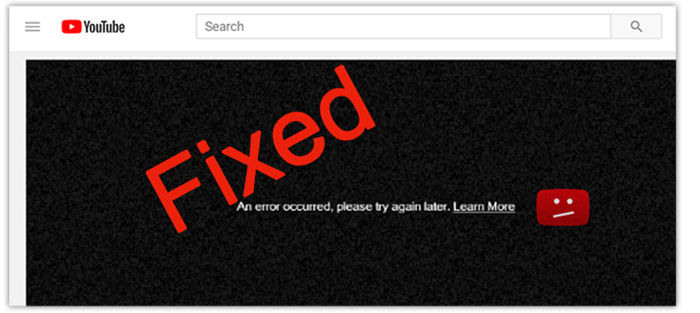 Top 10 YouTube Errors and Corresponding Solutions
1. An error occurred ...
You may have got stuck in a situation: try to play YouTube videos but only to see a message - "An error occurred, please try again later". This is a common issue on YouTube. Sometimes, you can fix this YouTube error by just refreshing. But maybe not work for you. So how to solve this dreaded problem? Try the following solutions to check if they can work for you.
Clear Cookies, Cache, History and Temporary Internet Files in your browser.
Pause the video and change a resolution (720p, 480p, 360p, etc.) proposed by the YouTube player.
Make sure all your plug-ins are up-to-date. If not, please install the latest version.
Disable graphics hardware acceleration. To this end, please save your work first and then restart Firefox.
Disable youtube.com in the HTTPS everywhere rules and then watch YouTube videos in this Firefox profile as long as it's not over SSL.
2. Video player error message
This issue always happens due to internet connection speed, uploader is making changes to the video or the video is being deleted, etc. To fix this YouTube video error, please try the following tips.
Refresh the YouTube video page.
Try to load the video in 30 minutes later.
Close other tabs or windows.
Make sure your browser and Flash Player is the newest version.
Turn on JavaScript.
Watch YouTube videos on a different browser or PC.
Try solution 1 and 2 for "An error occurred ..."
3. Video display issue
There are times that you can hear sound of the video but unable to see it, or YouTube videos not showing with a black screen or spinning circle. If you are troubled with such issues, please try below troubleshooting tips.
Disable hardware acceleration in Adobe Flash Player.
Right-click on the wrong video > click "Setting" > uncheck "Enable hardware acceleration" > hit "Close" > refresh the YouTube page.
Update your graphics driver.
4. No sound in YouTube videos
Viewing videos without sound is torturous to YouTube users. Let's check how to resolve this YouTube error problem.
Check the volume on your PC, speaker and the YouTube video player.
Restart the browser.
Upgrade Flash Player to the latest edition.
Check if Antivirus and Firewall software blocks third-party content.
5. Video is choppy or stops early
Such kind of issue can be fixed by changing the video resolution or deleting cache and cookies. Moreover, slow internet connection speed can result in video playback error. In addition, there're other methods you can try:
Try a different browser;
Try a cable connection if you're using Wi-Fi;
Reboot your router. Unplug/power down your router, and then after 30 seconds later plug it back in/turn on.
6. Black bars issue
Black bars could be horizontal black bars, vertical black bars or black bars all around the video. It isn't good for viewing experience. This issue occurs because the YouTube video size isn't match with the requirements of YouTube video uploading. To upload videos to YouTube without black bars, you're suggested to learn the best size for YouTube video uploading.
7. JavaScript or Flash Player error
This problem refers to an error message saying "Hello, you either have JaveScript turned off or an old version of Macromedia's Flash Player. Get the latest Flash player." This issue is easy to handle by either enabling JavaScript in your browser or installing the latest Flash Player.
8. Could not load Shockwave Flash" error in Chrome
Many Chrome users come across "Could not load Shockwave Flash" error when attempt to watch YouTube video. So what can you do? The following solution is acceptable.
Type "chrome: //plugins/" in the address bar of a new tab > find "Shockwave Flash" plug-in > click "Details" > just disable the one version pointing to C:\Users\... and keep the other version for C:\Windows\... enable.
And then you can play YouTube videos on a new tab or window.
9. Video is not available in your country
YouTube videos are not available in your country, in that some video owners have specified their video only available for certain countries mainly out of licensing rights. Additionally, to abide by local laws, YouTube will block specific video content. To fix this, you can try unblocking YouTube videos.
10. Video cannot play properly
This YouTube error involves situations like video loading slowly, video refusing to start play, video getting stuck, and video player is blank with no video. This can be divided in two cases: some videos are unplayable, or no video content can play.
If specific videos fail to play, please refer to the troubleshooting tips for "video player error message". But if none of the videos are accessible, please turn to following tips.
Change Firewall settings.
Sometimes, YouTube is blocked by firewall, which leads to improper video playback. So, you need change firewall settings and make YouTube website as a trusted one.
Temporarily disable ad or pop-up blocking software, such as Norton anti-virus.
Above are the help tips for the ten most frequent errors related to YouTube video. For other YouTube errors and outages, you can get help from official YouTube Help guide or forums. Although YouTube error messages are inevitable, YouTube is still the one to rely on in some ways.