8 Quick Fixes for YouTube Videos Not Loading or Showing Error
In the tough COVID-19 quarantine, you open YouTube app with joy, find your favorite video, click on it and wait for the video loading and playing, but after a while nothing is playing on your screen. You're only greeted with a black screen, or a spinning interface. What a frustrating experience!
In fact, YouTube videos not loading or showing is a quite common issue that almost every YouTube user has been troubled with. Sometimes you can't see any image appearing for a while, and in many cases the problem lasts for the whole length. But don't panic! Here're 8 quick fixes that have helped other users resolve this YouTube videos not loading problem. So read on and check them out…
Hot search: YouTube shorts not showing up
How to Fix YouTube Videos Not Loading / Showing Error
Method 1: Check the status of your network connection.
Sometimes poor internet connection can lead YouTube video not showing error. So before everything, you always need make sure you have a stable and great network connection for YouTube videos streaming. Then re-launch your browser to see if this fixes the video not loading on YouTube issue.
Method 2: Refresh the page or restart your browser.
When your YouTube video won't load with a black screen or spinning interface, there is a big possibility that something tiny on your browser is temporarily going wrong. But fortunately, if this is the case, the YouTube black screen problem can be solved simply by refreshing the page. Click the Reload button on your web browser or press F5 button on the keyboard to refresh the YouTube page. If YouTube video still not responding, you can try closing and re-opening the web browser, which will help you get rid of issues on the web browser thoroughly. After that, re-open the YouTube video to see whether the problem is fixed.
Method 3: Clear the browsing data.
The browsing history and cache can also cause YouTube videos not playing on iPhone and desktop. Such browsing data may have been piling up and made your browser get stuck. They can also change your browser settings and stop it from working properly, not only for YouTube videos, but also all kinds of online activities. Thus you're suggested to swipe the browsing data if your YouTube video not showing.
If you're using Chrome or Firefox browser, try the following steps to clear browser caches and history:
1. Press Ctrl+Shift+Delete button simultaneously on the keyboard. A data clearing window will pop up.
2. Set the time range from when you started using the browser till now. And select all items to clear.
3. Click Clear data button to erase all the browsing history and caches, passwords and preferences etc.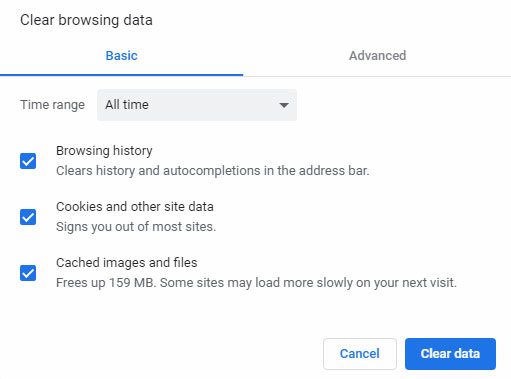 Note: This will clear all your browsing history, passwords and preferences on your browser. And you will be asked to re-enter your data and re-adjust your preferences when you access all websites you have visited.
Method 4: Disable hardware acceleration in browser.
Hardware acceleration is a new feature in browsers that assigning some tasks like graphics and text rendering to GPU instead of CPU, hence giving us a better video playback experience. However, sometimes hardware acceleration can be the culprit of videos not loading on YouTube. For that, you can disable the hardware acceleration in Chrome or Firefox to fix YouTube video not working issue.
Take Chrome as an example:
1. Click on the three vertical dots Menu button in the upper right corner, then select Settings.
2. Click Show advanced settings at the bottom.
3. Uncheck the Use hardware acceleration when available option in the System section.
4. Restart the Chrome browser. Then go back to the YouTube video to see whether it's showing. Method 5: Update browser.
If your web browser is out of date, your YouTube video may also go black screen as well. That's because the outdated browser may still use Adobe Flash Player which is not supported by YouTube. Or some configuration or features on your old browser messed up something with the YouTube player. Whatever the reason, updating browser is a proven method to troubleshoot YouTube video crashing issue.
In Chrome browser, click the three vertical dots Menu button > Help > About Google Chrome. Then the Chrome will automatically detect whether there is an update available. If yes, just follow the on-screen instruction to update your browser to the latest version. If no, it might not a matter of browser version.
Method 6: Save web video offline.
If none of the above methods solve the YouTube video not loading error, there is a possiblity that you have missed the remedy to the case. Actually, the factors of YouTube video not showing and loading error can be uncertain and much more than what we've mentioned above, like issues in YouTube Down Detector, which happens frequently but is not easy to fix. Such being the case, why not save videos offline to avoid YouTube videos not loading error and play videos on mobile/desktop/HDTV without any interruption?
YouTube Premium account allows you to download YouTube video directly. You can download your favorite videos in advance. Method 7: Uninstall or Reinstall the Adobe Flash Player
If you haven't install Adobe Flash Player, you cannot load and play YouTube videos on your computer. Also, if the Adobe Flash Player is not installed properly, the YouTube videos cannot be loaded as well. Thus, uninstalling or reinstalling the Adobe Flash Player will work for many windows users who were experiencing YouTube videos not playing error.