3 Troubleshooting Tips to Fix YouTube Not Working on Windows 10 Issue
When Windows 10 YouTube not working problem comes out, how should we do? Solutions here can help fix YouTube videos playback errors on Windows 10!
The latest report indicates that Windows 10 has occupied 25.3% market share becoming the second most-installed operation system under Windows 7. Indeed, Windows 10 builds a good reputation due to effective performance and useful new features. But, some problems still happen when running Windows 10. And in this article, we will focus on Windows 10 YouTube not working error and list troubleshooting tips helping people fix YouTube problem on Windows 10.
YouTube App/Website not Working on Windows 10? How Should We do?
Why not free download wanted YouTube videos to PC for watching offline without disturbing by unexpected YouTube app/website not working on Windows 10 error? WinX YouTube Downloader is the most helpful tool which allowes you to free download any YouTube videos in various qualities, 1080P/720P HD, 360P SD and even 4K, 8K, 3D, VR, 360 degree (if there is a source) to MP4, FLV, WebM and 3GP for offline playback on computer or portable devices.
How to Fix YouTube Not Working on Windows 10
- "Any YouTube video I try to play shows a black screen and stutters the audio on Windows 10."
- "Is anyone else having problems with YouTube after installing windows 10? If I have multiple tabs open, my audio stops working, the video doesn't play or if it works, it's in slow motion."
Browse help forums or communities and we can discover above questions about Windows 10 YouTube not working problems appear from time to time. Causes vary from browsers, network, software (flash player, plug-ins) and more, while solutions will be different as well. Now, let's follow the troubleshooting tips to fix YouTube playback issues on Windows 10.
1. Check Browser
▪ No matter which browser you're using, update it to the newest version.
▪ Refresh the tab on browser with the most recent version to reload the page.
▪ Remove all cache and cookies to delete website settings to make browse load quickly.
▪ If YouTube not playing on Windows 10 Edge browser, open Internet options > Advanced > check "Use software rendering instead of GPU rendering" and then restart Edge.
2. Check Network
▪ Restart modem and router to re-connect home network.
▪ For wireless connectivity, make sure the signal is strong and stable enough for internet surfing. If not, move the router to the place with good signal strength.
▪ Don't download large file (for example a HD full length movie) while watching YouTube videos. The download may make your internet usage to be at capacity.
3. Check Software
▪ Adobe Flash Player plays an important role for YouTube video playback. If your browser and network are both OK but YouTube is still not working on Windows 10, please install Adobe Flash Player latest version on browser.
▪ JavaScript is quite necessary for displaying a page correctly. Enable JavaScript on your browser when watching YouTube videos.
▪ Some extensions or plug-ins for blocking YouTube ads or other purposes may stop YouTube playing videos as well. You'd better disable them for an uninterrupted playback.
Superior Way to Play YouTube Videos on Windows 10 Without Trouble
Online playback probably produces troubles because it relies on many elements, like above-mentioned browser, network and so on. To fully avoid YouTube not working on Windows 10, it is highly suggested to free download YouTube videos to play back offline.
WinX YouTube Downloader features free downloading any video from YouTube and similar sites (1000+ in total) at an extremely fast speed. Depending on online video source, this YouTube Downloader for Windows (10) can help you download 360P SD, 720P/1080P HD, 4K/8K/3D videos to MP4, WebM, FLV, 3GP while delivering lossless quality. In addition, it is totally clean and safe bundled no adware, spyware, virus and other malicious staff.
It is pretty easy to use. Only 3 steps, you can have desired videos downloaded from YouTube. First of all, please DOWNLOAD and install WinX YouTube Downloader on your Windows 10 PC.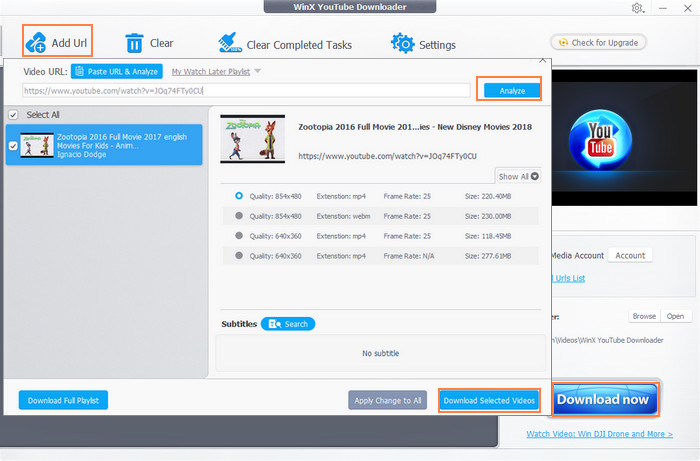 Step 1. Launch WinX YouTube Downloader and click +link-shaped button. Copy and paste URL of one YouTube video to address bar of pop-up window.
Step 2. Click Analyze button to get video information, title, duration and versions varying from resolution, size, format and code. Select one version and click OK.
Step 3. Click Browse button to set target folder if necessary and hit Download button to start download process.
After all is done, you can play the video on Windows 10 with no interruption caused by YouTube not working error.
Note: Please refer to "Is it legal to download YouTube videos" before you try to capture one video from YouTube.