Home > Resource > Best FIFA World Cup 2014 Players
Best 2014 FIFA World Cup Players You Should Pay Attention - Free Download Best World Cup Players Videos from YouTube
It lists the best 5 2014 FIFA World Cup players and shows how to free download best 2014 World Cup players videos from YouTue.
Gathering the most talented football players around the world, FIFA World Cup, held every four years, is extremely welcomed by sports lovers and the 20th tournament is finally walking to us this summer. In 2014 FIFA World Cup, 32 national teams composed of 23 excellent footballers each team are totally ready to win the title. Now, let's have a look at the most promising stars who are considered as the best 2014 World Cup players and predicted to be the Golden Ball winner. Also, you will obtain the guide to free download 2014 World Cup best players videos with the best YouTube video downloader in this article.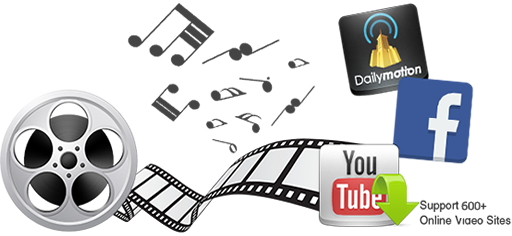 Free Download Best World Cup Players Videos?
WinX YouTube Downloader - Free download best World Cup players videos from YouTube.

WinX HD Video Converter Deluxe - Download/convert any videos from/for YouTube at will.

WinX HD Video Converter is a handy application that allows you to convert your video files to High Definition with no effort at all
- Cosmin Anton (Softpedia Editor)
Lionel Messi
Serving as caption and striker of La Albiceleste, Messi is considered as one of the finest players for his great achievements in soccer career and well performance (one goal for each match) in last season even though he suffered long-time injury, received lots of sarcastic criticisms and involved in tax fraud accusation. Messi is expected to lead Argentina nation team to ultimate victory to lift Jules Rimet again.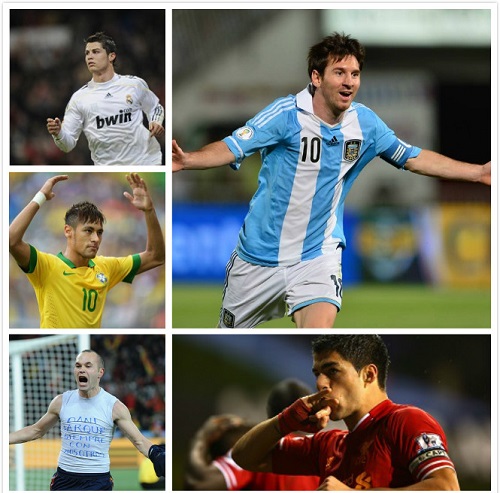 Cristiano Ronaldo
Cristiano Ronaldo, striker and winger of Portugal nation team, is undoubtedly the brightest star in football world, who led Real Madrid to win titles of UEFA Champion League and Copa del Rey in 2013-14 season. Since his outstanding shows, CR7 helped himself get European Golden Shoe award and refreshed goals record of the Champions League.
Neymar
The 22-year-old young genius with gorgeous football skills is commonly taken as the heir of Brazil legendary footballer Pele. Elected as 2014 World Cup Brazil nation team squad, Neymar confidently steps to his first World Cup journey. In warm-up fixtures against Panama, he scored 2 goals to help Brazil won a 4-0 victory and left deep impression to audiences. We expect that he can show us a fantastic performance on the 2014 FIFA World Cup opening game – Brazil vs. Cortia played at 17:00 (Local Time in Brazil) June 12.
Andres Iniesta
The last-gasp goal scored by Iniesta in the overtime of last World Cup Final, Spain against Netherlands, which led Spain to ascend World Cup throne, will never be forgotten by fans. Called The Illusionist, this Spain midfielder creates lots of miracles in his football life and won UEFA Best Player in Europe Award in 2012.
Luis Suarez
Gotten a lot of attentions in last FIFA World Cup because of superb skills to shoot, Luis Suarez is undisputed one of the greatest shooters and the most in-form strikers. He contributed 31 goals and 12 assists in 37 matches played for Liverpool in this Premier League season. In 2014 FIFA World Cup qualification, South American Zone selection, he got 11 goals as the top scorer, one more goal than Messi.
Hot Searches: Download YouTube Videos, HD Video Converter, Free Download We Are One (Ole Ola), Free Download Shakira Song Dare La La La
Free Download 2014 FIFA World Cup Best Players Videos
On YouTube, you can seek for abundant fan-made videos of 2014 FIFA World Cup best players, for example, best goals, interviews or something about daily life. If you want to enjoy these videos offline apart from boring ads, slow buffering or other interruptions, you may need a powerful free World Cup players videos Downloader in that some videos are unavailable to be downloaded according to authors' permission setting. WinX YouTube Downloader, a professional YouTue downloader, offers the best free solution to quickly download any YouTube videos, for example, World Cup theme songs, 2014 World Cup opening ceremony, in kinds of formats with different resolutions such as 1080p, 720p.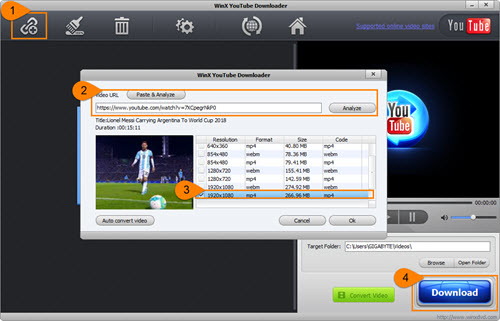 Please follow the guide to free get 2014 FIFA World Cup best players videos from YouTube.
>>Download WinX YouTube Downloader Here
Step 1. Enter to small downloader window by clicking add URL icon. Get the best 2014 World Cup players video URL and paste to the adress bar. Then, Hit "Analyze".
Step 2. There are several results with different resolutions, formats, sizes and codecs. Please select one result and click OK to add your choice to download list.
Step 3. Click Browse to set target folder and hit download to start video downloading.
If you would like to convert a user-generated 2014 FIFA World Cup best player video to supported formats for uploading to YouTube or other video sharing website, please make use of the WinX YouTube Downloader advanced version: WinX HD Video Converter Deluxe.
Still have some trouble about how to free download 2014 World Cup best players videos from YouTube? Please feel free to Email Us >>
WinX HD Video Converter Deluxe - Free download 2014 FIFA World best players videos from YouTube and convert those videos to AVI, WMV, MOV etc, and portable devices, such as iPhone, iPad, Samsung Galaxy/Note, Google Nexus.