World Cup Top 10 Scorers of All Time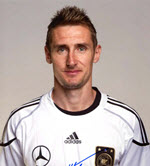 Miroslav Klose
Team: Germany | Goals Scored: 16 | Matches Played: 24
Miroslav Klose played for Germany national team as a striker. He attended four World Cup tournaments from 2002 to 2014. He showed a great performance in his debut World Cup 2002 and won Golden Boot for 5 goals. In the following 3 tournaments, he scored 5, 4 and 2 goals separately. He topped on the leading World Cup scorers chart for 16 goals in his whole World Cup career. After Germany won 2014 World Cup champion - in August 2014 - Klose announced his retirement from national team.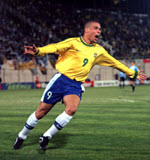 Ronaldo
Team: Brazil | Goals Scored: 15 | Matches Played: 19
Ronaldo is one of the greatest football players in the world. When he was 17-year old, he went to 1994 World Cup but didn't play. 1998 World Cup became his debut World Cup. He was scored 4 goals and was awarded Golden Ball as the best player. In 2002 World Cup, Ronaldo scored 8 goals and led Brazil to win the title. He scored 3 goals in his last 2006 World Cup. In February 2011, Ronaldo played his last match for Brazil friendly against Romania and retired as a football player.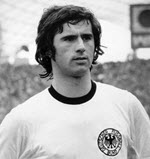 Gerd Müller
Team: West Germany | Goals Scored: 14 | Matches Played: 13
Gerd Müller is a legendary German football striker known for his clinical finishing in and around the six-yard box. He scored 10 goals for West Germany at his first 1970 World Cup and won Golden Boot as top goalscorer. In the next 1974 World Cup, he scored 4 goals including one in the final which leads West Germany to be crowned in this tournament. Gerd Müller kept the record of the highest World Cup scorer with 14 goals for 32 years till Ronaldo made a new record (15 goals) in 2006.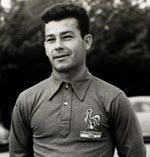 Just Fontaine
Team: France | Goals Scored: 13 | Matches Played: 6
Just Fontaine, this French football forward, only played one World Cup – 1958 World Cup and made a profound impression for his high goal-to-game ratio (13 goals in 6 matches) which drives him to be highest goalscorer in a single World Cup edition of all time. He definitely deserved Golden Boot award. However, Just Fontaine has a short football career. When he was 28 year old, he played his last game in July 1962 and retired for a recurring injury.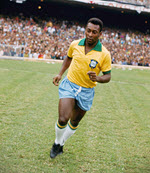 Pelé
Team: Brazil | Goals Scored: 12 | Matches Played: 14
Pelé (Edson Arantes do Nascimento) started out playing for Brazil nation football game when he was 16-year old. In 1958, he attended his debut World Cup as the youngest player at that time. He finished this tournament with 6 goals which contains a hat-trick in semifinal, 2 goals in the final and won World Cup. Soon, he became the world-renowned and best-rated player in the world. He led Brazil to won 1962 World Cup again but encounter failure in 1966 World Cup – eliminated in the first round. Although Pelé refused to attend 1970 World Cup but eventually accepted. In this World Cup, Brazil formed the greatest football team in history and received the title.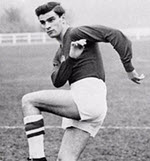 Sándor Kocsis
Team: Hungary | Goals Scored: 11 | Matches Played: 6
Sándor Kocsis had the highest goals-to-games ratio in top 10 World Cup scorers with 11 goals in 6 matches – 2.17 goal/game average. He only played 1954 World Cup for Hungary national team and was the top goal scorer in the edition. He was also the first player who scored two hat tricks in a single World Cup. In 1966, Kocsis retired as a player but worked as a coach. In July 1979, he died, aged at 49. It was a controversy whether his death was a suicide or an accident.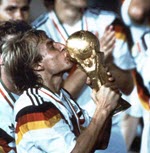 Jürgen Klinsmann
Team: Germany | Goals Scored: 11 | Matches Played: 17
When Jürgen Klinsmann was a footballer, he played 1990 World Cup for West German Team and won the champion. He also played 1994 (5 goals) and 1998 World Cup (3 goals) for reunified Germany but didn't take a good place, being eliminated in the quarterfinals. After retiring as a player, Klinsmann was appointed as the new head coach of Germany national team in July 2004 and led Germany to take the third place in the 2006 World Cup.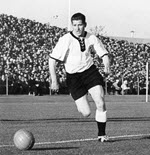 Helmut Rahn
Team: West Germany | Goals Scored: 10 | Matches Played: 10
Helmut Rahn became a big name after he scored the winning goal in 1954 World Cup final – which is known as The Miracle of Bern - leading West Germany to defeat formidable Hungary (3-2) and lift the trophy. In 1958 World Cup, Rhan was named in Germany squad again. With the goal against Yugoslavia, he scored 10 goals in total and became the first player who scored at least 4 goals in 2 different World Cup tournaments.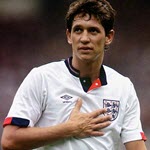 Gary Lineker
Team: England | Goals Scored: 10 | Matches Played: 12
Gary Lineker is the England record holder for FIFA World Cup finals goals, 10 in total. In his first 1986 World Cup, he played 5 games for England team and won Golden Boot for 6 goals, including a hat-trick against Poland in this tournament. In 1990 World Cup, he scored 4 goals leading England to reach semi-finals but lost against West Germany. Lineker started his media career as a football pundit on BBC ratio after retirement. Now, he is a very professional sports broadcaster.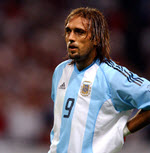 Gabriel Batistuta
Team: Argentina | Goals Scored: 10 | Matches Played: 12
When Gabriel Batistuta was selected as a member of Argentina for playing Copa America in 1991, his international football career kicked off. 1994 World Cup is Batistuta's first World Cup but ended with a disappointment. But he still scored 4 goals including a hat-trick. In 1998 World Cup, he scored his second hat-trick in World Cup and became the first player to score hat-trick in 2 different World Cups. Batistuta played his third World Cup in 2002 but retired with regret for Argentina was knocked out in the opening round.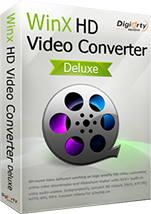 Get Your Best Sports Video Downloader, Converter and Editor - WinX HD Video Converter Deluxe
• Download FIFA World Cup and other football videos, NBA, WWE, NFL etc, in 4K, 1080P/720P HD MP4 with original quality.
• Convert and compress recorded or home-made (World Cup) sports videos to MP4 (H.264), FLV or other formats for uploading to YouTube, Twitter, Instagram and more.
• Trim unwanted parts of your sports video; crop blank/black bars from your sports video; merge multiple sports clips into a single video file; add subtitle (annotation) for your sports video.