Top 10 Greatest World Cup Moments | Greatest Moments Videos Download Guide

In 1930, the first FIFA World Cup was held in Uruguay, which appealed 13 teams to taking part in this football competition and was considered as a new beginning of football sport. In 2018, the 21th FIFA World Cup is scheduled to hold from 14 June to 15 July in Russia and 32 teams will be played for the champion.
Looking back at the whole World Cup tournaments, we witnessed too many amazing and stunning, even unbelievable moments that will never be forgotten by footballers and fans. Here, we'll list the top 10 greatest World Cup moments in whole World Cup history and guide you to free download top 10 greatest World Cup moments videos using an easy-to-use online video downloader.
Top 10 Greatest World Cup Moments of All Time
Rank of top 10 greatest World Cup moments varys from individuals' prefer. The following roundup I summerize is based on majority of football lovers' and critics' reviews.
1. Greatest World Cup Upset
In 1990 World Cup, Argentina, led by Diego Maradona went through their hardest world Cup journey. After being defeated by Cameroon in the opening match, Argentina eventually went to the final. However, the final was not a perfect game, even an absolutely failure for Argentina and Maradona's tears left us indelible impression.
2. Goal of the Century
In 1986 World Cup quarterfinal match: Argentina against England, three minutes after "Hand of God" goal, Manadora got the ball passed by Héctor Enrique about 10 meters inside his own half. Then, he took the ball individually with running 60 meters and passing 4 England players in succession to goal. This goal is claimed to be the greatest goal in World Cup history and called "Goal of Century".
3. 1982 World Cup MVP: Rossi
After 2-year ban, Rossi returned to soccer and attended 1982 World Cup as a member of Italy team. Actually, at the beginning, it seemed that Rossi was not a good player. While, in his last 3 matches of this World Cup, he totally scored six goals to lead Italy to win World Cup champion and win MVP & the best striker for himself.
4. 2002 World Cup Golden Boot: Ronaldo
In 1998 World Cup, because of epileptic seizure, Ronaldo didn't perform well in the Final and Brail lost its champion. In 2002 World Cup, Ronaldo would not miss the chance to win the championship that he scored 2 goals against Germany in the Final and lead Brazil to their record 5th championship. Also, he was awarded Golden Boot for 8 goals, the most goals in the competition.
5. Zinedine Zidane's Head-butt
In the Final of 2006 World Cup, France against Italy, Zinedine Zidane suddenly knocked Italy player, Marco NMaterazzi by head-cutt and was given red card. When Zidane left the field and passed by Jules Rimet Cup, it was the end of Zidane's World Cup journey and the biggest regret in World Cup history to fans and himself.
6. The Most Incredible Final
Hungary was the most tournament favorite in 1954 World Cup because of their strong abilities and good skills. In the Final against West Germany, Hungary kept ahead with scores 2:0 but West Germany continuously scored 3 goals and reversed the situation. Finally, West Germany won their first World Cup championship. Also, this final is considered as the most incredible final in World Cup history.
7. 1978 World Cup Final: Argentina vs. Netherlands
In 1978 World Cup final, Argentina and Netherlands showed us one of the greatest matches in the World Cup history. Because of considerable abilities and goalkeepers' well performance, the two teams were equal on points within match time and went to overtime. Eventually, Argentina scored 2 more goals in overtime and won 1978 World Cup championship.
8. Batistuta's Last World Cup
Batistuta is former Argentina striker and all-time leading goalscorer with 56 goals in 78 matches. With the expectation of winning championship, Batistuta played 2002 World Cup, the third World Cup and the last World Cup he attended. But unfortunately, Argentina became one team of "Group of Death" and didn't get through the group. All Argentina's players were very disappointed but Batistuta was the saddest one. From that time, Batistuta left national team and retired in 2005.
9. Dennis Bergkamp Last-gasp Goal
In the quarterfinal of 1998 World Cup between Netherlands and Argentina, the two teams kept equal points until the match time was nearly out. Bergkamp occasionally score last-gasp goal to avoided Netherlands to enter overtime and led Netherlands to win this match. This goal is also taken as Bergkamp's most satisfied goal.
10. 2014 World Cup Best Goal: James Rodriguez Volley
Voted by over 4 million FIFA.com users, the first goal volleyed by James Rodriguez in match Colombia vs. Urguay won the Goal of the Tournament, over Robin van Persie's marvelous header against Spain. Also, this 23-year-old Colombia's footballer socred 6 goals in 5 games and was awarded Golden Boot of World Cup 2014.
How to Free Download Top 10 World Cup Greatest Moments Videos
You can watch all these moments online but you must bear annoying ads and long-time buffering, even error during playing. So, it is a best choice to free download them and play on PC or our portable devices, such as iPhone, iPad on the go smoothly. And the professional downloader: WinX YouTube Downloader can help you easily download World Cup top 10 greatest moments in flash.
WinX YouTube Downloader is a completely free video downloader for users to download SD, 720P, 1080P HD sports videos, music, movies, TV shows and and more in MP4/FLV/WebM/3GP format from Vimeo, Dailymotion, ESPN etc. It is a 100% clean and safe program bundled no adware, spyware or virus.
1. Tap +link button on navigation bar. Copy and paste URL of World Cup greatest moments video to address bar.
2. Click Analyze button and video info will be shown. Select one result of video analysis, 1280x720 MP4 in this example.
3. Click Browse button to set target folder (hard drive or device). Tap Download button to start the process of World Cup greatest moments video download.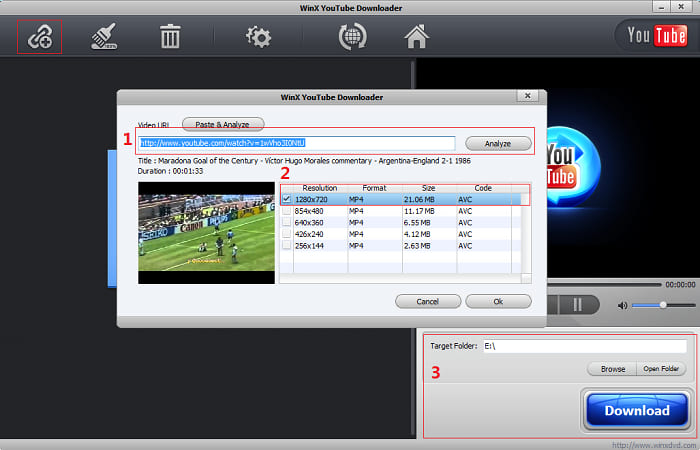 After finishing download, you can enjoy top 10 greatest World Cup moments on your PC/Mac or samrtphone/tablets without any ads and buffering.
Special Offer: WinX HD Video Converter Deluxe
The all-in-one video software that can convert multi-track HD videos AVCHD, MKV, TS, H.264/MPEG-4 AVC, SD videos AVI, MPEG, MP4, WMV, MOV, FLV, RM, RMVB, etc. Users can painlessly convert any videos for iPhone, iPad, iPod, PSP, Surface, Android, Samsung, Galaxy, HTC, Kindle Fire, DVD players, etc. It also can download online Dailymotion/Facebook/YouTube videos, make picture slideshow, and merge/crop/trim/subtitle videos, etc.