Top 10 NBA Playoff Moments of All Time [Roundup & Free Download]
NBA Playoffs have no lack in impressive moments in its history. Legendary players - like Michael Jordan, Kobe Bryant - aren't stingly with showing their excellent skills while new stars also contributes exciting highlights making NBA Playoffs greater and greater. On the other hand, a lot of touching scenes produce indelible memories in fans' minds. NBA Playoffs is here. We expect more great moment in the latest tournament such as Lillard waves goodbye to the Thunder with 37-foot buzzer beater, or Kawhi Leonard Hits Historic Bouncing Buzzer-Beater, Raptors Beat 76ers in Game 7. But before that, let's have a review of top 10 NBA Playoff best moment of all time.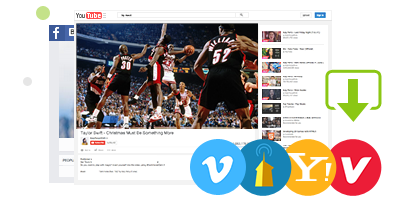 Part 1: Top 10 Best NBA Playoff Moments
Part 2: Download NBA Playoff Best Moments Videos
Tip: Indeed, it is the best choice to recall the greatest NBA Playoff moments by videos. For fans who prefer to download those top NBA Playoff moments videos for collection or offline playback, a handy sports video downloader is quite necessary.
Download Top 10 Best NBA Playoff Moments Videos
Free download best NBA Playoff moments videos and other NBA related videos, e.g. regular seasons, finals, All-Star games half-time acts etc, in SD, 720P/1080P HD, 4K speedily using the best sports video downloader – WinX Downloader.
Top 10 Best NBA Playoff Moments
No matter what a calm fan you are, you may shout out loudly while witnessing a breakaway dunk, winning buzzer beater and impactful clutch. Yes, all those more likely emerge in playoffs. Follow me and catch the list of top 10 NBA Playoff moments you will never forget.
Top of the Top – Jordan's Immortal Game-Winning Shot
It went to the most exited time of Games 6 of the 1998 NBA Finals. Only 41.9 seconds left, Utah Jazz tried their best to hold the 86-83 lead. But Michael Jordan broke their wishes. After a quick layup to change the score to 86-85, Jordan made a crucial second-point shot with 5.2 seconds left giving Bulls a victory of 87-86. Running on fumes with 45 points, Jordan deserved Finals MVP. The legendary game-winning shot also becomes eternal moment throughout NBA history.
Gift for Lakers - Heroic Magic
Let's track back to 1980 NBA Finals. Los Angeles Lakers faced the big trouble for the captain Kareem Abdul-Jabbar get ankle sprained with a rest in game 6. But nothing can prevent Lakers from lifting the trophy. Magic Johnson, the point guard, filled in at the center at the start and played all 5 positions in the game. Receiving 45 points, 15 rebounds and 7 assists, Magic led Lakers to win championship over Philadelphia 76ers.
First NBA Championship of Knicks – Inspired by Captain Reed
Willis Reed seemingly had listed out of left games of the series after suffering from torn muscle in right leg in game 5 of 1970 NBA Finals. For a lost in game 6, Knicks had to play game 7. Everyone was surprised by Reed's appearance in game 7. Yes, Reed didn't score much in this decisive game, but his sprit encourages Knicks to be crowned. On the other hand, all audiences were moved by the best NBA Playoff moment.
Most Impressive Radio Call – "Havlicek Stole the Ball"
At the last 5 seconds of game 7 of 1965 Eastern Conference Finals with one point lead of Boston Celtics over Philadelphia 76ers, Havlicek suddenly shoved the ball, which was inbounded by Hal Greer to Chet Walker, away toward his teammate Sam Jones who dribbled the ball till the end. Eventually, Celtics won the seventh game and stepped into NBA Finals. Havlicek's steal was voted as one of the best NBA Playoff moments together with the impressive radio call "Havlicek Stole the Ball" around the world.
60-Foot Shot – Mr. Clutch
1970 NBA Finals left us many precious moments, not only Captain Reed's inspiration, but extraordinary 60-foot shot by Mr. Clutch – Jerry West from Los Angeles Lakers. In game 3, New York Knicks scored 102 points, 2 point lead at the time of 3 seconds remaining. West caught the inbound pass and threw it at a 60-footer pulling Lakers in overtime. If three-points had existed in current principles, Lakers could have won the game instead of final 108-111 lost.
Bird's Legendary Steal
Boston Celtics met Detroit Pistons in 1987 Eastern Conference Finals. Game 5 ran to the turning point, Larry Bird stole the ball when Isiah Tomas threw an inbound pass and crisply passed to Dennis Johnson who made a layup as 1 second remaining for a 108-107 victory. Although Celtics was defeated by Lakers in the finals, the remarkable steal must be included to the collection of best NBA Playoff moments.
The Greatest Game
The longest Finals game appeared in Game 5 of 1976 NBA Finals after 2-2 series score between Boston Celtics and Phoenix Suns taking triple overtime periods to decide the winner Boston Celtics with a 128-126 lead. Following the game, several controversies of use of timeout and the clock were involved. But we should admit that it is the greatest game ever played.
Magic's "Junior, Junior Sky Hook"
The 1980s big rivals Los Angeles Lakers and Boston Celtics met again in 1987 NBA Finals. In Game 4, Celtics hang on a 106-105 lead but quickly lost possession. Magic Johnson seized the chance to take the inbound pass and sank the 2-points shot, which was labeled as "my junior, junior sky-hook" by himself, leading Lakers 1 point victory till the end.
Derek Finsher 0.4 Second Shot
The dramatic plot happened at the last second in game 5 of 2004 NBA Western Conference semifinals, San Antonio Spurs vs. Los Angeles Lakers. Lakers are thought to keep 1 point ahead (72-71), while Tim Duncan sank a fadeaway shot inclining the victory to Spurs. Only 0.4 seconds remaining, Derek Fisher threw the ball from the inbound pass and scored. Lakers got victory back.
NBA Playoff Record – Jordan Scored 63 Points
Because of broken left foot, Jordan didn't play many games in Bull's 1985-86 regular season. But he didn't miss the first round of 1986 Eastern Conference (Boston Celtics vs. Chicago Bulls) and scored 63 points to make an NBA playoff record. Larry Bird shows respect for Jordan as words "it's just God disguised as Michael Jordan." Thanks to Michael Jordan for showing us so many NBA greatest Playoff moments to us.
Download Best NBA Playoff Moments Videos
Besides the top 10 best NBA Playoff moments listed above, NBA grants countless exiting and moved moments and expects to contribute more excellent performances to the public. Words can be far from expressing what we feel, while videos do well. Would like to experience NBA greatest Playoff moments? You'll be suggested to free download videos online for better enjoyment with offline playback.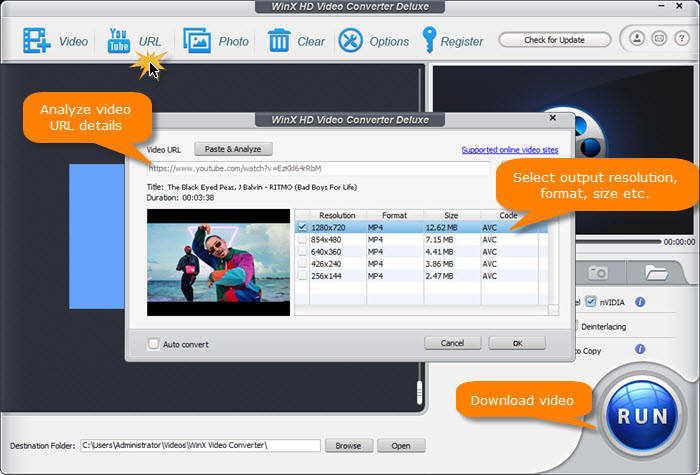 WinX Downloader, an entirely free and safe program, empowers you to download top NBA Playoff moments videos from YouTube Sports Channel, ESPN, Yahoo Sports, Dailymotion, Vimeo and more varying from resolutions (SD/HD/4K UHD) and formats (FLV/MP4/WebM/3GP etc.) according to source video versions.
How to Download Best NBA Playoff Moments Videos
1. Tap +URL icon on navigation bar after launching WinX YouTube Downloader.
2. Get you wanted best NBA Playoff moments video online (for example from YouTube). Copy and paste its URL to address bar.
3. After tapping Analyze button, the video info will be presented, incl. title, duration, version list of resolution, format, size and codec. Select one version and click OK.
4. Tap browse to save video to target folder which can be device disc if you have connected you phone or tablet to computer. At last, click Download button.
Best Solution of Best NBA Videos Playback
WinX HD Video Converter Deluxe, this top-rated video donwloader and converter, has ability of downloading NBA videos, ranging from regular season, NBA playoffs, finals to half-time shows, greatest playoff moments, highlight from YouTube and convert those videos to iPhone, iPad, Samsung, HTC, Sony Xperia, Xbox, PlayStation, etc, remaining high video/auido quality for a better offline playback.