Best Free Video Compression Software to Reduce File Size by 90%
With the advent of 4K video era and the increasing demands for 4K usage, video compression has become an inevitable topic. For that, users are starved for a good video compression software to make the large 4K/HD videos smaller for easier sharing over the network/Internet. In this article, we have the best software for video compression that can reduce file size without losing quality.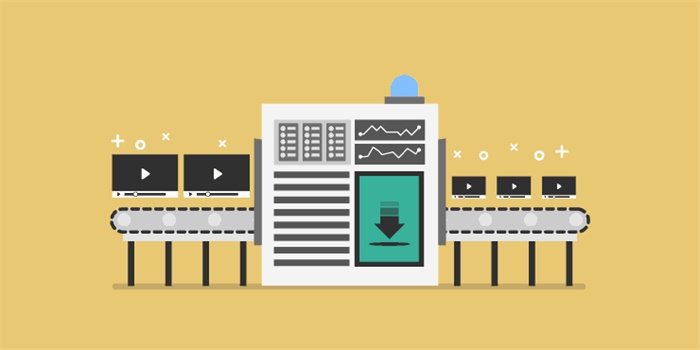 Best Video Compression Software - Compress GBs to MBs without Quality Loss
WinX Video Converter Deluxe - Compress HD/4K videos from GBs to MBs: 64% size reduction for 4K UHD, 62% off for 1080p, 56% off for 720p. Easily compress MP4, MKV, MOV, MTS, AVI, iPhone, GoPro, Drone videos to smaller file size for YouTube, Instagram, FB, Email, mobile devices, cloud storage, etc.
There are various flexible options to make videos smaller: convert videos to advanced codecs like HEVC, lower 4K 2160p to 1080p/720p, change CBR to VBR, frame rate 60FPS to 30FPS, cut off clips from video to shorten video length, etc. The High Quality Engine is built to guarantee minimum quality degradation (roughly 2% quality loss) and the GPU (Intel QSV/AMD/Nvidia) hardware acceleration will make 8K/4K/2K video compression smooth and fast without eating up your CPU or crashing laptop.
Best Video Compression Software:
WinX HD Video Converter Deluxe is the best 4K/HD video compressor for Windows and Mac. It can reduce video file size with the best balance between video quality and file size. It's the best for those who want to compress high-resolution videos while care about the quality.
370+ codecs supported! Compress MP4, MKV, M2TS, AVI, WMV, MOV, H264, videos recorded by any cameras.
40%-90% compression ratio. The intraframe and interframe coding algorithms, and advanced entropy encoding tech maximumly reduce (4K 2160p) video size by up to 90%.
Compress large videos by adjusting bit rate (CBR to VBR), frame rate 60FPS to 30FPS, 4K to 1080p, trimming, cropping, and more.
Fast high quality compression speed. Level-3 hardware acceleration Intel QSV, NVIDIA CUDA/NVENC and AMD VCE ensures fast speed compressing 8K, 4K, 1080P, 720P videos.
The High Quality Engine can further improve the output compressed video quality.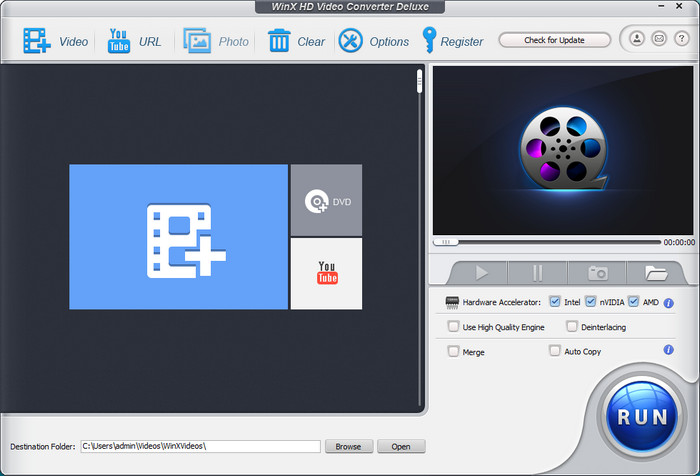 Handbrake is the best open-source and free video compression software. It's compatible with Windows, Mac, and also Linux. 100% free and safe to use. No adware and the like.
Compress videos in virtually all formats. Load any videos to the compressor without worrying about the formats.
Compress large videos in MP4, MKV with H.264, H.265, MPEG-2, MPEG-4, VP8, VP9 and Theora.
Provide rich setting options to help reduce video size, including video dimensions, codec, frame rate, bitrate, quality and so much more.
Intel, NVIDIA, and AMD hardware acceleration supported to provide fast video compression speed.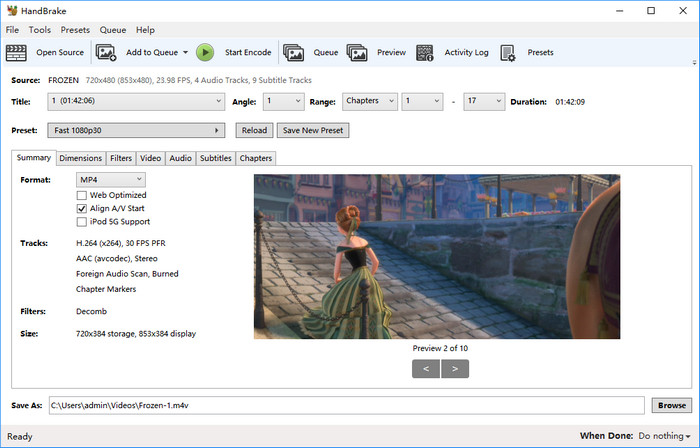 Freemake Video Converter is one of the best free video compression software for Windows. It's the best choice if you want to compress videos into any other formats. But it comes with limitations like a watermark on the compressed video and slower compression speed.
Support up to 500+ formats and gadgets, easily compress MKV, MP4, etc. to HEVC H.265, AV1, H.264, more.
Flexible video audio parameter settings to adjust frame size, frame rate, bitrate, and more to compress video.
Cut video to reduce video size. This is also a good way to shrink video and Freemake comes with such a feature.
Support 4K, Full HD 1080p, and HD 720p files from HD cameras, camcorders and Blu-ray. But without hardware acceleration, compress 4K/HD videos can be slow, especially if you want to compress videos to advanced codecs like HEVC and AV1.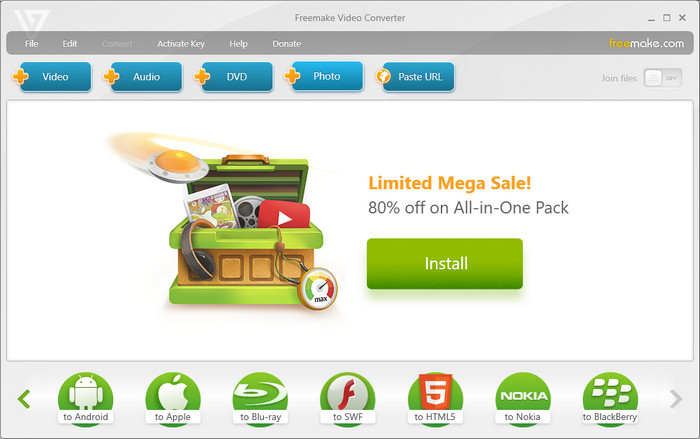 FFmpeg is the best free compression tool which is able to compress video size from GBs to MBs without quality loss. FFmpeg can use command lines to hand different video, audio, and other multimedia related tasks. It's very effecient to decrease a video to times smaller with good output quality. If you want to compress 4K/HD videos fast without quality loss, try it. But it may not be the best video compression software for non-tech savvy users.
Compress video size from GB to MB without quality loss by dividing target size (in bits) by the video length (in seconds) or setting the video to Constant Rate Factor (CRF) which will lower the average bit rate but with better quality.
Based on libavcodec, FFmpeg can compress videos to MP4, AV1, HEVC H.265, H.264, VP9, WMV, most other codecs.
Easily modify the bit rate, video screen size, change profile to baseline, etc.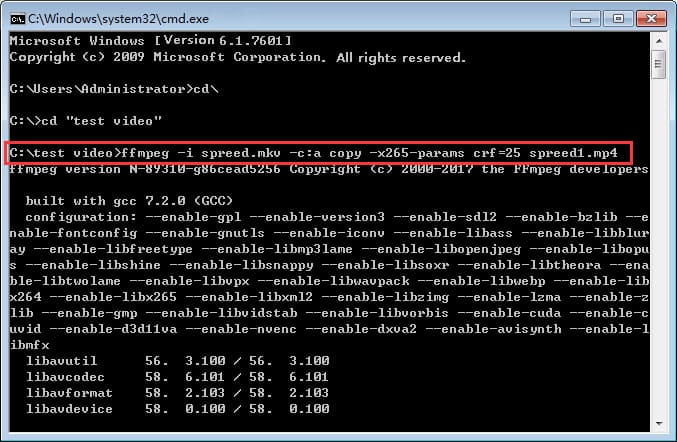 Any Video Converter Freeware is another freeware that lets you compress videos (including HD and 4K videos) on Windows and macOS free without limits. No ads, no malware, no watermark. Unless you need to do some compression with DVDs, the free version is enough to make your video smaller.
Support 100+ inputs, 160+ outputs. Easily compress videos to HEVC codec.
Crop, trim, adjust the video codecs, dimension, bitrate, frame rate, sample rate, channel, video/audio quality, and more.
Fast MP4 video compression speed with the support to NVIDIA NVENC, AMD AMF, Intel QSV hardware acceleration.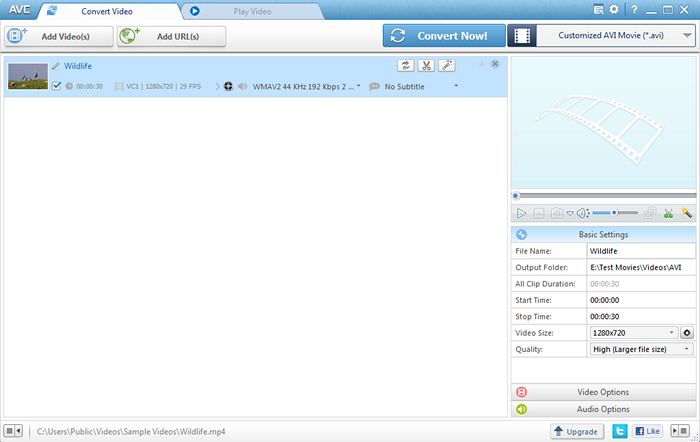 VLC media player is the most welcomed free and open source cross-platform multimedia player. Do you know you can also use VLC to make videos smaller? If you want to compress a video fast and easily, consider VLC the best free video compression software instead of downloading another program. It's able to shrink videos by converting videos to more advanced codec. But as it's not a professional video compressor, don't expect a lot of features or good output quality.
Support large videos in almost any formats.
Compress videos to H.265 HEVC, VP9, H.264/MPEG-4 AVC, etc. in a wide range of video containers.
Basic options to adjust codec, bitrate, quality, resolutions, and more.
Support Direct3D11 and DirectX hardware accelerated decoding.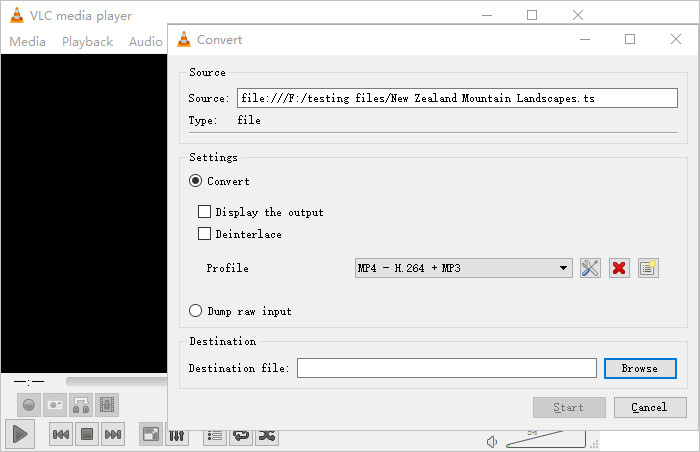 XMedia Recode is a simple and free video compressor for Windows. It supports a wide range of video formats, including advanced codecs H.265, VP9 to help compress videos to smaller size. Without GPU hardware acceleration, compress high-resolution videos will take quite a longer time.
Options to adjust video and audio parameters video codec, video bitrate, audio bitrate, frame size, scaling, resolution, fps.
It works like Handbrake with all the advanced filtering options that only Handbrake has, such as cropping, rotating, deinterlacing, and more.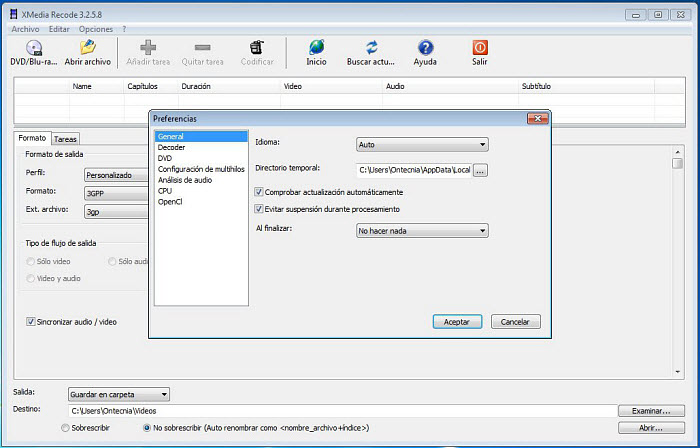 VSDC Free Video Converter simple and free video and audio compression/editing software for Windows only. You can compress videos by formats converting and editing.
It has a huge number of presets covering all formats and multimedia devices. However, it doesn't support any newer codecs like HEVC, VP9, or others that have higher efficiency.
It's easy to split it up into several parts and delete any fragment of a video.
It applies high-quality video processing algorithm for high quality and multiple processors for fast speed.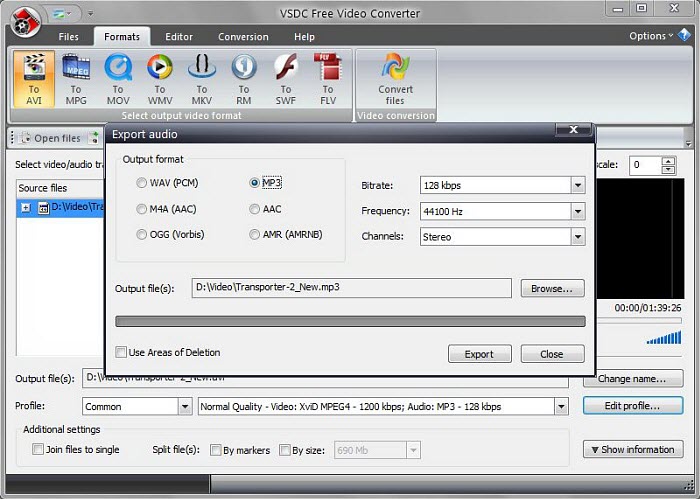 Final Cut Pro X Compressor is the best video compression software for macOS. It integrates with Final Cut Pro to compress videos to HDR, HEVC, 360 video, MXF, etc. with high performance and efficiency. It's designed to compress video and audio files when you are producing a lot of work for different people or formats, or if you are trying to master your work for specific formats.
There is a batch encoder to produce different sizes for a specific video all at once.
Supports high-quality output like 4K, HDR, and 360 degrees.
Reduce video file size quickly without quality loss.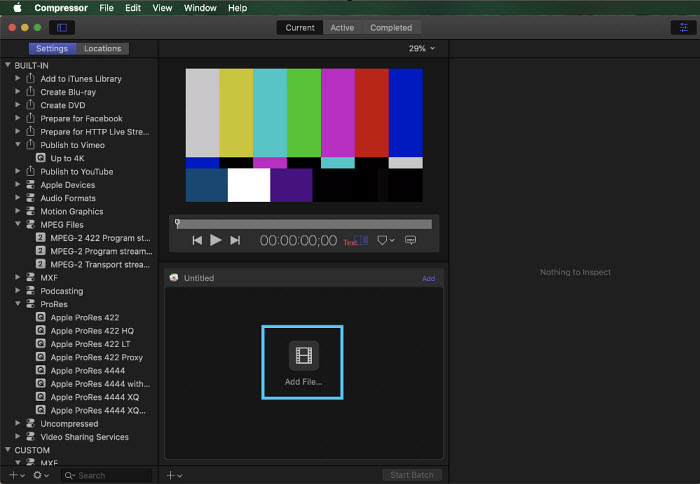 Avidemux is a free and open-source video software which is able to perform a variety of simple video editing and transcoding tasks. It also works as a free video compression software for Windows, macOS, and Linux. It's easy to make a video to 50% smaller with great output quality, for example, from 20MB to 10MB without noticeable quality loss.
Flexible options to change Audio and Video format settings, and wide range of filters and editing features.
Include support for Nvidia GPU video encoding to offer fast compressing speed.
Compress videos into various formats like X264, X264, MPEG4 Lavcodec, Xvid, Divx, FFV1, and several more. However, it doesn't support the latest codecs such as HEVC, AV1, VP9, etc.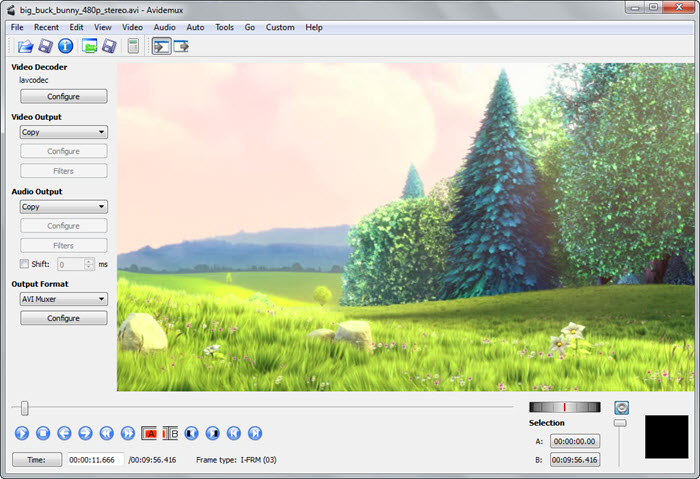 [Tutorial] How to Compress Video Files without Quality Loss?
Below we take the best HD/4K video compression software as an exmple to show you the steps to reduce video file size. First, you should know that the File Size, Bitrate, Duration, Video Format, Video Bitrate, Audio Format, Audio Bitrate, Video Dimension (Width/Height) will all affect the final video size. Now let's get started.
Free download and install the compression software on PC ( Windows 10, 8.1, 8, 7, XP)
Free download the video compressor on macOS (macOS 11 Big Sur and earlier)
Step 1. Load (MP4) video
Click + Video to browse and select MP4 videos for compressing. It enables you to input multiplevideo files for batch shrinking.
Step 2. Choose output file format
This video shrinker comes with hundreds of output profiles for different compression needs. You can compress videos for email, Whatsapp, instant messagers; shrink videos for iPhone, Android; or reduce video size for YouTube, Facebook, etc. Here are the best compressing settings:
MP4 is the most commonly used output format for its high compression rate, good video quality and wide compatibility.
HEVC/H.265 has 50% smaller size than MP4 without sacrificing video quality.
To compress videos for YouTube or other websites, you can choose output like FLV from category "Web Video Profile".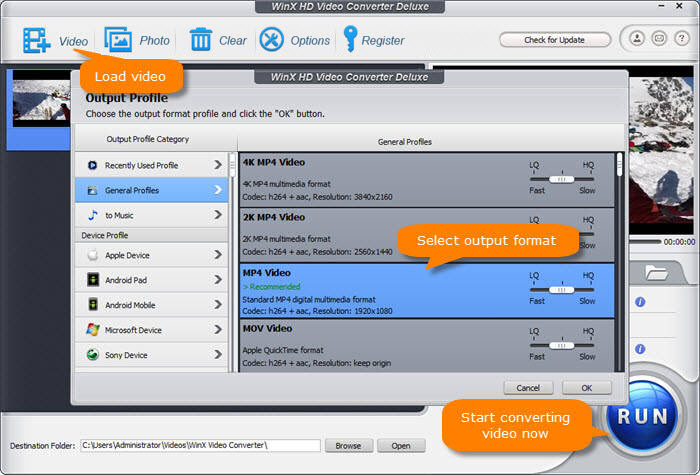 Step 3. Set parameters to compress video.
To get a smaller size, further adjust the video resolution, bit rate and more. The video compression softare offers the following options:
Lower the bit rate 20-50% of the default (don't lower it too much). File size = Bit rate x duration, so Bit rate is an important factor of video file size. You can lower the video audio bit rate to reach small files.
Change video resolution. 640 x 480 is a good option, because it is fit for iPhone, iPad, Android mobile, Microsoft device, and video website like YouTube, Facebook, Vimeo and more. By the way, many users also compress 4K to 1080p for flawlessly playback on desktops.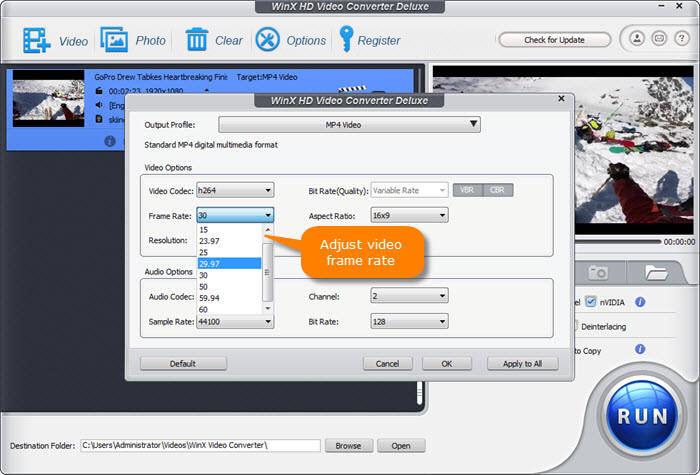 Step 4: Trim and Crop
Make video smaller by trimming. If you only need part of the video, just trim it and get a small video. This video compression software allows you to trim video by setting start time and end time. You can find the Trim option after clicking Edit button.
Resize video by cropping. In front of Trim tab, there's a tab named Crop & Expand. Click that tab, check Enable Crop, and then you can drag the border in preview window or press the up and down arrows of Left, Width, Top, and Height to cut off unwanted area. Step 5. Begin compressing video.
Hit RUN button at the lower right corner of the interface and the tool's compression engine will go into action. On average, it's able to reduce a video size by 40%-90%, for example, a 4K video can be compressed from 1.5GB to 637MB without visual quality loss.
Video Tutorial of How to Compress Video without Losing Quality
FAQ
1. How to select the best software for video compression?
When it comes to shrink video files, you should firstly download video compression software. However, not all video compressors are suitable for you. For novices, a simple-to-operate utility is more suitable for them, while the professionals can choose a relatively complicated and powerful one. Given that, what's the best software to reduce video size?
Firstly, a great video compression tool is decided by many factors, including supported OS, acceptable input sources, support output file formats, compression ratio, output quality, available video audio parameter settings, help and support, usability and stability, speed, etc. Among all these, compression ratio and output quality are undoubtedly two of crucial importance.
2. Is video compression lossy or lossless?
It depends on the way you choose to compress. If you choose to decrese the video size by changing the video formats, lowering the bit rate, or resolution, there will be quality loss. There are two methods to compress videos lossless without quality loss: split a long and large video into smaller pieces, and remove unwanted parts from the video, such as the beggining, ending, ads, etc.
3. What's the best format to compress a video?
It also depends on what you're going to do with the output video. For example, if you shrink the video because you want to publish it online, then web-friendly formats like MP4, FLV, and WMV are recommended. If you need to compress a 4K MP4 video, you can select HEVC H.265 or AV1. They have better compression efficiency at the same quality level.
4. Online video compressor or desktop softare, which is better?
There are many good online video compressing sites, such as Clipchamp, YouCompress, Convert.Files, FreeConvert, and more. But they often come with various limits. For example, some support compressing MP4 and AVI, some others allow 500MB only. They are not versatile and reliable as the desktop software. They are the best choice for those who have couple of videos to compress and don't want to install a program.