Compress Large Drone Video for Sharing Online or Space Saving
How to compress drone video from 4K to 1080p, 1080p to 720p or lower, for sharing on YouTube, Facebook, Twitter, Instagram, Whatsapp etc without quality loss?
4K video camera Drone enthusiasts start to pursue better video shooting in the air other than just having fun with this tech toy. Drones at relatively higher price are usually equipped with more elaborate aircraft, wider controllable & vibration range, better brushless gimbal & camera lens etc. No matter what, the final purpose is to capture more amazing aerial movie, for collecting by self or sharing to others.
2023 Best Drone Video Compressor for Small Size & High Quality
WinX HD Video Converter Deluxe - Fast Compress (4K 60/30 fps) Video with Hardware Acceleration Enabled. The first HD video shrinking tool that supports both CPU and GPU encoder & decoder as the computer performance allows, to compress 4K/HD drones videos to smaller size but no quality loss.
Part 1. Why Drone Video Compression Is Needed
With the popularity of UHD video, 4K/2160p resolution and HEVC/H.265 video codec support is gradually spreading to unmanned aerial vehicle (UAV) field. And the newly DJI Air 2S is even to shoot video at up to 5.4K resolution at 30 fps. Generally, an one-minute 1080p video would take 100~500 MB while a 4K video would take at 1 GB or more. For one thing, HD/UHD drone video takes up much space on computer. For another, it's troublesome to put homemade drone video online. Because many sites have upload limit on video length, size, format etc.. Let's just have a look at video upload limitation on hot sites/apps.
HEVC support and "almost no" requirement on video uploading size and length make YouTube the best place to share self-created drone videos. But when you want to share large H.265 aerial video on Twitter, INS or send to someone via Whatsapp, you have to compress 4K/1080p drone video size beforehand.
Drone Video Upload Limitations on Hot Sites/Apps

YouTube

Video Duration: 12 hours max
Maximum Size: 128GB

Format/Codec: .MOV, .MP4, .MPEG4, .AVI, HEVC etc.
Others: Video Ratio at 16:9 or 4:3

Facebook

Video Duration: 2 hours max
Maximum Size: 4GB

Format/Codec: mov, mp4, avi, gif, m4v, mkv etc.
Others: Video Ratio from 9:16 to 16:9

Twitter

Video Duration: 140 seconds
Maximum Size: 512MB

Format/Codec: MP4, MOV (H.264)
Others: Maximum resolution at 1920 x 1200

Instagram

Video Duration: 3-60 seconds
Maximum Size: No limit

Format/Codec: MP4 (H.264)
Others: Maximum resolution at 1920 x 1200

Whatsapp

Duration: Uncertain (about 90s to 3 mins of video)
aximum Size: 128GB

Format/Codec: MP4 (H.264)
Others: - 
Part 2. How to Compress Drone Videos for YouTube/Instagram/Space Saving...
WinX HD Video Converter Deluxe is a video converter specially designed for transcoding and compress videos to 50%-70% smaller file size. HD video compression, including compressing drone video, is one of its fortes. Once you do proper output settings, (4K/2K/1080p) drone films would be compressed with the highest possible quality at the fastest speed you computer could achieve.
Convert drone videos for better compatibility. With 370+ inputs and 420+ output supported, it's able to convert videos from any device and source to any format, including MOV to MP4, MKV to FLV, M2TS to MOV, MOD to YouTube, and more.
Reduce the huge size of drone videos. The built-in compress engine enables you to reduce drone video size grealtly with almost intact quality reserved, through downscaling 4K resolution to 1080p/720p, changing video frame rate from 60fps to 30fps, tweaking aspect ratio, audio etc.
Transcode drone HEVC to H.264. Due to better compression efficiency, 4K drone videos are increasingly encoded with HEVC codec, which could be the culprit for incompatibility. Luckily, WinX makes it easy to convert HEVC to H.264 for trouble-free playback on any screens.
Please export drone video to computer, install and load source drone video to WinX HD Video Converter Deluxe for preparation.

Free download the 4K/HD drone compressor for Windows 10/8/7


Free download the 4K/HD drone compressor for macOS 10.6 and above
Way 1. How to Compress HEVC/H.265 Drone Video to H.264 MP4?
To publish HEVC on Facebook/Instagram, or watch it on screens that don't support HEVC, convert HEVC to H.264 MP4. After the drone videos are loaded, find and select "MP4 Video (h.264+aac)" listed at the top list of "General Profiles", then click "OK".
Note that the default resolution is set at 1920x1080. Leave it as default if you want to keep original resolution. To change 4K to 1280x720/720x480 etc. or customize at any other desired ones, open settings by clicking sawtooth icon. On the settings panel, video aspect ratio can be made to 16x9, 4x3 or 3x2; video frame rate is available to reset; video bitrate can also be chosen to VBR or CBR. At CBR model, lower bit rate achieves smaller video size.
Currently, MP4 (H.264) drone video can be well received by most smart devices. But you may at times have needs to change it to AVI, FLV, WMV, VP8 format etc., or your MP4 (H.264) drone video cannot play on iPhone iPad TV for unknown reason. At this time, transcoding video with WinX HD Video Converter Deluxe is also a wise way to go.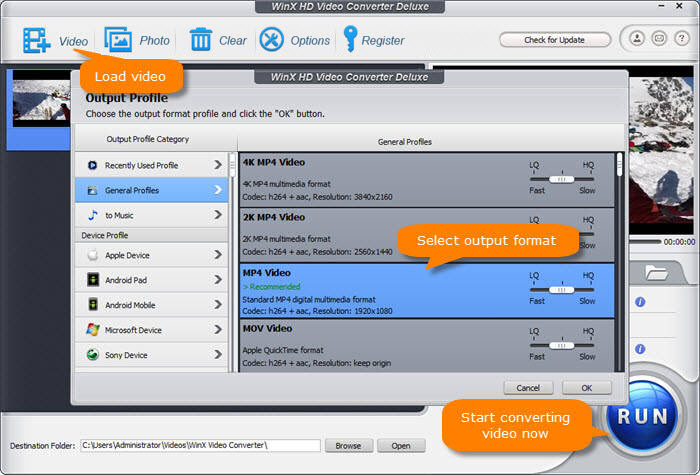 Way 2. How to Reduce Drone Video Size by Trimming to Certain Length?
No matter you want to trim your long drone video to 15s, 1 min or more, WinX HD Video Converter Deluxe makes it happen easily. After importing video and output format selection, click "Edit" to process to "Trim" section, where you can compress video duration in two ways after ticking "Enable Trim":
Set specific start time and end time;
Manually drag the scroll bar under video preview window.
Right near trim feature, crop and expand sometimes is useful for you to cut unwanted area off. Subtitles can also be added here. After you get back to the main UI, youcan capture screenshots of this drone video by clicking camera icon under video preview box.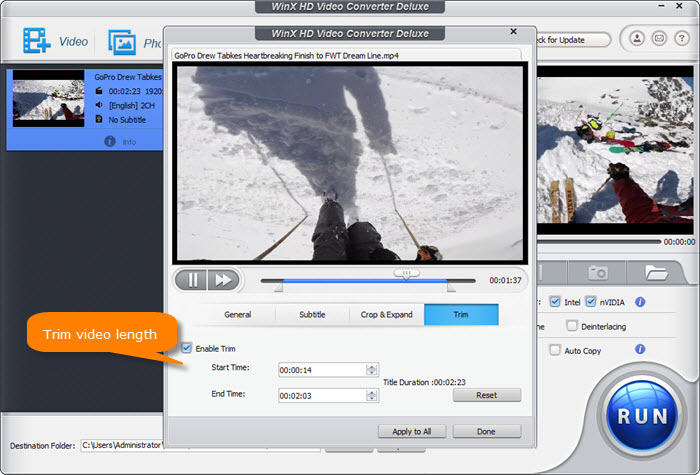 Video Tutorial: How to Compress Drone Video without Losing Quality [Hardware Accelerated]
Why Choose WinX HD Video Converter to Compress Drone Video?
1. High Video Quality Guaranteed

Some drone users put forward at forum that "HandBrake degraded the image quality while compressing H.265 P4P video to H.264 one", "After compressing raw drone video, compression blocks can be seen clearly on big monitor"...

WinX HD Video Converter Deluxe, with high quality engine and "Yadif Double Frames" deinterlacing built-in, helps optimize video picture quality dynamically during compression process. Considerably, the default settings on bit rate and frame rate (specified by professional software engineer) keep perfect balance between video size and quality. Therefore, it's meaningless to lower such parameters too much to realize larger video compression. Another crucial reason WinX could ensure video quality during compression is that its smart transcode engine can auto detect and reduce obvious noise to present more stunning flight video.

Much Faster than Other Compressors

It's not exaggerated to describe WinX as the fastest free video compressor. Because it makes better use of hardware acceleration than other programs. How? Common software only utilizes hardware encoder from eligible CPU or GPU (if there is) to encode video faster after the software does video decoding task itself, while WinX HD Video Converter hands over the whole video transcoding task to hardware like Intel QSV and Nvidia CUDA/NVENC, greatly improving processing efficiency.