Posted by Donna Peng - Contact Author

Fixes to Redbox DVD Not Working / Not Playing Issue

If you want to make a copy of Redbox DVD, click here: The solution most recommended by us [85%]
Redbox DVD Won't Play - Reasons and Troubleshooting Tips Explained
If you want to enjoy movies at very cheap prices, Redbox provides you a good option. It allows you to rent movie DVDs ($1.75 per night for a DVD) from its kiosks which can be found close to or just inside many convenience stores, fast food restaurants, grocery stores, mass retailers, and pharmacies, such as Wal-Mart and McDonald's. This is a really awesome service, but we still notice some complaints, one of which is that Redbox DVD doesn't work. Below are some examples.
"I bought a new Philips DVD player. It plays my own DVDs properly, but it doesn't play Redbox DVDs and says 'no disc' or 'unknown disc error.'"
"I rented two Redbox movies, but neither of them will play on my Macbook Pro computer."
"Redbox DVD plays good on my DVD player, but just won't play on my Windows 7 based computer."
"I have an old DVD that will play on my laptop, but Redbox rentals cannot be read."
"My Redbox DVDs look fine, no scratches, but they can't be recognized by my drive."
"I rented 5 DVDs from Redbox, but 2 of them were so scratched that they wouldn't play on my DVD player."
If you encounter Redbox DVD not working / not playing issue, what should you do to figure out where the problem lies and how to solve it? Well, don't bother thinking of that. We'll show you in the next part.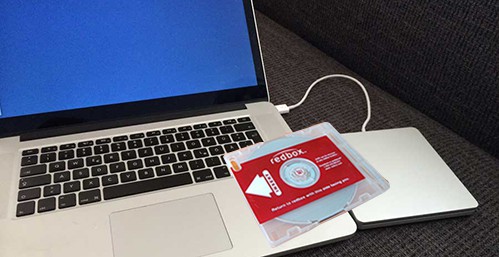 What to Do to Fix Redbox DVD Not Working / Not Playing
When a Redbox DVD won't play, it could be a problem with the disc, or with the DVD drive. Additionally, pirating software may also prevent Redbox DVD from playing. So, when you cannot play a Redbox DVD disc, you should do the following things.
1. Examine the Redbox DVD.
If there're fingerprints, smudges, or something else on the surface of the disc, clean the DVD disc by wiping the disc from the center outwards using a soft cloth. A solution of water and mild detergent or rubbing alcohol is suggested. Don't use abrasives, solvents, or highly acidic cleansers.
If the Redbox DVD is damaged, you should call the customer service line 1-866-733-2693 to report the disc problem and enter the barcode and your payment information. It won't cause you financial loss, because Redbox will give you a code for a free one night rental.
2. Examine your DVD drive / DVD player.
If the Redbox is clean and completely unscratched, insert another disc or more discs in the player and see if there's still a playback problem. If other tested discs still don't work, then your DVD player is probably the problem. There might be hardware issues or the DVD drive might need a firmware update. If others play well, then the Redbox disc is probably the problem. It might be configured with anti-copying programs that prevent some DVD players from reading them. What's more, the unbalanced ID sticker on the Redbox DVD may also lead to playback issue, and even damage player while spinning.
Besides the above, there're other two possible reasons for Redbox DVD not working / not playing issue.
* Your Windows lacks certain codecs. Installing Media Codec Pack might work. Alternatively, you can try another piece of DVD player software, 5KPlayer for example.
* The region code used on your DVD player may be different from that encoded in Redbox DVD. You need to change the region code of your DVD player.
Another good workaround for Redbox DVD not working issue: Digitize Redbox DVD.Easier & fast Solution
There're many benefits of digitizing Redbox DVD:
▪ It can fix Redbox DVD not playing error caused by digital copy protection or region code incompatibility.
▪ It can fix Redbox DVD not working issue caused by DVD player problem. This is because after digitizing you can watch Redbox movies without the need of DVD drive.
▪ Moreover, you can keep the original Redbox DVD in a safe place and watch the digital copy only. This way you can reduce the risk of losing or damaging Redbox DVD. If you lose/damage a Redbox DVD, you need to play about $50. What a fairly steep price, right?
When it comes to digitizing DVD, WinX DVD Ripper Platinum is worth a try. This program can convert DVDs, including Redbox DVDs encoded with region code and copy protection schemes and even some scratched Redbox DVDs, to MP4, H.264, AVI, WMV, MPEG, ISO and more formats without quality loss. By making the most of GPU hardware acceleration, multi-core CPU, Hyper-threading technology, and other techs, it can complete a DVD in a matter of minutes.

Download WinX DVD Ripper Platinum on Windows

to rip Redbox DVD

Download WinX DVD Ripper Platinum on Mac

to rip Redbox DVD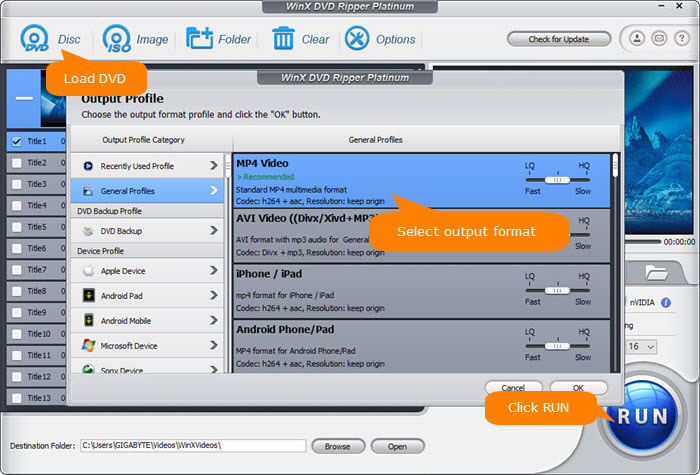 Disclaimer: Please delete the copy after you watch it and don't reserve the copy or share with your friends. Digiarty Software doesn't advocate ripping DVD rentals for profit purpose and suggests referring to the DVD copyright laws in your countries before doing so.
FAQs about Redbox

How to contact Redbox with a problem?



1. Go to https://redbox.custhelp.com/app/ask to speak to an online representative
2. Call Redbox phone number 1-866-733-2693 between 6:00am to 12:am CT, 7 days a week

Can you get money back if Redbox DVD is scratched?


Contact Redbox and they will give you free night code.

How long can you keep a Redbox movie?


For most movie DVDs, the maximum rental period is 17 days.