Failed to Rip Peanuts DVD Collection? Check the Quick Fix Here
2020 Christmas is coming! In this special holiday under COVID-19, watching movies at home could be a great choice for Christmas day. As movie specials that accompany us to grow up, Peanuts holiday collection is fun for all ages. But many people complained that they can't rip Peanuts DVD movies for playing without DVD drive or player.
Let's follow this article to learn how to copy and rip Peanuts DVDs for more flexible playback on TV, mobile, computer etc.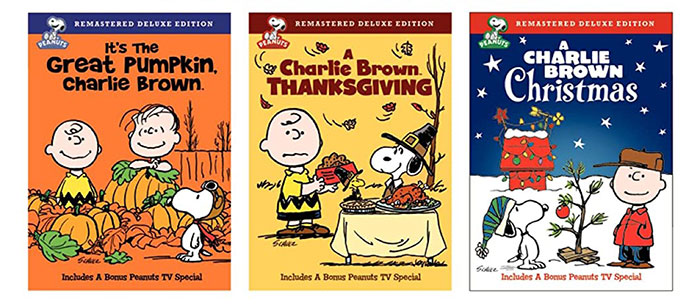 Part 1: What Are the Troubles with Ripping Peanuts DVD? How to Fix?
Through a survey of several forums related to DVD movies, we have found most users complain they cannot rip Peanuts DVDs with MakeMKV. For example, encountering a disk error (Scsi error), or cannot figure out the correct playlist as below:
"I am getting a failed disk error on all the movies, anyone else or ideas? I have the latest copy of MakeMKV. Movies are 'It's the Great Pumpkin Charlie Brown', 'A Charlie Brown Thanksgiving', 'A Charlie Brown Christmas'."
"I am having difficulty with the Peanuts Movie and the correct playlist. Generally I have been able to figure it out but I am struggling with this movie. Any help would be appreciated. Thanks!"
Certainly, you can try to fix referring to the tips of the one with the same problem. For example, to make Peanuts animated DVD title work, you can try to reduce the minimum title length to 1000 seconds or manually choose the right title for Peanuts DVD. For disc error, cleaning or replacing the disc, increasing "read retry count", changing a different or new drive are all worth trying.
However, this doesn't guarantee that you can solve the Peanuts movie DVD ripping error. After all, the same error may be caused by various reasons. Fortunately, you can try another DVD ripper - WinX DVD Ripper Platinum to avoid such errors thoroughly. It allows you to:
Rip all kinds of Peanuts specials like Peanuts holiday collection DVD, Peanuts deluxe collection, Peanuts 1970s/1960s collection DVD etc.
Copy Peanuts DVD collection movies to ISO image, DVD Folder, MPEG-2 with intact quality.
Rip Peanuts DVD to MP4, MOV, AVI, MKV, iPhone, iPad, Xbox, Apple TV, PS4, and 420+ preset profiles.
Finish the DVD ripping process in a very short time with hardware acceleration enabled, merely 5 mins only for a 2-hour long DVD.
Please DO NOT use WinX DVD Ripper to rip rental DVDs.
Part 2: How to Rip & Copy Peanuts DVD with WinX DVD Ripper Platinum?
Firstly, you have to download and install WinX DVD Ripper Platinum on your computer. And insert one of your Peanuts specials DVD to the DVD drive, take A Charlie Brown Christmas as an example. Now let's get started.
Step 1. Open up WinX DVD Ripper. Click "DVD Disc" to load A Charlie Brown Christmas DVD disc to the program. The correct title will be selected. And it automatically pops up an output profile window.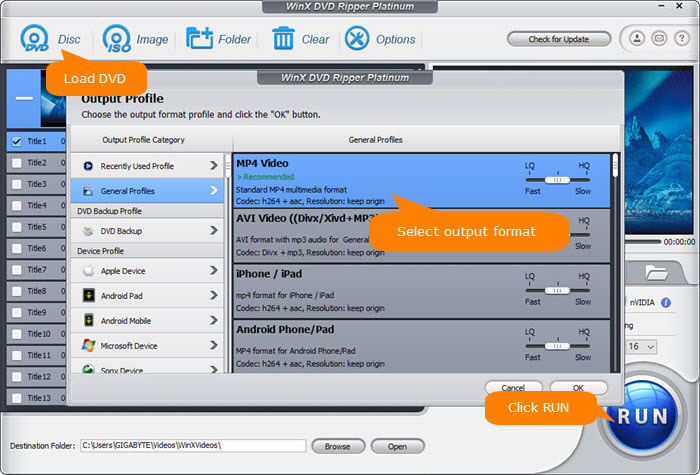 Step 2. Choose an output format for the output. There are 2 options: backup DVD with intact quality and rip DVD to digital format.
Backup DVD with intact quality: Go to Backup DVD and choose to copy Peanuts DVD to ISO image, Folder, or MPEG-2 as you need.
Rip DVD to Digital: Go to General Profiles to choose MP4, AVI, MOV, MKV etc., or directly choose your desired device as output format.
Step 3. Tap the blue "RUN" button to activate the DVD ripping process. It'll be finished fast and smoothly without any error.
Check How to Copy and Rip DVD with WinX DVD Ripper Platinum
Disclaimer: Digiarty Software does not advocate ripping/copying copy-protected DVDs for any commercial purpose and suggests referring to the DVD copyright laws in your countries before doing so.
Part 3: 55 Years of All 45 Peanuts Specials, Ranked
Peanuts includes a great number of TV specials. Besides the popular ones like A Charlie Brown Christmas, It's the Great Pumpkin, Charlie Brown, Charlie Brown's All-Stars, there are still more awesome specials that are worth watching or rewatching. Here we'd like to rank all the 45 Peanuts specials for a reference of your viewing order.
All 45 Peanuts Specials, Ranked From Worst to Best

1. A Charlie Brown Christmas (1965)

24. He's Your Dog, Charlie Brown (1968)

2. It's the Great Pumpkin, Charlie Brown (1966)

25. You're in the Super Bowl, Charlie Brown (1994)

3. Charlie Brown's All-Stars (1966)

26. It Was a Short Summer, Charlie Brown (1969)

4. Be My Valentine, Charlie Brown (1975)

27. Charlie Brown's Christmas Tales (2002)

5. It's Christmastime Again, Charlie Brown (1992)

28. It's Arbor Day, Charlie Brown (1976)

6. It's a Mystery, Charlie Brown (1974)

29. It's Spring Training, Charlie Brown (1992)

7. Play It Again, Charlie Brown (1971)

30. Is This Goodbye, Charlie Brown? (1983)

8. A Charlie Brown Valentine (2002)

31. Life Is a Circus, Charlie Brown (1980)

9. Happy New Year, Charlie Brown (1986)

32. There's No Time for Love, Charlie Brown (1973)

10. It Was My Best Birthday Ever, Charlie Brown (1997)

33. She's a Good Skate, Charlie Brown (1980)

11. You're a Good Man, Charlie Brown (1985)

34. What Have We Learned, Charlie Brown? (1983)

12. A Charlie Brown Celebration (1982)

35. It's Flashbeagle, Charlie Brown (1984)

13. A Charlie Brown Thanksgiving (1973)

36. He's a Bully, Charlie Brown (2006)

14. Someday You'll Find Her, Charlie Brown (1981)

37. It's Your First Kiss, Charlie Brown (1977)

15. You're the Greatest, Charlie Brown (1979)

38. It's the Easter Beagle, Charlie Brown (1974)

16. You're Not Elected, Charlie Brown (1972)

39. I Want a Dog for Christmas, Charlie Brown (2003)

17. You're in Love, Charlie Brown (1967)

40. Snoopy's Reunion (1991)

18. Happiness Is a Warm Blanket, Charlie Brown (2011)

41. It's the Girl in the Red Truck, Charlie Brown (1988)

19. Lucy Must Be Traded, Charlie Brown (2003)

42. Snoopy's Getting Married, Charlie Brown (1985)

20. Why, Charlie Brown, Why? (1990)

43. It's the Pied Piper, Charlie Brown (2000)

21. It's Magic, Charlie Brown (1981)

44. You're a Good Sport, Charlie Brown (1975)

22. It's an Adventure, Charlie Brown (1982)

45. Snoopy: The Musical (1988)

23. What a Nightmare, Charlie Brown! (1978)