Download iMovie for Windows (10, 8, 7, etc.) to Make and Edit Your Videos
How can I get iMovie for Windows 10, 8, 7, Vista and XP?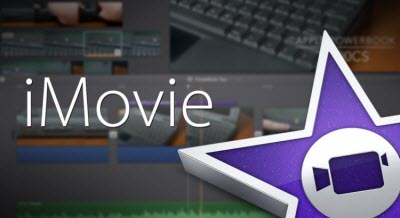 iMovie is a free video editing software application developed by Apple Inc. It is widely welcomed, because it is easy to use yet feature-rich. Simply import your video clips, and then you can add studio-quality titles, credits, music, sound effects, video filters and so on. Therefore, many people, especially for those switching from Mac to Windows, are desperate to download iMovie for Windows.
"I am not a huge fan of Mac, but I love the iMovie program to edit videos. Is there a way to have the iMovie program on a Windows system? Or is there a program that is similar (or better) to edit videos? "
"I recently switched back from Mac to Windows 10 and I enjoy it a lot. But there is one thing missing - iMovie. Can I download iMovie for Windows 10 or get any similar software?"
Is It Possible to Free Download iMovie Full Version for Windows?
As a matter of fact, iMovie is only compatible with Mac and iOS. That is to say, you can't use iMovie on Windows PC, unless you built a Hackintosh and get Mac OS running on PC. But it's definitely a difficult and troublesome job. Hence, the majority tends to download an Apple iMovie alternative for Windows. After all, there're many programs possessing features similar to those of iMovie video editor.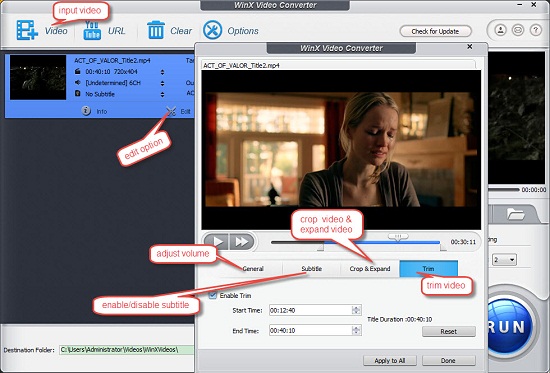 Top 3 Free iMovie Windows Alternatives for Windows (10)
1. WinX Video Converter - an all-in-one video editor and converter
OS: Windows 10, 8.1, 8, 7, Vista, XP, etc.

As its name indicates, WinX Video Converter is primarily designed to convert videos. However, it also comes with video editing options. Just like iMovie, it is extremely easy to use. Load your source videos by dragging and dropping or clicking +Video button, and then you can
☑ Join multiple video clips into a single one, simply by checking "Merge Output Video".
☑ Cut off unwanted segments by enabling trim and setting start time and end time.
☑ Crop away letterbox or any image part you don't need by ticking "Enable Crop".
☑ Add external subtitles into your clips to make your artworks easy to understand.
☑ Modify video audio parameters, such as, video codec, bit rate, resolution, frame rate, aspect ratio, etc.
☑ Adjust audio volume to achieve the effect you want.
☑ Edit file name, artist, genre and comments.
Highlight: This iMovie Windows alternative accepts videos up to 4K and almost all video formats owing to 1000+ built-in video and audio codecs. So you can feel free to edit videos downloaded online, recorded by HD camcorders, mobiles, tablets, etc.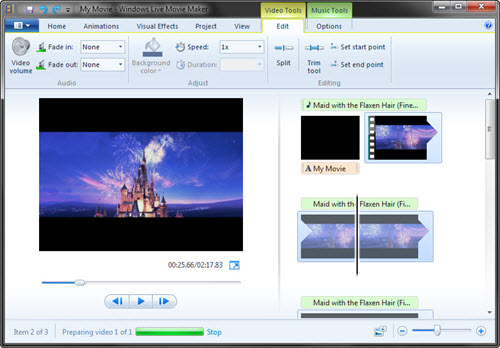 2. Windows Movie Maker - A native video editor for Windows
OS: Windows 10, 8.1, 8, 7, XP, Vista
Windows Movie Maker is a video editor developed by Microsoft. At first, it was included in Windows ME, XP and Vista. In 2009, it was officially released as a standalone product through Windows Live Essentials suite. Some computer manufacturers pre-installed this suite on new PCs, others didn't. Before January 10, 2017, we can download Windows Live Essentials to get Windows Movie Maker for Windows 10 and other systems as an iMovie maker alternative. But from that day on, Windows Movie Maker was officially removed for download without any replacement or successor provided.
This iMovie alternative for Windows is able to split video, merge video, slow down and speed up video. Moreover, it offers a lot of effects, allows users to do green screen, provides transitions, offers titles ranging from static to fly in, fading, news banner, or spinning newspaper animations, and permits you to share your videos to YouTube, Facebook and other sites.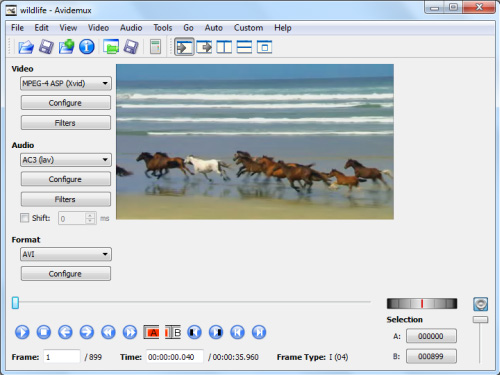 3. Avidemux - Capable of non-linear video editing
OS: Windows, Mac, Linux and BSD.
The last free iMovie alternative for Windows you can download is Avidemux. This is a piece of open-source video editing software capable of performing simple cutting, filtering and encoding tasks. You can input videos in AVI, MP4, MKV, MPEG-2, H.264, H.265 and more, and then trim, rotate, crop, resize them, insert subtitles, import audio streams, adjust brightness and contrast, sharpen edges and do more.
Just like other alternatives to iMovie for Windows, Avidemux isn't impeccable. It doesn't arrive with a central pool for importing source files, and no timeline with multiple tracks. Video joining can't be finished within one click. To do this work, you have to click on File, choose Open, and then select your first video. Then, click on File, move to Append, and select the second video, the third, and so on. Then save it and name it.
To sum up, if you need a free iMovie alternative for Windows (10, 8, 7, etc.) with basic editing functions only, WinX Video Converter is a nice choice. It is the easiest one with crop, trim, merge, deinterlace, compress and other features included.
External wiki source:
iMovie: iMovie is a video editing software application sold by Apple Inc. for the Mac and iOS (iPhone, iPad, iPad Mini and iPod Touch)...