Best 5 Vlogging Cameras for Beginner
Much like yourself, audiences prefer watching vlogs in high quality. So, if you'd like to stand out from the vloggers, try your best to make a better-produced vlog. And one of the basics is to invest in a good camera. Selecting a vlogging camera seems like an easy job, right? Actually, there is a lot more to it than you thought.
Choosing a good yet suitable camera might be more complicated than defining a vlog topic. Worry not. In this article, we will share 5 best vlogging cameras that we evaluated carefully from all aspects. Whether you're a newbie or a professional, below you'll find the best video camera for vlogging.
Tips: This article is aimed at vlogging beginners, so it does not involve high-end movie cameras. In order to facilitate beginners' reading comprehension, the article will use the most common expressions to reduce the frequency of professional terms.
Hot search: best SD cards for 4K cameras
1. Canon PowerShot G7 X Mark III
The latest generation of G7 X Mark III has a lot of improvements in all aspects: added a microphone audio input interface suitable for Vlog shooting, and upgraded to a new DIGIC 8 image processor. For vlog users with higher radio requirements, external microphones can be adapted through this interface.
Supporting 180-degree flipping of the screen is a consistent advantage of the Canon G7 X series, and it is naturally well continued in the third-generation products. The Canon G7 X Mark III does not use a larger battery. The 4.5Wh energy is more than enough for half a day of shooting, but it is more appropriate to bring a charging device if you are facing a full day of vlogging.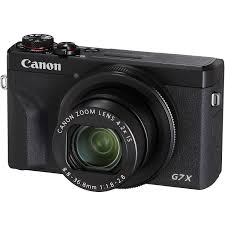 With the new sensor and DIGIC 8 image processor, both the wide end and the telephoto end, Canon has demonstrated good sharpness performance. Also, Canon PowerShot G7 X Mark III has dual-detection IS function, which can achieve high-precision still image compensation.
In dim scenes or handheld vlogging, you can achieve a higher success rate than ever. This is extremely friendly for beginners. In addition, Canon Powershot G7 X Mark III also supports some special scene modes, like night scenes, food, etc. can be assisted shooting, easy to get better effect.
Pros:
● Lightweight and portable.
● Support 180 degree flip screen.
● Microphone interface.
● Brand new image processor.
● In-body sensor stabilization.
Cons:
2. DJI Osmo Action
Compared with other action cameras, DJI Osmo Action's biggest surprise is the front-facing screen. As a vlogger or a person who likes to take selfies, it is almost the only option on the action camera market, easy to use and portable.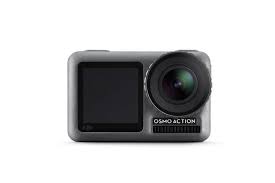 DJI Osmo Action supports multiple modes of shooting, in addition to ordinary video and HDR video, there are time-lapse photography and slow-motion mode to choose from. By selecting slow motion mode, the default effect is 1080P 8 times, greatly improving the video quality. DJI Osmo Action's voice control function can free your hands and is fit for extreme sports scenes.
All in all, Osmo Action generally performs well in low-light and low-light environments. Other qualities that the camera should have, whether it is performance or function, are more in line with its Vlog camera positioning, including image stabilization function, super-wide viewing angle, shooting mode, imaging quality is more suitable as a professional camera for vlogging.
Pros:
● Easy-to-use menus.
● good video and picture quality.
● Front-facing screen is great for vlogging.
● Excellent stabilization.
● Pwerful in-camera slow motion mode.
● Voice control function.
Cons:
● The front screen is not touchable.
● Buttons are stiff.
● No GPS.
3. Sony - RX100 M7
If you are more inclined to a compact and portable vlogging camera, and do not plan to add any accessories, then this Sony RX100 M7 is a wise choice. The Sony RX100 series has similar characteristics to the Sony interchangeable lens digital camera: professional video functions and the top autofocus.
The M7 is not only equipped with a zoom ratio (24-200mm), but also integrates good functions like real-time tracking, eye focusing, and microphone interface. Sony RX100 M7 can be the most suitable model for shooting vlog in a flip camera.
Although compared to the same price of the interchangeable lens digital camera, this camera is not cost-effective. However, this depends on your requirements for the camera. If you are sensitive to volume and weight, this camera can not be more suitable, because the positioning of this camera is small and convenient. Anyway, Sony RX100 M7 can well meet the daily vlogging requirements.
Pros:
● Compact body, easy to carry.
● Real-time tracking (correctly focusing on people or objects for a long time).
● Microphone interface.
● Eye focus function.
Cons:
● Average image quality.
● Zoom is not flexible.
4. GoPro Hero 8
If you are an extreme sports vlogger or other sports vlogger, then GoPro HERO 8 can give you a very stable shooting experience. GoPro HERO 8 is said to be the most stable sports camera in the same price range.
GoPro HERO 8 updated to TimeWarp 2.0 (slow motion), supports automatic time interval selection. Users only need to shoot like normal video, GoPro will automatically judge the interval shooting time of the slow motion video, and automatically generate slow motion after the shooting time is completed. GoPro HERO 8's slow motion function has also been improved from 60 seconds to 2 minutes, 5 minutes, 30 minutes and 60 minutes, which makes it possible to record some special scenery (sunrise, sunset, etc.).
GoPro HERO 8's image stabilization function has four modes: "Enhanced", "High", "On" and "Off", which provides more options than HyperSmooth. Moreover, with GoPro HERO 8, you can fix small accessories such as microphones and LED fill lights on the GoPro HERO 8, just like ordinary cameras. This is a very friendly design for users who shoot vlogs everyday.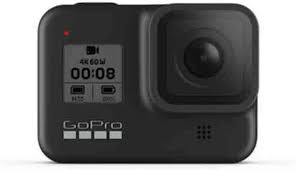 Pros:
● Small and portable.
● Good shooting stability.
● Powerful slow-motion shooting.
● Good image stabilization technology.
Cons:
● Incompatible with Hero 7 batteries.
● Super-wide picture distortion is heavy.
● Difficult to remove the battery door.
5. Sony - A6400
For professional cameras that vloggers need, we could consider Sony A6400. Sony A6400 not only has good quality, but also adapts to various scenes. Most mirrorless cameras use APS-C format and full-frame sensors, which are larger than other cameras. Generally speaking, a larger sensor means better image quality. The Sony A6400 also has the characteristics of strong background blur.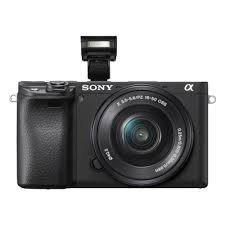 The most important thing is that it has a variety of aperture lenses to choose from, a large aperture lens can take pictures with obvious background blur, and a lens with different focal lengths can choose to provide a rich perspective and scenery. Sony A6400 also has the top level autofocus, which reduces the pressure on vloggers and is suitable for single shooting vlog.
Pros:
● Adapt to a variety of scenes.
● High-quality sensor.
● Interchangeable lens feature.
● A large number of accessories (get higher quality video).
Cons:
● Higher price.
● Relatively large.
● The battery is not durable.
The Best Camera for YouTube Vlogs - Comparison Chart
| | | | | | | |
| --- | --- | --- | --- | --- | --- | --- |
| Brand | Model | Weight | Size | Microphone Interface | Battery | Price |
| Canon | G7 X Mark III | 304 g | 105 x 61 x 41 mm | YES | 1250mAh | About $699 |
| DJI | Osmo Action | 124 g | 65×42×35 mm | YES | 1300 mAh | About $259 |
| Sony | RX100 M7 | 302 g | 102 x 58 x 43 mm | YES | 1240 mAh | About $698 |
| GoPro | Hero 8 | 126 g | 66.3×48.6×28.4 mm | YES | 1220 mAh | About $259 |
| Sony | A6400 | 403 g | 120 x 67 x 60 mm | YES | 1020mAh | About $1198 |
How to Define - A Good Vlogging Camera
◆ Size. For vloggers, when choosing a camera, you should try to choose a camera with a small size that takes up less space, as most of you need to move frequently to shoot vlog material.
◆ Video quality. Video quality is critical for vloggers. So, remember to look for a camera that can record at 4K resolution, or at least a camera that can record FullHD.
◆ Audio. Audio is one of the best ways to keep interacting with your audience. So choosing a camera with a high-performance audio recording function is also an important point.
◆ Optical image stabilization. To shoot a stable and high-quality vlog, you need a camera that supports reducing the blurring of images due to hand shaking.
◆ Flip Screen. This point is particularly useful, as it allows you to control framing and recording from any pose or angle.
◆ Durability. If you are a travel vlogger, it is recommended that you'd better get a camera that can withstand shock without any damage.
Bonus: Camera Video to YouTube
Many vloggers complained that their camera videos uploaded failed to YouTube from time to time. Actually, this is not a YouTube issue, but a video issue. Firstly, let's check some basic requirements of YouTube video uploading:
● YouTube supported video formats: MOV, MPEG4, MP4, AVI, WMV, MPEG-PS, FLV, 3GPP, WebM. Top recommended video format and codec is MP4 (H.264).
● YouTube supported video resolutions: 2160p (4K): 3840 x 2160, 1440p (2K): 2560x1440, 1080p: 1920x1080, 720p: 1280x720, 480p: 854x480, etc. 1080p and 720p are the most commonly used video resolution.
In general, YouTube supports uploading 2GB video with 15 mins. So, the YouTube won't upload error may be caused by file size, video format, resolution, or video length. In this case, you just need to edit your camera video with some professional video editor to meet the YouTube video uploading requirements, and the uploading error should be fixed. You can check this guide to get more details: How to Edit Camera Videos for YouTube Uploading.